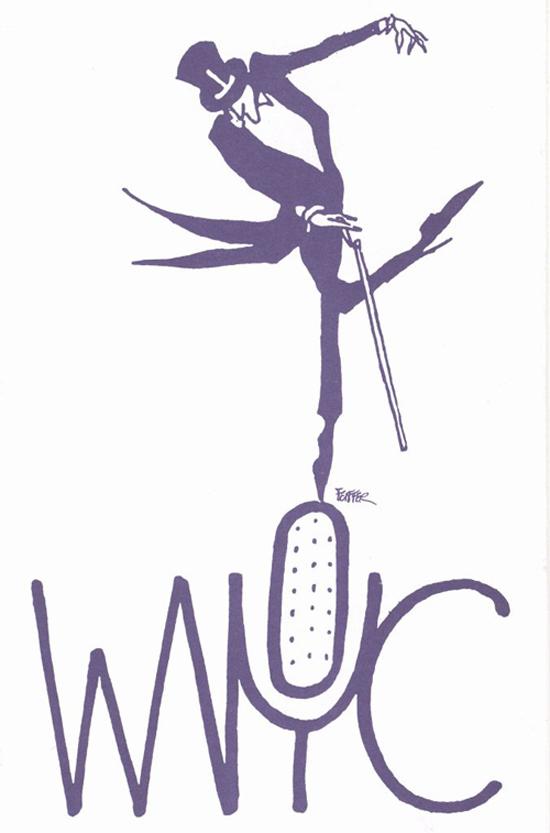 From The Collection
 The cover of the June, 1997 WNYC Program Guide by Jules Feiffer. (WNYC Archive Collections)
_______________________________________________________
Broadcast on WNYC today in:
1929: "The Nature Trails at Bear Mountain," a talk by William H. Carr.
1938: Opening ceremonies for the First Avenue [Municipal] Market, with Mayor F.H. La Guardia.
1948: Teenagers compete on The Rising Star, a teen talent contest.
1956: The story of the completion of the Brooklyn Bridge in 1883 is dramatized on this edition of Historic City Hall.
1962: Robert Moses talks about management at Fordham University's 26th annual interclass dinner.
1975: Conversations From the Circle in the Square, with host Ted Mann. In this edition, he interviews actress Maureen Stapleton.
1984: Shreveport Leadbelly Memorial, with Brownie McGhee, Sonny Terry, Hally Wood, Peter Seeger and others on the Folksong Festival with Oscar Brand.
1996: Pianist Paulina Dokovska performs at The Frick Collection. Dokovska won First Prize at the Claude Debussy International Piano Competition, France and International Piano Competition of Senigallia, Italy. She has performed in Europe, the United States and eastern Asia. Dokovska has recorded for several major labels and has been on the piano faculty at the Mannes College of The New School for Music since 1995.
2001: Former Prime Minister of the United Kingdom Sir Edward Heath talks to Gilbert Kaplan on Mad About Music. As Prime Minister Heath had many firsts and is perhaps best known for leading Britain into the European Economic Community, but he was also the first Prime Minister since Arthur Balfour in 1906 to permanently install a piano and even a clavichord at 10 Downing Street.