Simon Barere was a fascinating case: a spellbinding pianist with a magical technique.  His skill was super-human. Dazzling.  Astonishing.  I do not exaggerate. I know this from recordings, of which there are precious few. His performances of showpieces like the Schumann "Toccata" and the Liszt "La Leggierezza" defy human understanding. Barere was so extraordinary that some people were thrown by it.  Some called him a "mere machine."  He was not mere, and not anything resembling a machine.
The other fascination about Barere is how relatively little known he is (by the way, his name is pronounced see-moan bah-RAIR). He was declared "a pianistic genius" by Sergei Rachmaninoff (a pianistic genius himself, not inclined to be unduly praiseful of others' gifts).  He wowed audiences.  He befriended many of the past piano greats, Horowitz and Godowsky included.  But the circumstances and oddities of his life kept him outside the main sphere, you might say, where he has remained, 60 years later (Barere died a dramatic death on stage at Carnegie Hall, in the middle of a  performance of the Grieg piano concerto!). 
I thought I knew all the Barere recordings, but there is one that escaped me: "My Father was Simon Barere," a clumsy title for a fascinating item. It is a five year old CD on the VAI label (number 1244) and it is essentially a long interview with Boris Barere, whose eccentric, brilliantly gifted father taught him to play piano.  Barere (Boris, that is) tells stories about his growing-up years, as well as anecdotes about his father's practice habits, thoughts and famous friends.  Gradually, in conversation with Jacques Leiser, some truths and curiosities of Simon Barere's life are revealed.  And many of the most miraculous of the elder Barere's performances are interspersed, including some not heard before.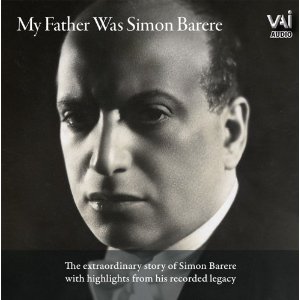 Anyone with any interest in piano performance and history should hear it. My Father was Simon Barere  is available here.
 Listen to these related Fishko Files: