The Election Mood in Changeable Ohio
CANTON, OHIO – Alice Prestier has lived in these parts all her life, raising her children and grandchildren here. For 30 years, she worked for Hoover's vacuum company. "If they would have told me that Hoover's was going to go out of business, I would have never believed it. Not a company that big. You got too many big companies that just left Canton, Ohio. And this was a nice booming town."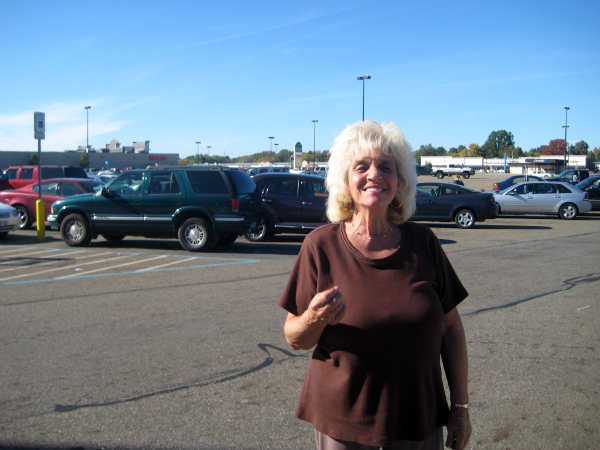 Alice Prestier used to worked at Hoover's Vacuums, which closed after she worked there for three decades. Now she wonders, where's the change?
She ticks off the employers that have left Canton in recent years. "Ford Company. Bliss Company. Hercules. Canton Stamping. Canton Provisions. There was a lot of companies around here. We lost them all. Everything's gone."
There are some gorgeous buildings in downtown Canton. The Canton tower has green-veined black marble deco accents, kind of like a mini-Rockefeller Center, but it's mostly boarded up now. Once, this town was going to be someplace. Now, like so many rust belt towns, it's struggling to figure out what comes next. Large buildings that draw people together in a central downtown are out. Strip malls are in.
"People are just desperate. They want to eat. They want to feed their children. They want to take care of their families. It's gotten to that place," Prestier told me, recounting a story she'd just heard on the radio warning people to lock their cars when they bought groceries because people were roving the parking lots, looking for ways to feed their families. We were standing in the Walmart SuperCenter lot, where people were doing just that—buying food, locking their cars.
Prestier isn't sure who she's voting for this year, but she's skeptical of everyone in power. "Where's the change?" she asked me, a question that echoed all through this town, nestled about where cornfields begin to meet the rolling foothills of the Appalachian mountains.
In 2008, this county voted narrowly for Obama. In 2000, it voted even more narrowly for Bush. But Hillary Clinton won it handily in the March 2008 presidential primary. More than one person told me their vote for Hillary Clinton was the last one they cast.
In election after election, this area goes red, then blue, then red. In 2008, after decades of sending moderate Republican Ralph Regula to Congress, Regula retired, and Democrat John Boccieri, a former state legislator and Air force Major, won Ohio's 16th Congressional district. Boccieri voted for what opponents spittingly call "cap and trade," the stimulus bill, and the health care bill.
"I have made no bones about the votes I've taken. I stand behind them. I would do them again, quite frankly," Boccieri told me after a small lunchtime get-out-the-vote rally in downtown Canton. "Our country needs to be put on a path towards success and prosperity and we need to invest in our greatest asset – our people – which is what these votes have done."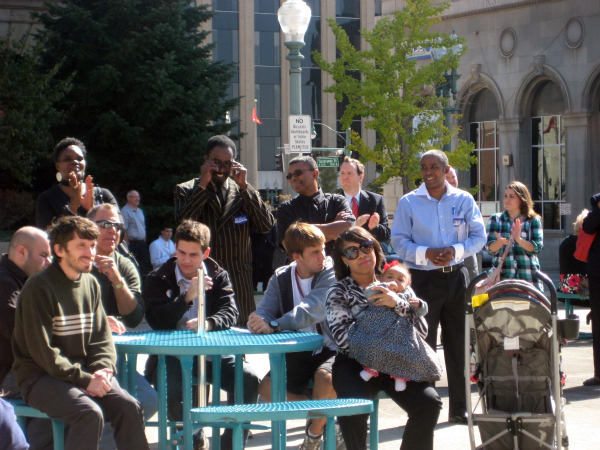 The lunch crowd of potential voters sitting amidst a rally for John Boccieri in Canton, Ohio.
How's that playing in this district?
"People are uneasy. They're uncertain about the economic mess we just came through, and they're being made more anxious, quite frankly, by the special interest groups that are trying to confuse people, disorient them. That's been the most tragic part of this."
During every commercial break on TV, it seems, three ads run accusing some Democrat of raising taxes and killing jobs. One even shows the stripes peeling off the American flag. With ominous pictures and scary music, the ads are run not only by the parties but by groups like the Chamber of Commerce and the NRA.
At the rally, Democratic candidate for Lt. Governor Yvette McGee Brown, forcefully made the argument that the Democrats were doing all they can – that Democrats are not responsible for this mess. Her speech was urgent, fiery.
"I need you to go out and say to the voters, look, I get that you're angry. I understand this economy has been hard on people! But you got to remember who brought this economy down. It was not the Democrats!"
Out in the plaza on a sunny October day, a group of women eating their lunch just let the words bounce off them. Were they persuaded by what they heard? A chorus of "no's."
"I'm making a full change this year," a banker named Jane told me. Meaning everyone who's in goes out? "Pretty much."
A bit later that day, I was out in the Fisher Foods parking lot.
Linda Rich, who works at Timkins, one of Canton's last big employers, voted for Obama in 2008. What does she think of the job he's done? "I think he could do better." In what area, I asked? "All..I'm sort of wishing I wouldn't have voted for him now."
Part of the problem for the Democrats is that their signature measure, health care, is like "rocket science," as laborer Tina Sherman told me. "I just don't understand it." Those who like the idea of health care reform told me, "It didn't go far enough." They say the stimulus hasn't enough jobs to make a difference – even though some area employers are benefitting from the clean energy provisions of the bill and everyone got a tax cut. None of these voters seemed to notice that. One Democrat railed on Obama for taking too many "out-of-town trips."
In a ninety minute debate between Boccieri and the libertarian candidate, Jim Blevins, (Republican Jim Renacci sat this one out), Obama's name was first mentioned at minute 78. Boccieri invoked Ralph Regula more times than I can count on both hands.
Ohio's anti-Obama mood is working to the advantage of Republican Jim Renacci, the former Wadsworth Mayor and a businessman running against Boccieri. If he's elected – and the political polls are giving him the edge – how would he govern in an environment where voters have been subjected to all kinds of negativity on TV? Where the Republicans have been accused of merely obstructing the Democrats, while not putting forward an agenda of their own?
"A 'no' vote is not an obstructionary vote," Renacci told me at his office in a long low building near a strip mall. "It's a vote for the American people right now. So when people are voting 'no,' they're not comfortable, and the American people aren't comfortable with our direction."
Renacci wants to repeal the health care bill and reduce business regulation. He wants to make the Bush tax cuts permanent. The stimulus, to him, has been a failure, and though he believes in infrastructure spending, he doesn't think there's extra money lying around for extra spending in that area right now.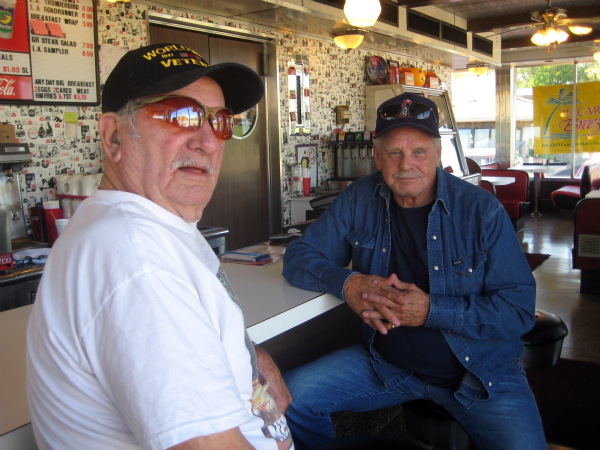 Retired truckers Bud Spicer (left) and Claude Wright "aren't ashamed" of their votes for Obama.
Of course, there are Obama partisans here. "I ain't ashamed to say I voted for him," 89-year old retired trucker Bud Spicer said of Obama at the L.A. City Diner. "I'd vote for him again. I mean the world, right now, is in bad shape." On the words 'bad shape," another trucker, Claude Wright, chimed in, saying "bad shape," simultaneously. "You can't overcome it in one night, three nights," Spicer added. "It's going to take years to get it back where it was. That's how I got it figured out. And I've seen a lot of changes in my day. I've seen black people have to get off the bus – they weren't allowed to ride the bus, they had to step off the sidewalk for you. I like the changes."