New Mickey Mantle Biography Sheds Light (and Casts Shadows) on Yankee Star
This baseball postseason, all eyes are on Yankees captain Derek Jeter as New York Yankees fans hope to take home their 28th World Series title. But in the 1950s, there was another Bronx Bomber who stole the headlines with show-stopping athletic feats: Mickey Mantle.


Just in time for the October playoffs, former Washington Post sportswriter Jane Leavy has published a new book that sheds new light (and casts new shadows) on one of New York's original baseball legends. The new biography, "The Last Boy: Mickey Mantle and the End of America's Childhood," exposes the ball player's complex life off the field in new detail, including his alcoholism, promiscuity, and childhood sexual molestation.

It's not Leavy's first foray into baseball biography—she previously wrote a book about the southpaw Dodgers pitcher Sandy Koufax. But unlike Koufax, Mantle has been the subject of numerous books already.
"I was wary because so much had been written about him," Leavy told sportswriter Bill Madden in an interview. "He left a paper trail as long as the drive from Commerce, Oklahoma to the Bronx, so I didn't expect to learn that he'd been raised by a den of Alaskan she-wolves. My challenge was to strip away all the layers of myth that had accumulated and let Mickey breathe."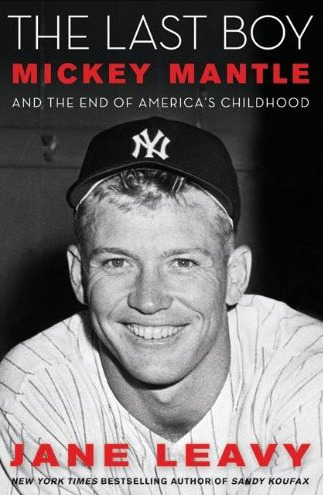 Leavy has been a Mantle fan since childhood, but she became interested in writing about him after learning that men from the baby boomer generation were entranced by Mantle. In the five subsequent years, she did nearly 600 interviews, some of them with Yankees wives. Those interviews gave Leavy insight into the private lives of players, including a 1957 incident at the Copacabana, in which Mantle and company got into a much publicized brawl. The book also covers Leavy's own experience talking to Mantle in 1983, in which her subject, characteristically, makes a pass at her.

In fact, in "The Last Boy," Leavy delves into Mantle's numerous affairs and often difficult relationships with women, linking them to abusive experiences he went through growing up in Oklahoma. In one chapter excerpted in The Daily News, Leavy relates a story told to her by Mantle's wife, in which Mantle's older half-sister would fondle him inappropriately when the parents were out. Leavy writes:

"Every boundary had been crossed – familial, gender, professional – which could account for why Mantle crossed so many lines of behavior and decorum. If it was okay for others to violate his boundaries, it was okay for him to violate those of others.

To experts in the field, Mantle's story is consistent with a cluster of symptoms often seen in survivors of childhood abuse: sexual compulsivity or extreme promiscuity; alcoholism or substance abuse; difficulty regulating emotions and self-soothing; bed wetting; a distorted sense of self; self-loathing, shame, and guilt; a schism between a public image and the private self; feelings of isolation and mistrust; and difficulty getting close to others."
In the years that Mantle served as America's greatest baseball hero, few people were aware of his tumultuous personal life. "It was a completely different age. You just didn't write about the private lives of celebrities like that," says Matthew Futterman, who writes about baseball for The Wall Street Journal. "These were still the years that the press was covering up [President] Kennedy's affairs."

While some Mantle fans might be upset by the focus of Leavy's book on the ball player's unseemly side, Futterman says that Mantle would have endorsed much of it. While struggling with liver cirrhosis towards the end of his life, Mantle became much more open to the public about mistakes he had made earlier. Leavy's book also chronicles Mantle's greater moments—his 12 World Series and his 1963 homer that nearly sent the ball sailing out of Yankee Stadium.

"I think he represents a more innocent time in baseball," says Futterman. "Most people have an image of him as a kid in the '60s standing on the sidelines—one of the dashing young players that would form the foundation of the Yankees. At the same time, he was more complex, and what nobody realized at the time was that he was a drunk, and that got worse over the years. He represents a sort of fall from that innocence."
"The Last Boy: Mickey Mantle and the End of America's Childhood," by Jane Leavy was published on October 12 by Harper.