We took a group of 14 Rookies from the Bronx and Queens down to Washington DC to see the sights. There were 17 of us, traveling on a double-decker bus, staying in a hostel.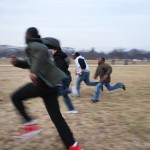 We got in to DC and walked (some ran) along the National Mall, checking out the monuments as the sun set.
The next day we walked forever in the freezing rain and ate too many cheese fries at Ben's Chili Bowl. Then we waddled over to the Howard University radio station WHBC.
We spent the last morning touring the NPR headquarters with Chris Turpin, Executive Producer of All Things Considered. Many of the female Rookies seemed most impressed by Chris' British accent.
Radio Rookies at NPR with Chris Turpin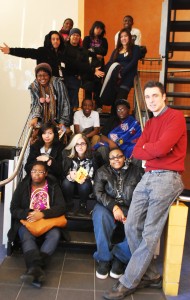 On the walk back to the hostel we watched as police officers were setting up barricades on K Street. I told the Rookies that they must be making way for the POTUS motorcade--but I wasn't really serious.
Turns out I was right! We not only saw President Obama drive by, but from inside his tinted limo windows, he waved at us! You can watch the amazing moment unfold, thanks to Queens Rookie Andrea Lee Torres' camera skills (though you can't actually see Obama in the video, you can hear that we did!)