This fall, we began a new broadcast workshop in Flushing, Queens in partnership with the Flushing YMCA. During the past month, the Rookies have started to roll through their lessons, putting their new skills to practice. They are well on their way to making their radio documentaries.
On the first Saturday workshop, the new Rookies paired up and put trust in each other in a team building activity. One person was blindfolded and listened closely for interesting sounds to record, while their partners made sure they didn't trip or bump into anything.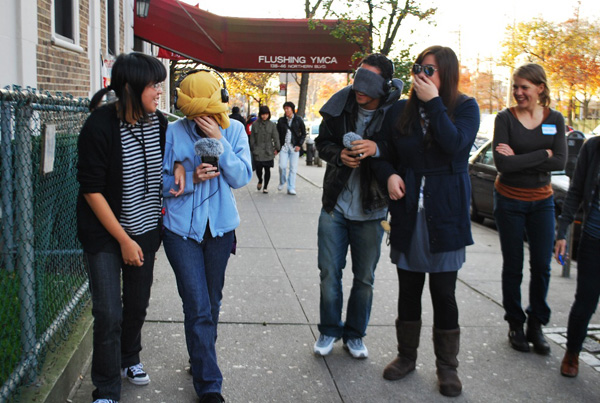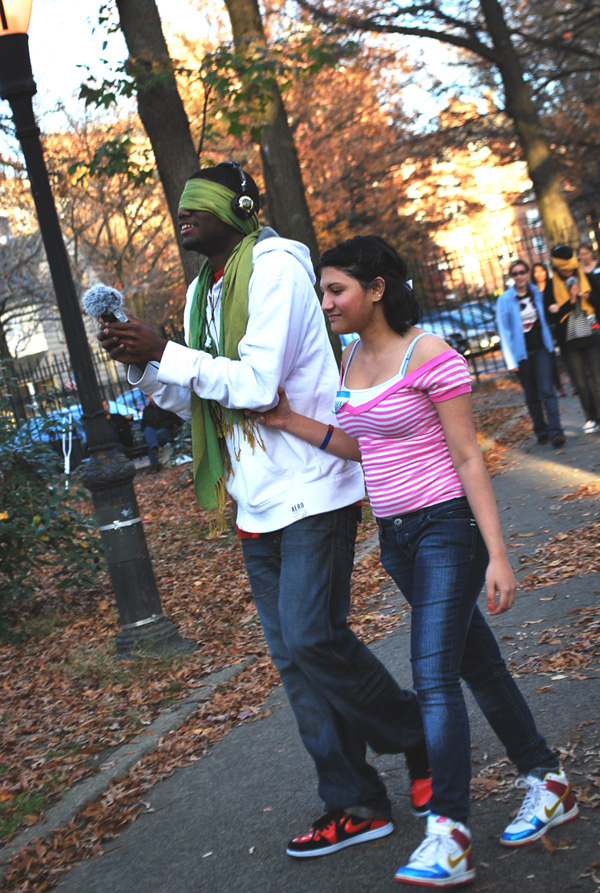 After a bit of fun and some close encounters with sounds of dried leaves, kids at the park, honking cars, walking feet, and giggling and laughing partners, the rookies got ready to explore their story ideas with the group. After getting back to the YMCA, they drew maps about the people, places and things in their lives to help brainstorm story topics.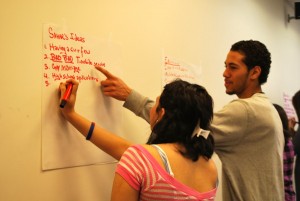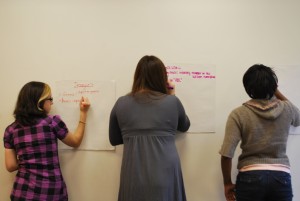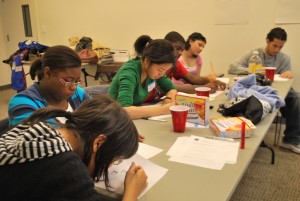 At the next workshop, the Rookies got a little taste of ProTools. They interviewed each other about their favorite songs that reminded them of moments in their lives.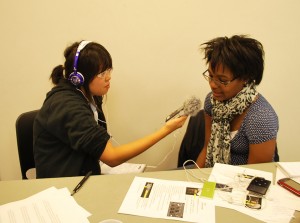 After interviewing each other, they each created a piece called 'This is my Jam.' They edited their interviews and layered the tracks with the songs using ProTools. The 'This is my Jam' exercise was an excellent way for them to warm up the skills needed for interviewing, logging their tape, choosing their favorite parts, creating structure to their story and editing using ProTools. They now have an idea of what goes into creating an audio story.
Some of the Rookies shareed their thoughts on what it was like to make their jams.
'Well we took our favorite song and interviewed each other about them. Alexis's song made me sleepy. It annoyed me when I started to clip stuff together since there was virtually no pause I could cut from. I managed though. I did love all the parts I took out where Alexis is talking. It was okay in the end.' - Hawa Lee
'I chose a song that I like to listen to when I sleep. It was kind of weird that I chose that song because one of my story ideas was about sleep and the role it plays in my everyday life and how too much sleep may increase mortality.' - Alexis Gordon
'Creating the Jams was really fun! I couldn't believe how easy the whole editing process was. I also couldn't believe how tedious everything was. Always having to make the same cuts and then sometimes I forget what I was working on. In conclusion, it was really fun but a tad infuriating.' - Jessica Cernandas
'This is the first time I used Protools since Short Wave and it gave me a chance to refresh my skills. Making my jam was a different kind of experience than editing my story; I can have more fun with it even though it tells a story of its own. Some funny moments was when Andrea and I both sing at some point and totally get each other and start laughing. I can't believe how such a short project took so long! It was weird hearing my own voice.' - Helen Peng
'I learned how to deal with volume and fade-outs. This 'Jams' experience was frustrating and tedious. I guess I was a perfectionist and kept working on trying to get the music smoother. I found my hate for working with Macs. Overall, I am proud with my final result, but I am still bothered by how low the beginning is!' - Andrea Lee Torres
LISTEN TO THEIR JAM SESSIONS:
Listen to Melissa's Jam, she interviewed Jessica about her song:
Listen to Jessica's Jam, she interviewed Melissa about her song:

Listen to Alexis' Jam, she interviewed Hawa about her song:
Listen to Hawa's Jam, she interviewed Alexis about her song:
Listen to Edwin's Jam, he interviewed Sahar about her song:
Listen to Helen's Jam, she interviewed Andrea Lee about her song:
Listen to Sahar's Jam, she interviewed Edwin about his song:
Listen to Andrea Lee's Jam, she interviewed Helen about her song:
Listen to Rayon's Jam, he worked on his favorite song: