One of the Rookies asked me 'why is it that we have to throw the party on a brick cold day?' But, despite the arctic temperature and the wind chill factor Rookies from past and present showed up. We all came together and celebrated being a part of the Rookies family for the past 10 years and looking ahead to many more years.
Janelle Lewis joined in 1999 when Radio Rookies first launched, which at that time was called 'The Harlem Radio and Photography Project.'  She told us how Radio Rookies has influenced her life:

Jonathan Fauske and Jacky Monterosso from the 2001 St. George Staten Island workshop competed in our donut eating contest and they showed the newbies how it's done!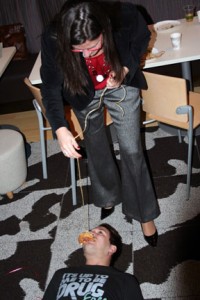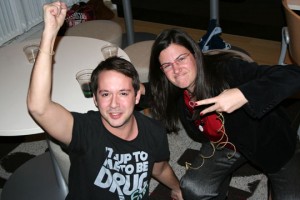 They told us on what they've been up to:

There were lots of games, music and magic! Josh Rand, brother of one of the Midwood Graduate Rookies as well as a seasoned magician, performed his illusions on many of the guests. Also Josetta Adams, a Graduate Rookie from the Brooklyn 2008 workshop, played a cover of a Ingrid Michelson's song.
Also, the party wouldn't have been complete without Czerina Patel, who joined us through video skype from South Africa. Czerina was one of the original producers who worked with Rookies for the first five years of the program. The Graduate Rookies took turns speaking with her in the conference room. Finally, a very special thank you and tribute to Marianne McCune, without whom the program wouldn't exist. She started the program in 1999 and since then the Rookies family continues to grow strong to help empower the youth.