Rookies Blog
Radio Rookies Short Wave Queens Mapping Main Street Project
The third round of Short Wave Rookies comes from Queens, NY. We collaborated with Mapping Main Street, a documentary project that set out to tell the stories of all the Main Streets in the United States.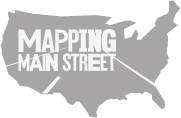 Before Radio Rookies Short Wave collaborated with the Mapping Main Street project we knew we wanted to map the community - in sound, pictures, and stories -- as a route into the neighborhood and culture the teens spend their lives.  Since the next workshop happened to be in Queens, which happens to have a Main Street, we approached the creators, Ann Heppermann and Kara Oehler, of Mapping Main Street.  Out of the collaboration four stories were produced and told by students from the Queens Museum of Art's Queens Teens Program, East-West School of International Studies, and Bryant High School. You can view and listen to their stories here.
Two of the three Short Wave students who worked on the story about steamed buns remember their experiences in creating this piece:
Hawa Lee in the studio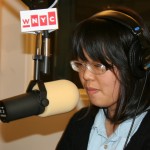 'We are eaters. We are open to eating everything, anywhere, any time (except nap time~!) but it has to be cheap… Well that's the philosophy for our group of friends. So when we were given the assignment of doing a story of a certain thing on Main Street, we thought of food. One of our favorites happened to be steam buns and it was naturally our first choice (after bubble tea anyway). I have to say though, I was slightly nervous about the whole idea of having a story about steam buns since it was so…odd.
However, I was proven wrong as we progressed into the story. It was a fun experience and I loved the faces we got when we asked 'What is a steam bun?'. We did face group arguments at one point since Melissa didn't want to make steam buns from scratch, but majority ruled to make them (HAHA~! Popular sovereignty is fun). It was a fun project in the end and if we had a choice to do this again, I so totally would.' - Hawa Lee
Alexis Gordon Reporting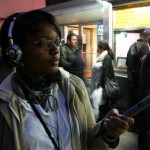 'For Radio Rookies, we wanted to do a story about one of our favorite things to eat on Main Street, steam buns! We started out going to different shops on Main Street testing the various kinds and giving them grades. But, after we started to do some interviews and coming up with more questions about the steam bun, our story dramatically changed from "Where is the best steam bun on Main Street?" to "What is a steam bun?"
The best part of this project was listening to people describe a steam bun. They were so descriptive, imaginative, and humorous. They helped in painting the picture of what a steam bun is and means to us. Also, we witnessed a steam bun place going out of business! Well, one of our interviewees suggested that we should go to this place on Main Street that sold really delicious steam buns. So we went out on a quest to find this place and we did! It looked like any other restaurant on Main Street, so I walked in to get us some steam buns but it was vacant! There was garbage on the floors, no tables, the walls were bare and a lady was carrying out a crate with eggs and other things. It was such an odd and traumatizing experience for me; I have never been inside of a business as it was closing down.' - Alexis Gordon