Rookies Blog
Rookie Vikky Cruz Reports Back on the Youth Radio Conference
At the end of August a group of Radio Rookies attended the first annual Red Hook Initiative Youth Radio Conference at the Brecht Forum in Manhattan. Here, Bronx Rookie Vikky Cruz reports back on the day.
I was a little nervous sharing my story about my mother's disease in front of all the youth at the conference. But, playing a part of my story and then seeing that people had a lot of questions made me feel better because it showed that they were really interested.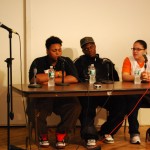 I learned from this experience that it wasn't difficult for me to speak in front of a large crowd. I stopped being nervous and felt comfortable because everyone was a teenager like me. My favorite part of the conference was getting to know other people at the conference and getting to tell others about our work as Radio Rookies. It was great! AND getting to hang out with my fellow Rookies and Graduate Rookies was even greater! It was a lot of fun.
I felt important when the audience asked me questions about my story and I really enjoyed expressing my real feelings to the audience. One of my most memorable moments was when I revealed to the audience that I was trying not to cry. And even though it was hard for me to answer the questions, I still tried. My eyes were watery (you can see it, if you really look at the video clip).
I thought I had answered all the questions, but then someone in the audience raised his hand and asked this question: "What do you want people to gain from your story?"
I thought about it and felt very strongly about my answer. I want people to understand my mom
Doing this story has helped me understand more about what's happening with my mother. I've learned how to handle the situation better and understand now that I can still do my own things. I really enjoyed the conference, it was an exciting experience! It was also great talking to a larger crowd about my story. And I'm glad that I didn't bust out crying. After the conference I felt confident about talking to more people about my mother.