Lower East Side Synagogue Unveils Stained Glass Window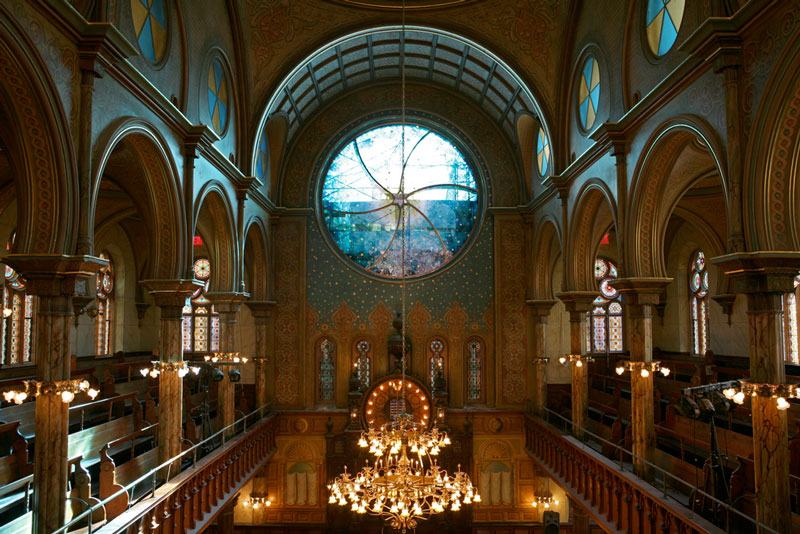 One of the oldest synagogues in America on Thursday unveiled a very contemporary addition: a monumental stained glass window, which is the result of a collaboration between artist Kiki Smith and architect Deborah Gans. The window is the final piece in a restoration that's taken over 20 years and $18.5 million to complete.
The Eldridge Street Synagogue, a national landmark building on Manhattan's Lower East Side, was the first great house of worship built by Eastern European Jews in the US. The grand building stands in stark contrast to the tenements in which many of its original congregants lived, more than 120 years ago.
Artist Kiki Smith, best known for her sculpture, relied on a marriage of ancient stained glass techniques and more modern innovations in the field. "Rather than the other windows here which are more traditional leaded windows, they're laminated with glue, so it's using a new technology," says Smith.
Architect Deborah Gans says that one of the most difficult things about the project was the daunting task of getting the 16-foot circular window in place, 50 feet above the ground. "The frame weighs 4,000 pounds and it was hoisted up," Gans says.
New York City's Cultural Affairs Commissioner Kate Levin acknowledges the risks of combining 19th architecture with 21st century art. "They've made a very brave move in commissioning major contemporary art for their window," Levin says. "They've essentially imagined the future of this historic site."
Stars figure prominently in the new window, reflecting star motifs in other parts of the synagogue. They also figure extensively in Smith's work and life. "I have stars tattooed on my body, in a similar color of the blue of the window, so it's sort of a funny confluence," she says.
Although this is her first piece of art in a place of worship, Smith adds she has been moving towards spiritual themes in her work for years: "I have very much wanted to make things within sacred spaces."
Commissioner Levin is impressed with the window's galaxy of stars and swirling turquoise blue glass. "The way the pattern of light changes, it is really quite extraordinary," she says.
For architect Gans, the main concern was how to work the new window into the existing neo-Moorish building. "The greatest compliment we get is that it looks like it's always been here," she says.