In Uncontested Races, An Election But No Choice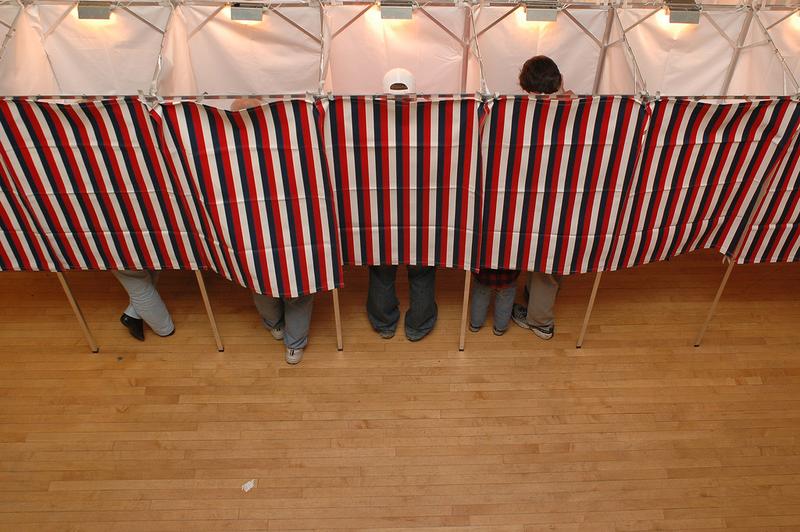 The ballot that voters in Queens' 32nd state assembly district will find when they go to the polls next month is a little alarming. It features a single assembly candidate: Vivian Cook, Democrat.
The paucity of choice facing voters in Cook's Jamaica district is hardly unique. Across the state, New Yorkers won't be presented with a choice, so much as an opportunity to confirm a decision already made by party leaders. In eight State Senate and 37 assembly races, candidates are running unopposed. Most of these uncontested elections are in New York City.
Of course, registered Democrats outnumber Republicans 5 to 1 in the five boroughs, making Democratic electoral victories a sure thing in many neighborhoods. But these uncontested elections aren't about electoral landslides. They are about the reality that in dozens of communities both Republican and Democratic, voters won't have any choice at all. In New York City, uncontested candidates are running in six Senate and 21 Assembly races. A single name will appear on the ballot, often across several party lines. (The state senate has 62 seats, 26 in NYC. The assembly has 150, 65 in NYC).
"In New York, we don't have a thumb on the scale for incumbents, we have a fist on the scale," says Susan Lerner, executive director of Common Cause New York, which advocates for open and transparent government.
The uncontested races in New York are a result of the state's deeply political redistricting and state election laws that make it difficult for new comers to get on the ballot. A tradition of cross endorsements from secondary parties contributes to another phenomenon, whereby a powerful incumbent might run unopposed, but on several party lines at once.
"Where is the impetus to fix the legislature if no one is running against incumbents? When the public wants to vote new people in, they can't," Lerner says. "This is the year of throw the bums out, supposedly. But how many of the bums even have challengers?"
A Rigged Map
A study last year by Citizens Union, another open government group, found that between 1998 and 2008, incumbents in New York State were re-elected at a rate of 97 percent.
The preponderance of single-candidate races is a result of districts that are drawn to exclude competitors, says Rachael Fauss, policy and research manager at Citizens Union. "You've got very polarized districts, so for the general elections, the poll of voters is going to be one party or the other. For the most part there isn't a real competition, so you don't see a lot of candidates."
Every ten years, districts are carefully redrawn into exotic shapes, paying close attention to their demographic makeup. Some districts squeeze down a single street, or loop around and cut out whole populations to preserve a winnable populace for the incumbent.
And even where there might be competitors, New York's election laws make it tough to enter the race, particularly without the advantages of party backing.
Steep ballot requirements
Combined with the bare knuckle tradition of challenging the accuracy and legitimacy of names on one's opponents' petitions to get on the ballot, election laws can make it very difficult for a newcomer. "It's a very common thing for people to get kicked off the ballot for technical reasons," Fauss says. "You need someone who really knows the law. It's really difficult to get on the ballot if you are just a private candidate with a few volunteers."
Part of the difficulty is the petition system required to get on the ballot, says Jonathan Soffer, a professor of history at the Polytechnic Institute of New York University and author of the new biography, Ed Koch and the Rebuilding of New York. "You have to spend money printing them (petitions), you have to spend money on a lawyer, and you really have to have an organization to get out and collect signatures. You really have to have a lot of support," he says.
As for the uncompetitive election districts, Soffer says they may be egregious in New York, but they are nothing new. "For forever, legislators, when they have power over redistricting have tended to redistrict in ways that benefit them," he says.
One name, multiple parties.
In uncontested races, there's the added confusion that the same candidate can appear on the ballot several times because of cross-party endorsements. Voters in Hunts Point, Crotona and other Bronx neighborhoods in the 32nd State Senate district can decide whether to vote for Ruben Diaz, Sr. the Democrat or Ruben Diaz, Sr. the Republican. Diaz was one of a coterie of Senate Democrats who switched party affiliation in spring 2009, effectively freezing government operation and eventually winning themselves perks in the Democratic leadership in exchange for coming back to the fold.
The Bronx Democratic Committee did not respond to a request for comment.
The New York State Republican Party says the reason Ruben Diaz, Sr. won the Republican nomination is simple. "It's obviously important that Republicans regain control of the Senate and even though Diaz ran before as a Democrat, he's a Republican and will caucus with the Republicans," GOP spokesman Alex Carey says.
In the Buffalo area, voters can decide whether Mark Schroeder best represents their political beliefs as a Democrat, Independent, Conservative or Working Families voter, never mind that those parties- particularly the last two- hold starkly different ideas about the role of government and solutions to challenges facing the state.
Conservative Party Chairman Mike Long says that sort of across-the-political spectrum cross endorsement is awful.
"My policy is, no candidate that is running on the Conservative line should be eligible for or accept the Working Families endorsement. It's nothing against the Working Families Party, but we don't match. The gloves don't fit on the hand," Long says. "If you look at our website and their website, there is nothing that we agree on," he says.
But in Assembly districts like Schroeder's where the entire district is within a single county, the state Conservative Party doesn't have a roll in the nominating and endorsing process. The county committee makes its decisions autonomously. The Erie County Conservative Committee, which put Democrat Schroeder on their ballot line, did not return a call requesting comment.
On the Working Families Party side, spokesman Dan Levitan says the party encourages candidates seeking their endorsements not to pursue the Conservative or Independence Parties. But sometimes, the Party finds that Republicans or Conservative candidates deserve the Working Families endorsement. "You will find some Republicans who have voted the right way on a range of issues, on a living wage bill or a green jobs initiative," he says.
Sometimes, though, the endorsements are the result of politics, not policy. Cross endorsements of apparent ideological foes is sometimes done to curry favor with a powerful incumbent who can deliver services and funding for a district, says the Conservative Party's Mike Long. "Some party leaders say it's what the candidate can do for the local committee. I don't buy that. Once you run down that road you stand for nothing. It's doing damage to the platform and the party," he says.
And despite his party's habit of cross-endorsing, single name ballots aren't something Levitan likes to see. "It's not really a democracy if you've got no choices," he says.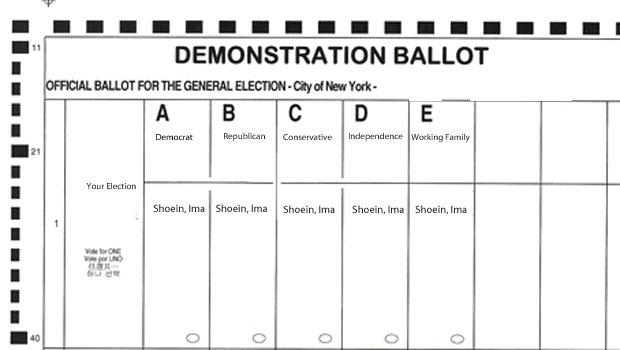 of