True/False: Rational Redistricting Is Possible
»» Special Project: Send us your favorite oddly-shaped district! Instructions at the bottom of the article.
There's icing on the cake this year for the political party that takes control over the state legislature: the power to redraw districts for the State Senate, State Assembly and U.S. Congress that will last for the next decade. At the end of this year, the U.S. Census Bureau will have counted the total number of residents--and since New York's population has slightly decreased, it's expected the state will lose two seats in the House.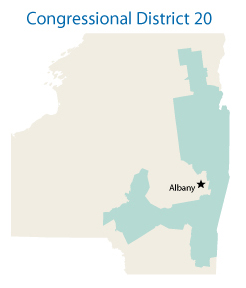 Redistricting has a seedy past in New York--on both sides of the aisle there's been great use of gerrymandering, which means divvying up the state into funny looking districts and jamming as many voters as possible belonging to your party into them.
In 2000, the last time districts were redrawn, Republicans controlled the state legislature, and Democrats accused them of using tactics like drawing the 20th U.S. Congressional district with a strange curve around Albany, in order to make it more GOP-centric.
There's nothing inherently undemocratic about shapes. But some of the districts in New York are so outrageously drawn that they've attracted nicknames like "Abraham Lincoln riding a Vacuum Cleaner." (That's the 51st state senate district.) Blair Horner of New York Public Interest Research Group calls assembly district 13 in Nassau County "the claw."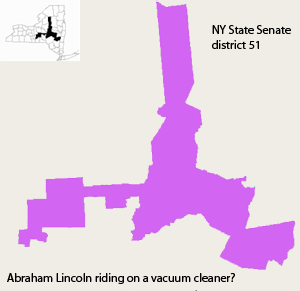 Hakeem Jeffries, the Assemblyman from Clinton Hill and Fort Greene, Brooklyn, claims his house was purposely drawn out of the 57th assembly district in an act of retribution after he unsuccessfully ran for office in 2000. He was forced to move seven blocks south in order to run again. Jeffries would like to bring all of Fort Greene and Clinton Hill together in the 57th district--half of the Clinton Hill Co-op buildings are in his district, but the other half are in the 50th district, served by Joe Lentol. Jeffries was recently featured in the documentary film, "Gerrymandering."
Good government groups want to see an independent, non-partisan redistricting commission that would take the power out of the hands of legislators and prevent gerrymandering. NYPIRG recently put out a report on the issue. This movement is backed by former NYC Mayor Ed Koch, and Assemblyman Mike Gianaris is sponsoring a bill to create the commission before the districts are redrawn in 2011. They say they have gotten a majority of both houses of the state legislature to sign onto the bill. But a recent article in the Observer revealed that some of NY's U.S. Congressmen and Senators are uneasy about the plan--so it's unclear what will happen.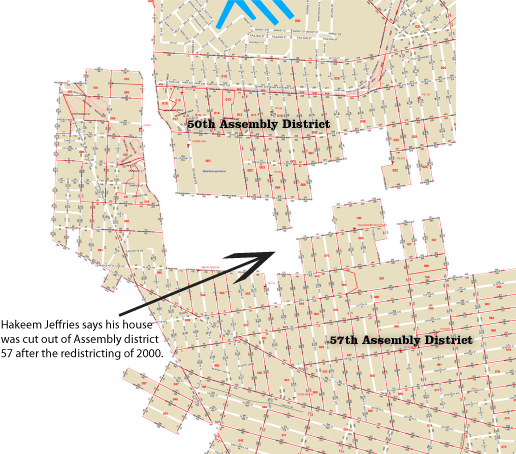 One victory for reformers in 2010 was the change in law that will result in prisoners being counted in their home districts (mostly downstate) rather than where they held in prisons (mostly upstate). Each district is supposed to have around 300,000 people, and Democrats say that shift in where to count 57,000 inmates will have a major effect on election patterns.
Special Project: You can see what your U.S. Congressional district looks like on this website. Find yours, or find one that you particularly like, and send us a link to the map --we'll post our favorites!