Government Reform Groups Have Hope for Redistricting Changes
Albany, NY —
Government reform groups say the next election cycle presents the best chance yet for redistricting reform that they say would put an end to gerrymandered state legislative districts.
State Senate and Assembly districts have traditionally been drawn by the political party that's in power in each house, and they are engineered to secure seats for incumbent legislators. The process, known as gerrymandering, is named for a 19th century Massachusetts governor, Elbridge Gerry, who invented the practice. It has been perfected to an art form in New York.
Sometimes, individual legislative districts can take on rather bizarre formations in the attempt to assure that an incumbent politician has carved out the necessary configuration of voters.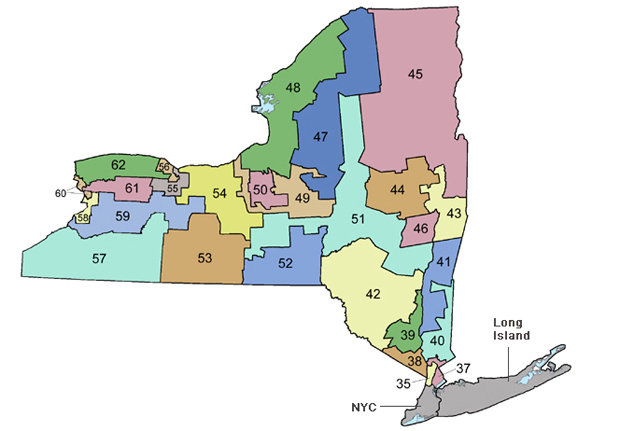 New York Senate districts (NY Senate)
Blair Horner, with the New York Public Interest Research Group, and a longtime advocate of redistricting reform, has named some of his favorites, including "AKA the Claw" in northeast Nassau County, and "Abraham Lincoln riding a Vacuum Cleaner" in a district that ranges from parts of Central New York and the Hudson Valley, then veers north almost to the Canadian border.
Another was drawn to protect then incumbent GOP Senator Guy Velella, who represented an increasingly Democratic district in the Bronx, and labeled by Horner and others as "oops, I spilled the coffee on a map," or "bug on a windshield."
Even creative gerrymandering could not save Velella, though, when he was convicted of felony bribery and sentenced to prison, forcing him to resign his seat.
Now a new report by NYPIRG, endorsed by other government reform groups including Common Cause and Citizens Union, measures the effects of New York State's long history of gerrymandering. It finds that districts that are supposed to contain roughly an equal number of voters can vary widely in size. For instance, each Senate district is supposed to contain around 300,000 people, but lawmakers give themselves a leeway of 10 percent. As a result, some districts can have 30,000 fewer voters than other districts. The study also found that just 25 of the 212 legislative districts can be considered competitive, with equal amounts of Democrats and Republicans. Most are skewed to benefit one of the two major parties. Horner says the efforts seem to have paid off from the incumbent lawmakers point of view, and in some 3,000 legislative contests held over nearly three decades, just 39 challengers knocked out a seated Senator or Assemblymember, which he calls a "problem."
"We think that system needs to be changed," Horner says.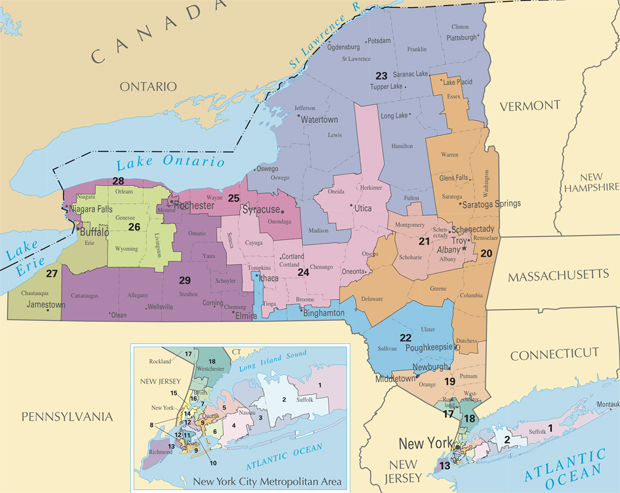 New York State Congressional districts (nationalatlas.gov)
Barbara Bartoletti with the League of Women Voters says the redistricting process has so veered off course and that it has become the opposite of what it's supposed to be. Instead of voters choosing their legislators, the sitting lawmakers get to pick their voters.
"They will draw these lines so that they get to pick their voters before the voters get to pick them," Bartoletti says. "They're called designer districts."
The groups say there's reason to hope for change when the new districts are drawn, in 2012. Many state lawmakers, including all 30 Senate Republicans have signed a pledge pushed by former New York City Mayor Ed Koch's government reform effort, which promises to advocate for non partisan redistricting. And both major party gubernatorial candidates, Democrat Andrew Cuomo and Republican Carl Paladino, have promised to veto any redistricting plan that is biased toward either political party.
The NYPIRG's Horner says the new governor will have to "stick to his guns."
The legislature is entitled to attempt to override any veto, but in what is likely to remain a closely divided Senate, it would be tough, Horner says, to get the minority party Senators to vote for an override that would essentially draw them out of office.