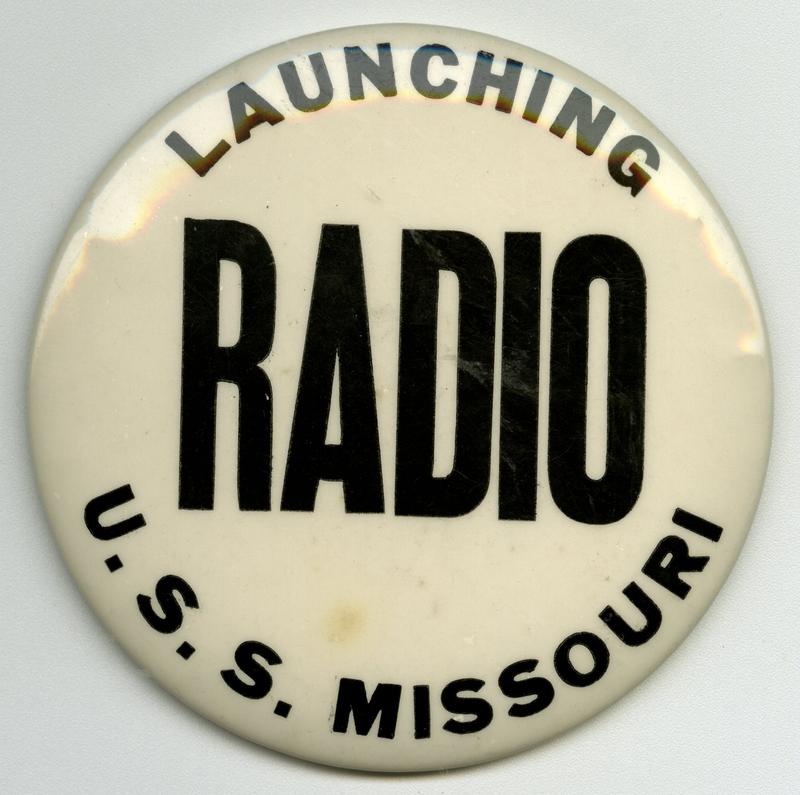 From the Collection
This press pass button was worn by WNYC News Director Mitchell 'Mike' Jablons for his coverage of the launching of the USS Missouri at the Brooklyn Navy Yard on January 29, 1944. The battleship was the site of the September 2, 1945 Japanese surrender ceremony that ended World War II. (WNYC Archive Collections).
________________________________________________________
Broadcast On WNYC today in:
1927: Army v. Notre Dame football game.
1934: Armistice Day ceremonies at Eternal Light in Madison Square. Mayor La Guardia undscores the need to support President Roosevelt and says, "This country is facing today a period more difficult than the hardest days of even the World War...What we need is to destroy the great enemy of selfishness and greed and narrowmindedness that is holding back the country. That is what our great President of the United States is seeking to do, and, my comrades, I know that you all are going to help him." 
1947: In this edition of Behind the Scenes in Music we hear a rehearsal of Beethoven violin concerto with Roger Schermansky, violinist and the training orchestra of the National Orchestral Association under the direction of Leon Barzan.
1950: Dr. Lena Levine speaks on "The unconscious fear of sex" at the Cooper Union Forum.
Lena Levine was a pioneer in the birth control movement and marriage counseling. She worked very closely with Margaret Sanger and became the medical secretary of the London-based International Planned Parenthood Federation. In 1941 she and Dr. Abraham Stone organized a group counseling program on sex and contraception under the sponsorship of Planned Parenthood. This was the first program of its kind in the United States.
1989: Arts Alive from the Algonquin with host Charles Bergman, Executive Vice President of the Pollock-Krasner Foundation Guests: Conductor Gilbert Levine; playwrite Edward Albee; and teacher, painter and print maker Will Barnett.
1998: Mark Hilan reports on Doctors Without Borders.
2003: San Francisco Symphony Music Director, Michael Tilson Thomas, joins John Schaefer to discuss his innovative views on programming, community relations, education, and more on Soundcheck.