Debating Immigration in the New York Election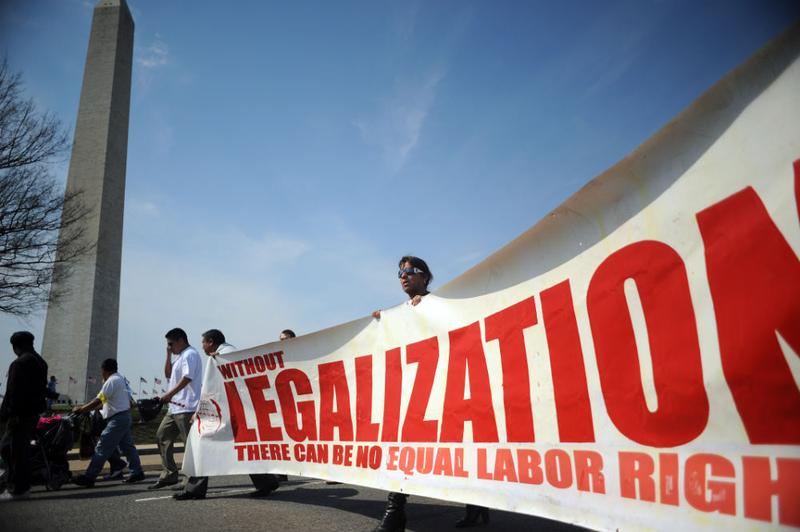 Welcome to Politics Bites, where every afternoon at It's A Free Country we bring you the unmissable quotes from political conversations on WNYC.On this morning's Brian Lehrer Show 30 Issues in 30 Days tackled immigration policy.
Randy Altschuler, Republican and Conservative Party nominee for Congress from New York's 1st District on Long Island and Chung-Wha Hong, executive director of the New York Immigration Coalition discussed legal and illegal immigration to the region on today's Brian Lehrer Show.
Altschuler took pains to establish himself as pro-immigrant, but against illegal immigration, saying the country needed to enforce existing laws and stem the flow of illegal migrants over borders he described as "porous." The congressional candidate says he opposes amnesty for the estimated 12 million undocumented immigrants currently in the United States and opposes most suggestions for comprehensive immigration reform. He also opposes The Dream Act, which would legalize illegal immigrants who came to the United States as children and complete two years of college or two years in the military, he said. Altschuler repeatedly advocated for individual, case by case solutions for otherwise law-abiding people in the United States illegally.
"There needs to be a process and there needs to be a penalty for people here illegally," he said.
Altschuler rejected the premise of the Question of the Day True/False: The United States Has Too Many Immigrants. 
People aren't upset about immigrants coming to this country. And irregardless we have a proud, Dominican, Mexican, lots of different communities here. That's not the issue. The issue is folks coming here illegally. There is not a right number of illegal immigrants. In all cases we don't support illegal immigration. We want legal immigrants...There is no such thing as too many immigrants. This is a country of immigrants. The question is illegal immigration. That's what we oppose. Not immigration. Of course not.
Chung-Wha Hong, of the New York Immigration Coalition said political discussions about immigration often operate without facts. She argued immigrants should be understood as creating an economic growth. "It is just simply true that where there is growth there is immigration, and where there is immigration there is economic growth," she said.
Immigrants generate a quarter of New York State's GDP, $229 billion in economic activity and employ a 250,000 New Yorkers, Hong said. Some illegal immigrants pay income taxes and legal green card holders pay taxes but are barred from receiving medicaid benefits for five years, she said. 
Responding to a caller who argued that illegal immigrants have large numbers of children and make use of public benefits such as schools, parks and hospitals, she counseled looking at the big picture. "I think if you look at the overall immigrant contributions, they are definitely on the revenue-generating, job-creating positive column," she said, noting that over a third of immigrants are working age.
Democratic gubernatorial candidate Andrew Cuomo should be more outspoken about immigration, she said. "Cuomo could be a lot more aggressive in laying out his immigrant policy vision and platform," she said. Neither he nor Carl Paladino has responded to a New York Immigration Coalition questionairre attempting to pinpoint their positions on various immigration issues.
Listen to the entire discussion on The Brian Lehrer Show.