Tech Entrepreneurs See Themselves in 'The Social Network'
Relationships drive the social media site Facebook: The friends you let into your network, the groups you seek to join. Relationships are also the crux of Facebook, the movie (aka "The Social Network"). In fact, it's the only part of the movie we're sure is true.
Few people, if any, know what really happened between Harvard nerd, Mark Zuckerberg, and his rivals, the Winklevoss twins, who were clean cut crew champions. But we know that TheFacebook.com, as the website was once called, catapulted Zuckerberg from being the CEO of a small startup to a billionaire in a few short years. There were some frayed partnerships along the way, the kind of relationships that can end in multi-million-dollar settlements.
Which is why this film resonates so much with a tech crowd as much as the mainstream movie-goers its Hollywood backers are trying to lure.
"Relationships are one of the biggest elements," says Ben Fischer, one of about 300 entrepreneurs and tech workers at an opening night screening of the movie in Manhattan.
The screening was organized by the New York Tech Meetup, a 15,000 member group that has been forging relationships within the city's tech startup world for the past six years. The group was so excited about "The Social Network," they rented a movie theater in midtown for the screening.
Based on these entrepreneurs' reactions, the actual facts aren't the most importatant aspect of the film.
"I'm fairly familiar with the back story — at least what's been published. So I try to identify what's inaccurate," says Fischer, who runs a company called Urban Pre-Game, among other projects. "But what I do know is that being an entrepreneur, my spine tingled."
It's possible that this kind of appeal to the tech crowd would come at the cost of losing the average social media using audience. At least it did for Liz Tran, who was dragged along by her entrepreneur boyfriend. During the movie, "I got really bored and I went on Facebook," she says. Her boyfriend, however, loved it.
But the lines snaking out the door for a regular public screening right after this one would indicate it does have mainstream appeal, not to mention the rave reviews it's getting.
As for the drama of startups, not every entrepreneur wants to have the same experience that Mark Zuckerberg endured (or created?) with his partners.
"I'm sure it resonates with a lot of people who are involved in startups," says Anna Lindow, who works for one herself. "But I would prefer to be involved in startups without so much drama."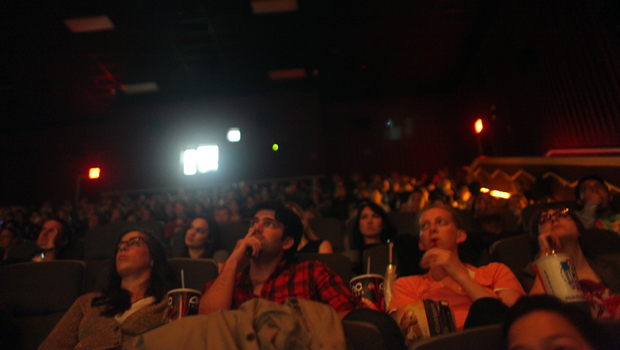 Members of New York Tech Meetup watching "The Social Network" on opening night. (Stephen Nessen/WNYC)