Last Chance Foods: On the Lamb
They look cute and sweet, but lambs also make for good eating if you're meat inclined. It's only fair that such adorable critters get to lead happy lives grazing on grass, and that's exactly the case at Stone Barns Center for Food and Agriculture.
Craig Haney (photographed below by Mark Jordan), is the livestock manager at Stone Barns. His farm raises lamb sustainably, paying close attention to the land and to the well being of the animals themselves. Haney says lambs need about a quarter less land to graze on than cows. He and his team move its flocks of lamb from pasture to pasture daily to avoid overgrazing.
But not all lambs are grass fed.
"A lot of American lamb is actually raised very similarly to beef," Haney says. "Started on range land and then at the end of their lives will be finished in a confined feed lot."
New York has a long history of grazing livestock. "In 1840, I think there were close to more than 2 million sheep in New York state. A lot of it was for wool production, not necessarily for the meat," Haney says. "We're not in an area where you'd want to till up a great amount of land," he adds, citing eastern New York's rocky terrain. Instead, cooler temperatures and regular rainfall make for lush grass, which in turn leads to more flavorful meat.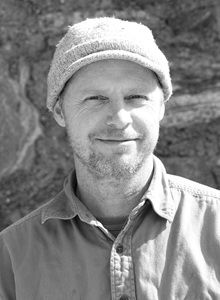 Sara Bigelow, a butcher at The Meat Hook in Williamsburg, Brooklyn, also serves up grass-fed lamb. She explains fresh lamb does have a pungent odor, but it doesn't smell as funky as aged beef.
"I really like shoulder because it's something that you can either do really hot and fast so it's a little less tender, or you can roast it very slowly, or braise it," Bigelow says. "And it's got really wonderful flavor. And it's also really nice and fatty, which I definitely like."
For his part, Haney is a fan of the shank, which he also recommends braising, particularly now that the weather is cooler.
WNYC got Dan Barber's recipe for braised lamb necks. Barber's the executive chef for Blue Hills and Blue Hills at Stone Barns.

Braised Lamb Necks

4 lamb necks, deboned (or lamb shanks)
1 large onion, medium dice
2 carrots, peeled and diced
1 celery stalk, trimmed and diced
3 garlic cloves, smashed
salt and freshly ground pepper
1 1/2 quarts strong chicken stock
2 tablespoons vegetable oil
1 bay leaf, 1 small sprig rosemary, and 3 sprigs of thyme tied into bouquet garni
1 1/2 cups red wine
1/4 cup red wine vinegar
1. Preheat oven to 350 degrees. Heat oil in a medium-sized casserole pot over medium flame.
2. Season lamb necks well with salt and pepper. Brown lamb necks well in the pan, 3 minutes per side. Remove from pan and set aside.
3. Add the carrots, onions, celery and garlic and slowly caramelize until soft and lightly browned, about 10 minutes. Deglaze the pan with red wine and vinegar and reduce liquid by two thirds.
4. Return lamb necks to the pot with the bouquet garni. Cover with stock and bring to a gentle simmer. Put a lid on the pot and place in the oven. Gently braise for about 1π hours, or until lamb is tender.
5. Remove lamb from the pot. Strain the vegetables and discard, reserving the liquid. Reduce braising liquid by three-quarters over medium flame until slightly thickened.
6. Return lamb to the reduced braising liquid and keep warm until serving. Spoon sauce over lamb.