New York played a central role in the development of abstract art after World War II. As the Museum of Modern Art prepares for the opening of its biggest-ever show of abstract expressionism,  WNYC's Sara Fishko talks to a couple of post-War New York painters, in this edition of the Fishko Files.
Artist Charles Cajori lived and worked in the Abstract Expressionist community. See some of his work -- from 1961 to present -- below.
Painter Mary Abbott, who also appears in this edition of the Fishko Files, was a member of the downtown Abstract Expressionist art movement, as well.

Abbott in 1952.                                                                                                      Abbott in 2002.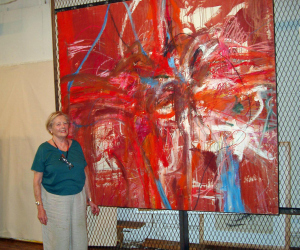 Thank you to the Thomas McCormick Gallery for these images.
Mix Engineer: Wayne Shulmister
Assistant Producer: Laura Mayer