Just How Bad Were the Subways in 1985?
If you think the subways are late, dirty and expensive now, imagine what it was like 25 years ago.
In honor of the Straphangers' Campaign's latest report on the State of the Subways, which is being released on Wednesday, we took a look at one of the earliest documents the organization produced: an August 1985 ridership survey that our archivist, Andy Lanset, unearthed.
Yes, the Straphangers were nipping at the heels of the MTA even back then. Here are some choice findings:
One out of every four subway cars had at least one broken door panel
One in every five cars was dark or dim
17 percent of trains were mislabeled with the wrong line number or letter
The report excerpts a story from one of the surveyors about one of these mislabeled trains, which were known at the time as "mystery trains":
It was an M (the signs even said so) but after it crossed the Williamsburgh Bridge it ran on the J train express track. It stopped across from the Lorimer Street station, which was packed with people who didn't look too happy.
The report paints a vivid picture of the chaos that raged underground. One surveyor reported that passengers, after waiting at the Broadway station in Brooklyn for more than 30 minutes, jumped aboard the first train that arrived: "People shoved to get on… People jumped the safety gates between cars."
Broken doors figured so prominently in the survey because they added to delays. Another surveyor commented: "There were many of us entering the car door. When the conductor started closing the car doors though several of us still had not entered. This required us to hang onto the one working car door so that we could get into the train.
The lack of announcements -- still a problem -- according to recent Straphangers' reports, added to the confusion.
"Time and again, raters reported being barked at by conductors, 'This train is out of service. Everybody off!'" wrote the report's co-authors, Gene Russianoff and Peter Skeie. "Or, 'We're going to Astoria!' without a word of explanation."
The Straphangers' Campaign started in 1979 and issued its first report on subways a year later. Russianoff still works for the organization.
"Back then we were measuring things that just don't exist in our surveys anymore," he recalled with a chuckle in a recent interview. For example, instead of broken doors, the Straphangers now measures the cleanliness of cars.
But Russianoff is still not satisfied.
"It's light years better than it was in the early 1980s," he says. "But it still has a way to go."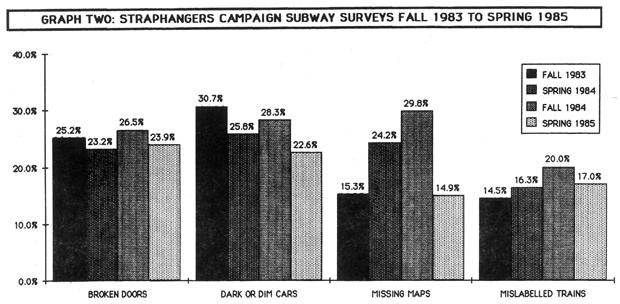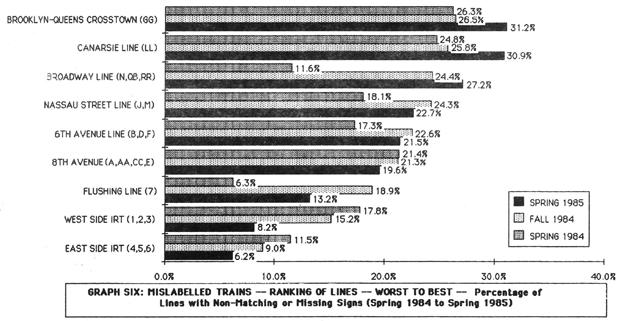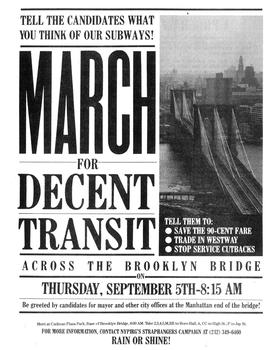 of