Music Hub
New York City Bands Tap Into Colombian Music Fever
Download "Chimiriliconga Original" by MAKU Soundsystem for free, or, scroll down to watch WNYC's audio slideshow.

The Venue: Teraza 7 Train Café (40-19 Gleane Street, Jackson Heights, Queens)
The 'Hood: Jackson Heights/Elmhurst, Queens
The Artist: MAKU Soundsystem
The Beat: Afro-Colombian folklore and rock 'n' roll
News about Colombia has often been dominated with headline-grabbing stories of violence and drug trade. But these days, political stability in Colombia has greatly improved and the South American country is having a definite moment in the sun. Travel articles come out nearly every week touting Colombia as a "hot" and "new" destination. Colombian music, too, is enjoying newfound popularity, from the cumbia craze hitting the global club scene to the rise of new roots-fusion bands like Bomba Estereo and Choc Quib Town.
New York City is no exception. In the city's five boroughs, a Colombian musical revolution in miniature is taking place.
"There is a whole community of Colombian bands in the city," says Juan Ospina, a Bogotá native and musician who now calls New York City home. His own band, MAKU Soundsystem, is one of the increasing number of Colombian bands in the city, along with the groups La Cumbiamba eNeYé, Grupo Chonta, Folklore Urbano and Sebastian Cruz and the Cheap Landscape Trio. "We all have our own unique styles, but we all are influenced by each other's energy as well."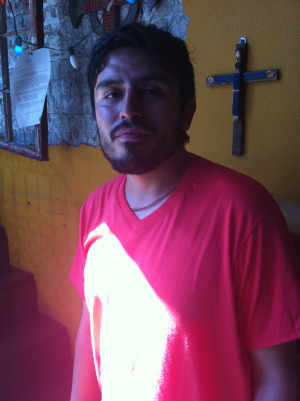 MAKU, which draws on both traditional Afro-Colombian rhythms such as mapalé and bullerengue as well as a mosaic of American genres—punk, hip-hop, and jazz—was founded in 2009 by guitarist Camilo Rodriguez as an outlet for folklore-influenced compositions. Rodriguez was born in Bogotá, too, and immigrated with his family to East Elmhurst, Queens when he was 19.
Growing up in Bogotá, Rodriguez listened mostly to American punk rock. Things changed when he moved. "I became interested in traditional music when I was living here in New York," Rodriguez says. "I think it's because you are far from home, so you start feeling like you need an identity. So, I began looking for the roots."
Camilo soon found he wasn't alone. He met several of MAKU's current lineup at Colombian percussion workshops being held at Terraza 7 Train Café, a bar and Latino cultural center located in Jackson Heights, Queens. The bar, owned by Colombian immigrant Freddy Castiblanco, is a hub for the Latino arts scene in Queens. It hosts Spanish-language film screenings, poetry readings, and nightly live music. Bands perform on a stage hanging from the ceiling. Most Saturday afternoons, MAKU rehearses in Terraza before the bar opens, sending stray clarinet and trombone notes wafting down the block. About once a month, MAKU also plays a show at Terraza, which is usually packed with young, artsy-looking Latinos.
Queens has long been the center of the rock en español scene in New York. According to the American Community Survey, some 80,000 Colombians live in Queens – over 75 percent of the entire New York City population – and the borough hosts large communities of Ecuadorians, Peruvians, and other South Americans as well. Clubs such as D'Antigua, in Jackson Heights, and La Kueva, in Sunnyside, regularly host top touring rock acts from places like Mexico and Argentina. But here at Terraza, folkloric sounds from Latin America mix modern elements to make something new. "Right now it's really emerging," says Rodriguez. "Young people are really interested in traditional music."
Seven out of the eleven musicians who play in MAKU were born in Colombia. As a result, the band members agree their experiences as young immigrants in New York City has shaped their music.
"We not only take our cultures with us," says MAKU singer Liliana Conde, who immigrated to the US in 2001 and went to high school in New York. "But we also pick up on everything that surrounds us. I think in that way, MAKU definitely represents the immigrant New Yorker."
Learn more about MAKU and the Colombian music scene in Queens in WNYC's slideshow below.