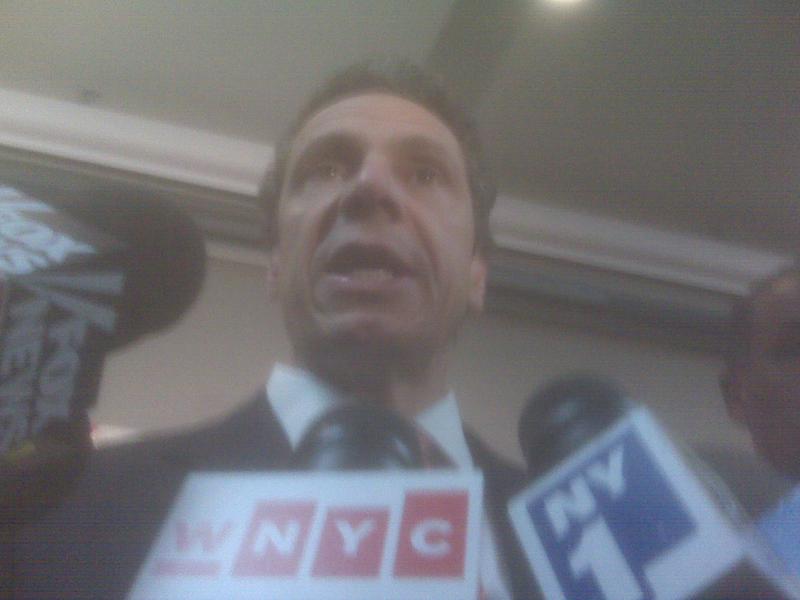 African American Democrats Denounce Carl Paladino as a 'Racist' —
It was intended to be an event in Harlem to demonstrate just how much African American support Cuomo can count on come November. But according to several reporters at the scene, weather and poor advance work conspired to produce a media mess complete with Cuomo campaign signs that were incorrectly posted and needed to be removed.
Cuomo was at  125th Street and Nicholas Avenue for a subway meet-and-greet with supporters. Instead, Cuomo was greeted by driving rain, and a group of supporters of City Councilman Charles Barron, who are backing Barron's bid for governor on the Freedom Party ballot line.
The rough campaign morning for Attorney General Cuomo ended with a press conference in a Harlem basement with top city African American political leadership at his side. Among them were Congressman Charles Rangel, former State Comptroller Carl McCall, the NAACP's Hazel Dukes,  former City Comptroller Bill Thompson, and Assemblyman Denny Farrell.
Andrew Cuomo's opponent was as much a subject of conversation as Cuomo. Dukes said that Paladino's controversial emails that depicted President Obama as a pimp and the First Lady Michele Obama as a prostitute exemplified Paladino's racism. Several of the attendees predicted that Paladino would actually galvanize the Democratic Party's base in communities of color.
Cuomo pledged to roll out a specific urban agenda in the coming days. He said that one of the starkest differences between him and Paladino is their position on illegal immigration, and specifically criticized Paladino's call for local police to enforce federal immigration.
After the event, former State Comptroller Carl McCall conceded that a key challenge for the Cuomo campaign is to reenergize base Democratic voters who have been disappointed by the lack of improvement in the economy, two years after they were so hopeful after the election of President Obama.