Blumenthal and McMahon Face Ambivalent Connecticut Voters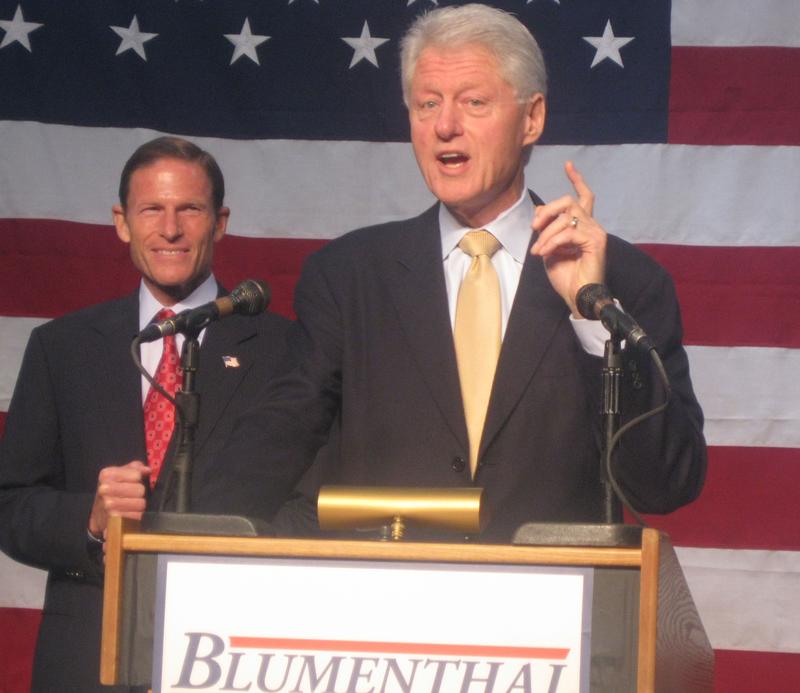 Former President Bill Clinton headed to New Haven, Connecticut over the weekend to campaign for Connecticut Attorney General Richard Blumenthal, Clinton's classmate at Yale Law School. Clinton's trying to lend some firepower to candidates around the country, and Blumenthal is locked in a close race for US Senate with Republican Linda McMahon, the former CEO of  World Wrestling Entertainment.
Bill Clinton joked he was preaching to the converted at this Sunday morning rally. But that only partly describes Joe Sheehy, from Naugatuck, Connecticut.

"Times in this country were fantastic when he was president," Sheehy said. "Haven't seen anything like it since."

Sheehy, like others among the 1,500 who attended the rally is enthusiastic about Blumenthal – but he's ambivalent about the Democrats Blumenthal might join in Washington, like the one currently in the White House.

"I'm sure Obama's trying. I know he's done a lot," Sheehy said. "But I don't think he's surrounded himself with the smart people Bill Clinton did."

Clinton honed in on those misgivings about Obama – but he tried to rally the troops by focusing on the GOP.

"All over America, what members of the other party want to do, is just make this a referendum on people's anger, apathy, with amnesia thrown in," the former president said.

Linda McMahon's campaign issued a statement portraying the Clinton appearance as a sign Blumenthal's campaign is in trouble. And outside the rally, about 50 anti-Blumenthal protesters gathered, with posters protesting socialism, Blumenthal, and Senator Chris Dodd, whose seat the two rivals are trying to capture. Republican Deborah Cooney says she's been attending rallies like this over the last couple years, because she feels ignored by Washington.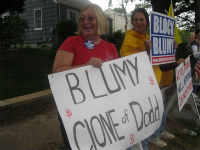 Deborah Cooney protesting outside the Blumenthal rally.
"Just the fact that the Congress is trying to decide what's best for the people without listening to the people or its constituents," says Cooney, a Southington resident who calls herself a conservative Republican, but not a Tea Party member. "I call my congressional offices, or my senator's offices, but unfortunately, here in Connecticut, the representatives just go in lock-step with that party line."

Cooney says Linda McMahon didn't get her vote in the GOP primary, but she's been been increasingly impressed with her party's nominee.
"If she works half as hard in the Senate as she has getting to this process, then I think she'll do a good job for the citizens," she said.
After the rally, the back and forth bickering between protesters and Blumenthal supporters unraveled into honking wars and shouting matches.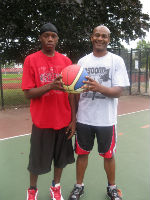 Earl Kelley with Keishan Sullivan, during a break in Sunday basketball drills.
At a nearby high school, former UCONN Husky Earl Kelley is running drills with a teenager who also wants to play college ball. Kelley's happy to take a break and talk politics. The independent has been following the Senate race, including McMahon's big spending and the dust-up about Blumenthal's misstatements about serving in Vietnam.

" I would hope that they would pay a little more closer attention to the middle class families that are struggling with providing for their kids, and hopefully afford them the opportunity to allow their kids to get a higher education, because I think that's what this country's built on. And a lot of that hasn't been going on, at least in the communities that I deal with."

He says he just not sure which candidate has the best plan to do that.