True or False: Money Is the Root Of Everything That's Wrong In Politics
On the Brian Lehrer Show, Friday September 24th, there was a discussion of the LLC loophole, and producer Jody Avirgan established an LLC live, on-air! Listen:
When you have millionaires at war with fundraisers in an election season, with just a little scratching, money starts to come out of the woodwork. WNYC's been covering a gaping loophole in New York's campaign finance regulations--Limited Liability Companies, or LLCs.
In brief, unlike in most states, LLCs in New York are considered "individuals," and are thereby allowed to make campaign contributions up to the individual's limit.
It just so happens, New York has the HIGHEST individual campaign contribution limit of any state that imposes limits: $150,000.
What's funny is that the federal government closed the LLC loophole for campaigns for federal office--it considers LLCs corporations now--just like the IRS does. But New York never changed its law to reflect that decision.
Corporations in New York are only allowed to contribute up to $5,000 to candidates running for state office. So basically, the easiest and quickest way to funnel a ton of money into a New York candidate's campaign is to set up a string of LLCs and have them all make $150,000 contributions.
It just so happens, it's REALLY EASY to establish a LLC in New York.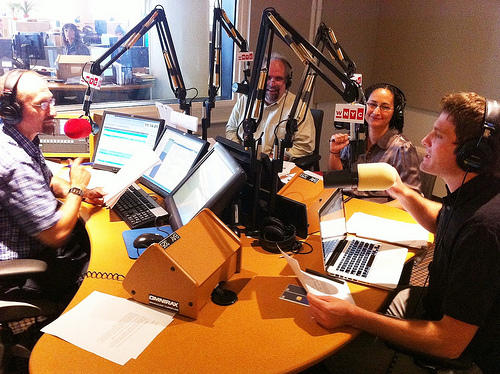 It's A Free Country's Jody Avirgan sets up an LLC while talking with Brian Lehrer, Bob Hennelly, and The Brennan Center's Ciara Torres-Spelliscy.
You just need to provide $200 and four simple pieces of information: the name of the person filing the LLC, a mailing address, the county in which the LLC will be located, and a catchy name for your new company. Here's what the form looks like. And if that's too hard, you can apply online and have your LLC established within two hours:
Regardless of the LLC loophole, each state in the union has different limitations on the amount of money corporations and individuals can contribute to state political campaigns. It's all over the map. A few examples culled from the National Conference of State Legislatures report on state limits on contributions to candidates:
In Alabama, individuals can contribute an unlimited amount to candidates, but corporations can only give up to $500 per candidate per election (primary and general are considered different elections).
In Wisconsin, individuals can contribute up to $10,000 to a statewide candidate, $1,000 to a Senate candidate, and $500 to a House candidate...but corporations can give NOTHING to candidates.
In Florida, individuals can contribute $500 per candidate per election (primary and general are considered different elections), and corporations have the same limitation.
In Oregon, Missouri, Utah and Virginia there are no limitations on individual or corporate contributing--it's UNLIMITED.
In New York, maximum contributions by individuals are limited to $150,000 in aggregate, but corporations can only contribute up to $5,000 in aggregate.
Campaign finance laws are different for federal races. But this year's Citizens United ruling removing restrictions on the amount of money corporations and unions can spend on political ads changes the scenario...and widens the money river's mouth.
Does this matter? How does money change elections? Write your comments below.