Brooklyn Bridge Work Update
We went out on the Brooklyn Bridge last week to check the progress of the work.
The canvas containment shields are going up, and the pedestrian/bike walkway has been narrowed by a foot and half to accommodate their installation. The shields will provide a negative air flow environment for workers to scrape off the old leaded paint. As work progresses the units will move across the bridge until the project is complete.
The New York City Department of Transportation website reminds bikers that "cyclists must yield to pedestrians in this restricted work zone. Cyclists may also use the nearby Manhattan Bridge bike path, which is separated from the pedestrian path and often less congested."

We caught up with Transportation Commissioner Janette Sadik-Khan earlier this week at the opening of the Union Square pedestrian plaza. "The Brooklyn Bridge work is going fine," she said.  "I think we've got about a hundred hard hats on the site right now. So far so good." 
As ever, getting an actual head count of the numbers of workers has proven to be challenging. NYCStat reports that the bridge work has created 1.26 jobs of June 30.  This is in increase over the .13 reported as of the previous quarter, but doesn't jibe with the number of workers that the commissioner mentions. The DOT press office couldn't offer an explanation for the discrepancy.
The total job is budgeted to cost $508 million.  The New York City Comptroller's Checkbook NYC reports that the city has paid contractor Skanska Koch $26,501,924.74 so far this year for the work.
But getting back to the containment shielding, which is the most visually apparent part of the work (the ongoing lane closures perhaps being the most inconvenient.)  It occurred to us that the galvanized steel shield that lines the walkway might make a good location for a public art project.  We put this question to Janette Sadik-Khan this week at the opening of the Union Square pedestrian plaza, and got a (skeptical) laugh out of her. "Maybe," she said.  "We're really focusing on getting the fundamentals down here."  (The fundaments mean restoring the bridge to a state of good repair.)
The Brooklyn Heights Blog posted yesterday that canvas shields won't be the only interesting thing that you see on your walk across the bridge. "During the month of October, you may see technicians suspended on ropes along the sides of the Bridge's towers. They will be inspecting the condition of the stones and mortar joints. This work will be done between the hours of 7:00 a.m. and 5:00 p.m., Monday through Friday."
Sadik-Khan said the Brooklyn Bridge rehabilitation work was on budget and on schedule.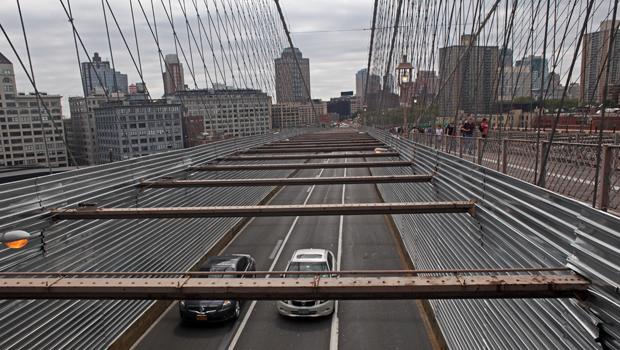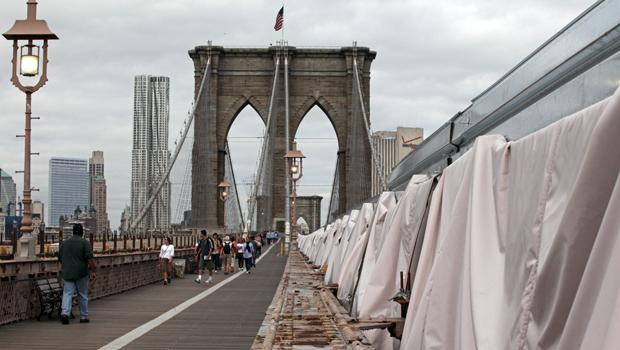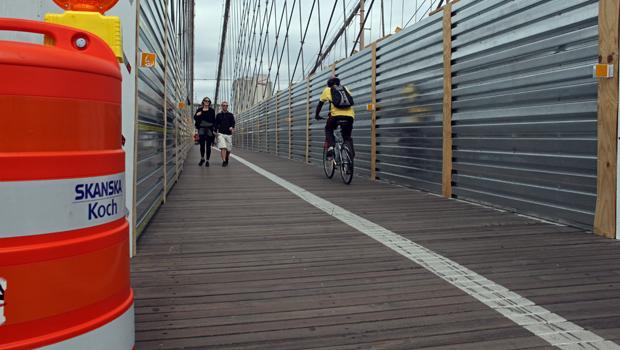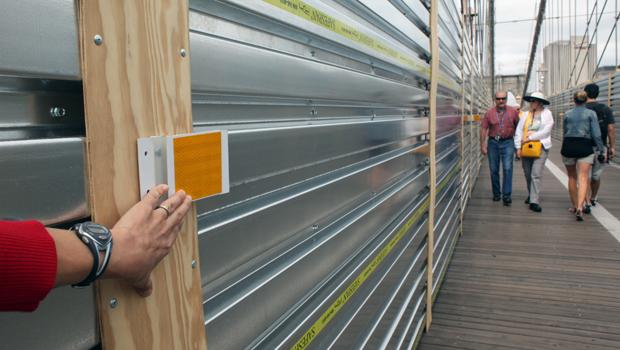 of