Obama Comes to Big Apple ATM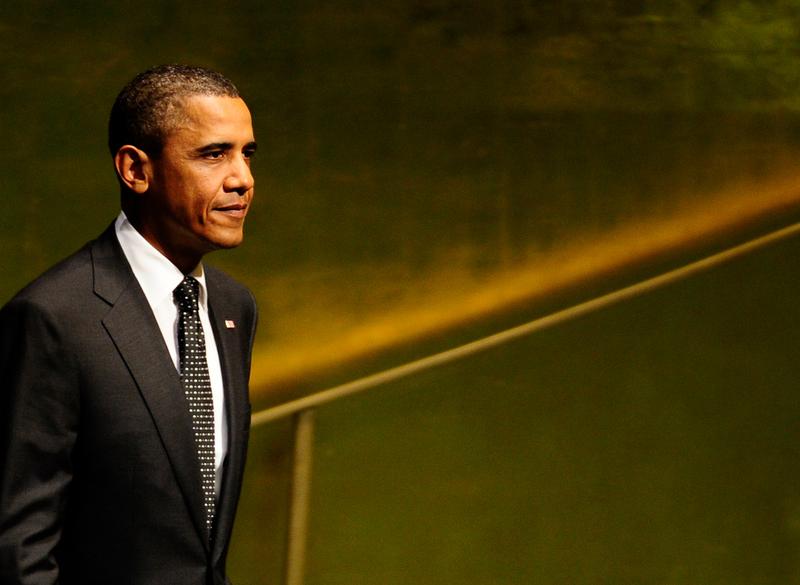 Wednesday night, after addressing the United Nations General Assembly, President Obama shifted gears from world concilator to fundraiser in chief at the Roosevelt Hotel in mid-town. He headlined an event that raised $1.4 million to help his party hold on to Congress. The fundraiser was jointly sponsored by the Democratic Senatorial and Congressional Campaign Committees.
Ticket Prices ranged from $100 to $15,200 for a dinner and a Presidential Photo-op. Dining with a member of Congress was just $2,500 dollars.
In attendance was Speaker of the House Nancy Pelosi, DSCC Chair Senator Robert Menendez, DCCC Chair Van Hollen, Congressman Charlie Rangel, dean of the New York delegation, and several other members of the New York delegation.
The swanky event did not go without incident.  According to the White House pool report shortly after the president began speaking at 6:45 p.m, a woman began shouting, "President Obama, President Obama" and two or three men held up signs that said "Broken promises," and "No retreat, fund AIDS."‬

When the female protestor shouted again the President was direct, "We listened to you, we heard your point . . . It's a conversation I'm happy to have."  According to the pool report  another protestor  yelled, "Don't ask don't tell."  At this point the crowd rescued the pace of the event by chanting "Obama, Obama" to drown out the speakers. A press release sent out by the protestors said the action "was in a response to the President's failure to make a concrete commitment of US funding to the Global Fund on AIDS, Tuberculosis and Malaria."
The seven figure fundraising haul comes as Democrats are trying to figure just how big an impact the Citizens United Supreme Court decision will have on this fall's general election -- that is, how big the wave of corporate cash will be into hard-to-trace issue ads. Democrats have predicted that Republicans will be the prime beneficiaries of these independent expenditure groups supported by businesses looking to help the GOP capture both houses.
On the DSCC website, potential donors learn that in the Senate, 15 races are currently within five points and that the GOP only needs to win two-thirds that number to control the upper house.
In the House, Republicans need to pick up 39. The Cook Political Report says that 70 Democratic seats are in play. University of Virginia political science professor Larry Sabato says he estimates the GOP is poised to pick-up 47 seats.
In New York, Democrats estimate that seven of their 27 incumbents are facing a formidable challenge. In New Jersey the race being most closely watched is Democratic Congressman John Adler's. He is facing Republican Jon Runyan, a former tackle for the Philadelphia Eagles.
Odds are the President will be back before the election.