Lichtenstein and Torres García Paintings Head Back to Brazil
Somehow, illegally traded art often finds its way to the Big Apple. But this week, the US Attorney's Office for the Southern District of New York began to move some smuggled art works out of New York City. The attorney's office officially handed over two paintings to Brazil on Tuesday which have been missing since 2006. The paintings, Roy Lichtenstein's "Modern Painting with Yellow Interweave" (pictured below right), and "Figures dans une structure" by Uruguayan artist Joaquín Torres García (pictured below left), are part of a larger collection that was allegedly smuggled to the US by Edemar Cid Ferreira, the former head of a collapsed Brazilian bank.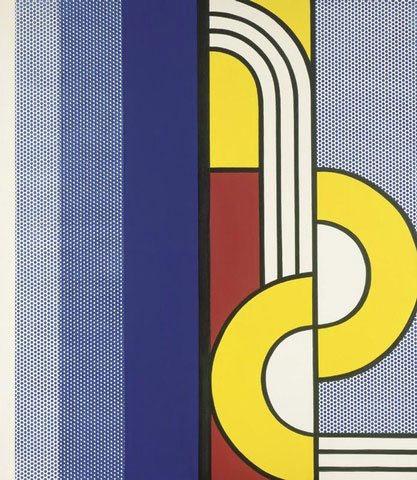 Ferreira was arrested and sentenced to 21 years in Brazilian prison on charges of bank fraud in 2006 when his Banco Santos failed, leaving it more than $1 billion in debt. Brazilian authorities attempted to seize his sizeable art collection, but reportedly found over $30 million worth of art missing.
Since then, those pieces of art have been turning up in the US with false titles and vastly understated values. Among them is "Hannibal," by Jean-Michel Basquiat, a 1982 painting estimated to be worth $8 million dollars. Ferreira allegedly smuggled it in with a customs declaration stating that the painting was worth $100, according to court documents. Several of the other paintings were sold to collectors, including Lichtenstein's "Modern Painting with Yellow Interweave." The Los Angeles, Calif. Ace Gallery sold it to the collector Seth Landsberg. The Lichtenstein was subsequently seized by US authorities in 2008 (see timeline below) after Sotheby's put it up for auction.
Derek Fincham, a law professor who specializes in international art crime, says illegally selling art abroad is not uncommon.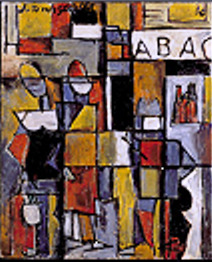 "It's an example of one of the really unfortunate aspects of the art trade as it currently operates because you don't know where an object comes from," says Fincham. "So, if you are somebody who is in some trouble and your assets are being seized and you have a very valuable painting and you don't mind skirting the law or breaking the law, selling your art collection in another country is a good way to make some money."
According to Fincham, a 1970 UNESCO Convention obligates the US and other ratifying countries to cooperate in fighting the global trade in illegal art. The treaty is often invoked in cases involving stolen antiquities, as it was in the Yale University - Machu Picchu case resolved a few years ago, and applies to art smuggling cases like Ferreira's as well.
Fincham adds that the problem, in part, in stopping it lies in the lax regulations on art sellers which make illegal art trade all too easy.
"When they buy and sell these objects, they're not required to do title searches or figure out where an object has come from...what its history has been," says Fincham. "And until they are, you're going to continue to see these kinds of disputes arise."
Here's a timeline of the events leading up to the return of the Lichtenstein and the Torres García paintings. Details below come from legal documents from the US Attorney's Office of the Southern District.
2004 – The US Dept of Homeland Security Immigration and Customs Enforcement (ICE) suspects Edemar Cid Ferreira, the founder and former president of Banco Santos, SA, of smuggling. Brazilian authorities begin to investigate Ferreira and other Banco Santos officers, who are later charged with money laundering, criminal association, bank fraud and conspiracy. 
2005 – The Sao Paolo Court issues orders to search, seize, confiscate and forfeit the assets held by Ferreira and his associates, assets allegedly acquired with unlawfully obtained funds. Those seized assets include artwork worth around $10 million from Ferreira's home, including Jean-Michel Basquiat's 1982 "Hannibal," Roy Lichtenstein's "Modern Painting with Yellow Interweave," Joaquin Torres García 's "Figures dans une Structure," Serge Poliakoff's "Composition abstraite," and "Sculpture – Roman togatus." At the same time, Brazilian authorities noticed that those works were missing from Brazilian museums and institutions. 
2006 – A crate containing the missing Lichtenstein, Torres-García and Poliakoff was delivered to a storage facility in Long Island City called The Fortress. The Federal Express shipping label on the crate stated that there were different paintings inside valued at just over $200. 
2007 – Crates containing the Basquiat and "Togatus" were delivered to another storage facility in New York. The labels on the documents were similarly false and drastically undervalued. Subsequent to the 2007 shipment, ICE agents seized the Basquiat and "Togatus" from a building at 1166 2nd Ave. 
2008 – ICE seizes the Lichtenstein from a Los Angeles home and the Poliakoff from Geneva, Switzerland. Art dealers Seth Landsberg and Douglas Chrismas, along with a trustee for the Banco Santos estate, file claims asserting interest in the Lichtenstein. The trustee also files a claim expressing interest in the Torres-García. 
2009 - 2010 - Claims by the art dealers and trustee are dropped and the Lichtenstein and Torres-García become US property. On September 21, the US government announces it is returning the paintings to Brazil.