Lehman Brothers' Art Collection Goes on the Block
Two years ago this month, Lehman Brothers filed the largest bankruptcy on record. That doesn't mean, however, that the company has disappeared.
On Wednesday, in a downtown courtroom, Lehman's chief executive Bryan Marsal will update Judge James Peck about the status of the firm's reorganization and the billions of dollars in claims against the company. To pay those claims, Lehman is selling off its assets including its real estate holdings, mortgages, and even its art collection.
On Saturday, Sotheby's will auction off 147 works of contemporary art that once hung on the walls and filled the offices of Lehman Brothers and its money management firm, Neuberger Berman. The collection includes early works by Damien Hirst, John Currin, Gerhard Richter and Julie Mehretu.
"There is a very broad spectrum here and it's smart," said Tobias Meyer the global chair of contemporary art at Sotheby's.  "It's not only market-driven savvy but a there's a sensibility here that really speaks to me in very a beautiful way."
Meyer has auctioned numerous works of art, including two by Pablo Picasso that hold the record for the most expensive paintings ever sold at auction. When he first saw this collection, he was impressed.  "I thought 'OK.  They did look carefully.'"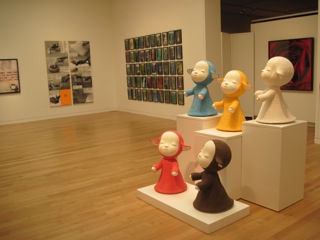 Works from the Neuberger Berman/Lehman Brothers collection, on display at Sotheby's in New York. (Charlie Herman)
And they -- the curators of the bank's collections -- purchased carefully as well.  Like a good stock picker, the financial firm, in particular Neuberger Berman, purchased works by living artists at lower prices before those artists became more famous and more expensive. 
"It was about buying the art of today," said Meyer, "buying in a prescient way who will have relevance in the future."
That artistic savvy could now pay off. One abstract painting by Mark Grotjhan, purchased for less than $20,000 nine years ago, could sell for as much as $800,000.
While it's not uncommon for financial firms to own art collections, the works purchased by Neuberger stem from the passion of its founder, Roy Neuberger. In the 1920s, he moved to Paris to become an artist. When it became apparent he would not have much of a career as such, he did the next best thing and made a career out of supporting other artists.

Neuberger founded his firm in New York and then used his wealth as a financier to amass a varied collection of contemporary art. He eventually provided much of those works to the Neuberger Museum of Art to State University of New York in Purchase. 
In 1990, his firm decided to continue the tradition of buying art from emerging artists and began building its own collection.  The art was more of a continuation of the corporate culture at the money manager and not simply an investment to be sold at some future date.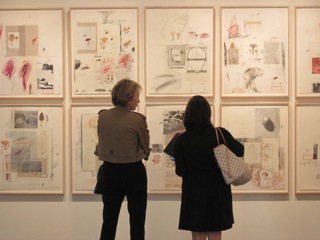 Jane Zubrow, a collector and Rachel Goulding, an art advisor, view works from the Neuberger Berman/Lehman Brothers collection. (Charlie Herman)
Lehman bought Neuberger in 2003 and folded its collection into the bank's.  With Lehman now in bankruptcy, significant works of art in a collection that took years build are now unexpectedly on the auction block. 
At Sotheby's, art advisor Rachel Goulding examines the works with her client Jane Zubrow.
"It is kind of bittersweet to see this here, on the other hand I think the public benefits from being able to see this collection," said Zubrow.  Both agreed it is under sad circumstances that the works were being auctioned.
Sotheby expects the auction to bring in $9-10 million.  All of the proceeds will go to the bankruptcy fund that will pay the bank's creditors.  Lehman estimates it will eventually pay $260 billion in allowable claims.
For Meyer, conducting the auction is his job.  "We are auctioneers," he said.  "We can't judge and it is not up to me to say why and how it has been sold."
The public can judge for itself the art of Lehman Brothers and Neuberger Berman at Sotheby's until this Friday. And while the collapse of Lehman and the financial meltdown that followed cost taxpayers billions, the viewing is free.