Fashion Week Wrap Up: Gant by Michael Bastian
On Wednesday night, designer Michael Bastian presented his first women's collection for Gant, the classic American menswear brand. I became familiar with the revamped Gant brand earlier this summer, when my brother Jon asked me to help him buy clothes for a date he had that night. We stopped by the Gant store on Bleecker Street and were won over by the brand's laid back preppy looks.
The spring 2011 collection was inspired by Marilyn Monroe, Joe DiMaggio and Arthur Miller—a perfect blend of 1950s casual sophistication and a cheeky take on modern American sportswear. A belted classic cotton trench was cut to fall just below the bum. A seersucker dress with lace overlay looked comfortable and put together. The hands-down highlight for women, however, was a black woven pique suit. The blazer with broderie anglais elbow patches (that's eyelet for those not in the know) and seamed cropped pencil leg pants, could be worn to the office or out for an impromptu date on a warm summer evening.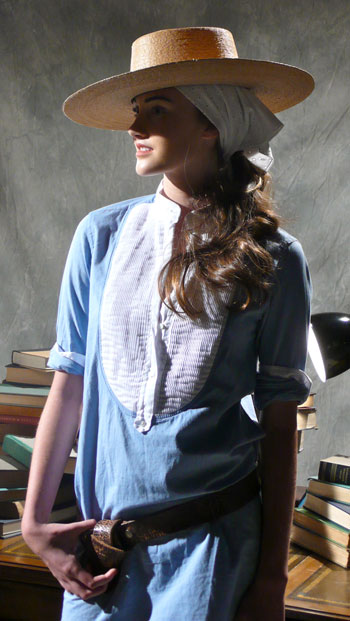 Bastian's menswear included tailored suits, nylon jackets, and handloom madras blazers layered over pastel and chambray oxford shirts, along with striped rugbys, polos and hoodies. All the looks were constructed from comfortable materials—linen, cotton voiles, corduroy, and cashmere—and would work equally well in town or in the country. Of particular note was a tie-print dinner jacket, which is a modern take on a classic smoking coat. I wouldn't be surprised to see women sporting this look soon as well.
The collection also included eyewear. The Arthur Miller themed tortoiseshell frame, cateyes in a variety of colors, and a pair of sunglasses inspired by an old pair of safety goggles accentuated the preppy staples. No detail was overlooked; nor was there a shortage of belts in skinny patent leather for women, and webbed or nylon d-rings for men.  Models carried cheetah print shoulder bags and totes festooned with nostalgic fabric postcards.
The Gant by Michael Bastian line is designed with a younger customer in mind, specifically the collegiate brother of a Michael Bastian client. My brother Jon, easygoing and athletic, and now in his last year of college, definitely fits that target profile. Jon is now a regular Gant customer.  Thanks to the new Gant by Michael Bastian collection for spring, I can bask in effortless luxury as well.