Lionel Rogosin's restored "On the Bowery" (1957) begins a week-long run at Film Forum today.
The other day I went to a screening of the film "On The Bowery," shot "in the midst of the hottest summer in the history of New York," the press release tells us, in the year 1955. Appropriate, then, to have seen it on just about the hottest day of our own brutal summer. Released in 1957, the low-budget, black-and-white "semi-documentary" about life on the small stretch of New York then populated by so-called "Bowery bums" was directed with great compassion by a man who admitted that making that film — his first — was his version of "film school."
First films are like first loves: They are somewhat magical, and unforgettable — and often unparalleled by future work. "On The Bowery" has something of this quality. The director, Lionel Rogosin, had grown up in wealth and privilege in Long Island, and had decided somewhere along the line that he wanted to make movies about human dignity, social justice and world politics. Later he became a familiar New York character, known both for his famous movie and also as the owner of the Bleecker Street Cinema, a tiny, landmark movie house where many of us congregated, watching double bills of foreign, classic and "art" films endlessly into the night.
For "On The Bowery," Rogosin spent half a year hanging out in neighborhood bars, getting to know the Bowery regulars. Once he'd gotten familiar with the territory, he made a hybrid: part documentary, part "fiction," he used the "men of the Bowery," with alcohol-bruised faces, to play themselves. The film was black and white, improvised, inexpensive and experimental. It still looks powerfully candid, painfully honest and totally unsentimental.
It exploded on the screen — and won prizes (Venice Film Festival, Academy Award nomination, etc.) and generated arguments and harsh criticism as well. In a moment of recovery from World War II and the Korean War, when there was a tendency to want to stress only the "Father Knows Best"-style, suburban, front-lawn America, there were plenty of people who were put off by a film that tried to pull back the curtain on certain less appealing aspects of American life. But "On The Bowery" was a revelation to many others, John Cassavetes among them: He called Rogosin "probably the greatest documentary filmmaker of all time," and took inspiration from the work.
"On The Bowery" looks poignant right now: It shows us a corner of New York that has been transformed by gentrification; it reveals an urban subculture that has relocated but not disappeared; and it pinpoints a moment in film history when intimate, socially conscious and wildly independent films found their way into theaters. That's a lot to say about 65 minutes, but it's true.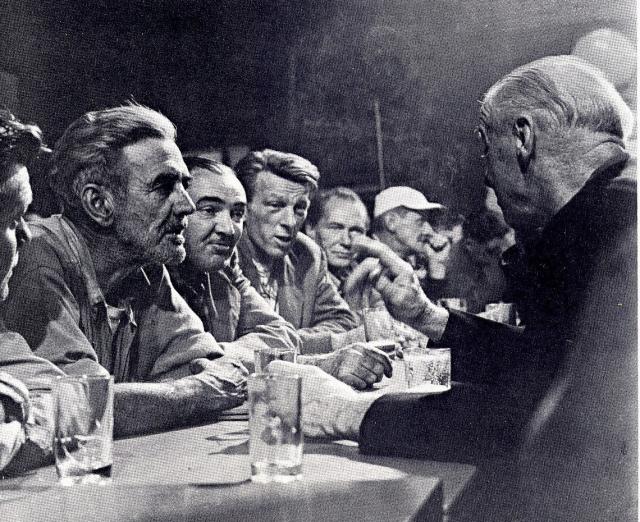 Lionel Rogosin's restored "On the Bowery" (1957) begins a week-long run at Film Forum today. Click here for showtime information.
See the trailer for "On the Bowery."