Campaign Postcard: Embattled Espada Faces Fight of His Career
In addition to picking the New York Democratic Party's nominee for attorney general, Bronx voters will get to decide if their controversial incumbent state senator, Majority Leader Pedro Espada, gets to go back to Albany. The embattled Espada has been under state and federal scrutiny over allegations that he illegally pocketed millions from a community health care network, and he faces a well-organized challenger.
And so the 56-year-old Espada is in the fight of his political career against a 34-year-old college professor and political activist, Gustavo Rivera.
Last year, it was Espada that led a handful of Senate Democrats in a defection to the Republican Party that temporarily upended the Democratic party's control of the upper house but also yielded Espada a top Democratic leadership post.
Espada's challenger is criss-crossing the district, knocking on doors and looking for crowds of potential voters. On the first day of school, Rivera was outside when the dismissal bell rang and he found himself in a sea of parents and students. The tall, telegenic college professor alternates between Spanish and English. "I need your help on September 14th, Gustavo Rivera, Gustavo Rivera running against Pedro Espada," he says.
Before long, Rivera finds himself drawn into substantial discussions with four young mothers who are concerned about the quality of the education their kids are getting in the public schools.
What a Map Can't Tell You
In a car ride to his next stop, Rivera offers the district's vital statistics. "We have around 72,000 units of rent-stabilized apartments. I live in one of them," he says. "We have a median income of about $25,000 a year. We have 13 percent unemployment. Four out of 10 children live in poverty."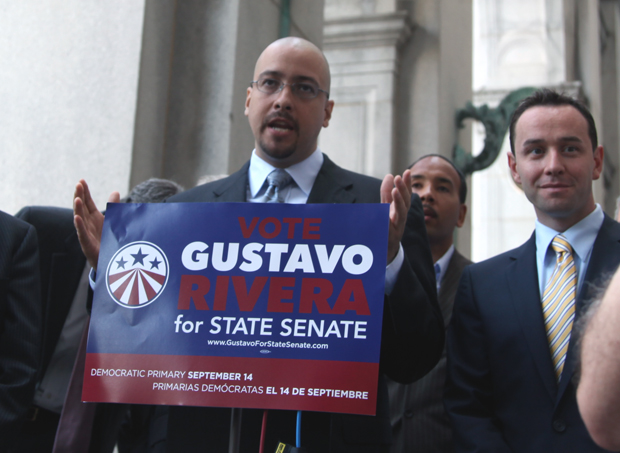 And so Rivera says this poor district can't afford what he says is Espada's brand of representation. "This is a district that has some basic needs that have not been addressed," says Rivera.
Who Is This Guy?
Rivera, who was born in Puerto Rico, worked for Sen. Kirsten Gillibrand as director of outreach. He says he is running because Espada's tenure in Albany, including his flirtation with the Republican caucus, has been "self-serving."
"One of the reasons I felt compelled to run, the most compelling reason, is this man has not represented this district well," Rivera says. He makes an aside about Espada's impeccable wardrobe. "He is more concerned with the suits he is wearing than on how to address the basic concerns of this district."
Rivera has attracted a broad coalition of Democrats, including former Bronx Borough President Fernando Ferrer; the current borough president, Ruben Diaz Jr.; major labor unions; the Rev. Al Sharpton; and former Mayor Ed Koch.
Espada Unbowed
At his Bainbridge district office, Espada conceded in an interview that he has had to work hard this time out. "At 56, you feel it," he confessed. But he says come Primary Day, he'll pull it out.
Espada says the opposition is mainly from people who resent his independence. He says power plays like what he was part of in Albany happen all the time in politics. He says it was the way for him to leverage more support and respect from Albany for his district and constituents.
"This is really a case of colonialism in the 21st century, where you have outside millionaires and the mainstream media and many others heavily invested in my defeat," says the defiant Espada.
His critics consistently charge that Espada doesn't even live in the Bronx, but in Westchester. Espada says the controversy has already been settled. "The matter was in court, not only in the Bronx Supreme Court but the Court of Appeals, all determined basis of all the indicia of residency, all the documentation," he says. "I have spent $250,000 of my hard-earned money continuing my residency in the Bronx."
He does not deny he owns a home in Westchester and goes on to share some of his family's internal dynamics. "In 1991, I purchased a home in Mamaroneck," he says. "My wife was lead in that decision-making because she felt my grandchildren -- I have 10 grandchildren -- felt that they needed another educational opportunity, an outlet, and we did that and it has been a source of constructive tension in our relationship, my wanting to continue in public service and my wife wanting certain things for her grandchildren."
Espada's residency is not the only controversy. Espada's is under state and federal investigation for his management of the Soundview Network of community health care clinics he founded 30 years ago. Attorney General Andrew Cuomo  has charged Espada has fraudulently taken millions from the network. Espada says it is all about punishing him because he stood up to the bosses in the Democratic Party. "We are doing something there at Soundview the federal government is still trying to do -- provide quality health care whether or not people can afford it," says Espada proudly.
Espada insists it's all just revenge. "But this was a case where you had the potential for the poster boy for bad things in Albany born out of what they call the coup in 2009. That's what this is about," says Espada. "This is payback at the highest levels of government."
In the office, there is a portrait of the Latin American revolutionary Che Guevara. Espada says he too is an unrepentant revolutionary. "I think there is a revolutionary spirit in all of us," says Espada. "But the question is, are we bold enough, are we courageous enough to take it on knowing the consequences?," Espada asks rhetorically. "So whether it was Doctore Meterio Betances in Puerto Rico or Che Guevara, these are examples of people that took it on and I am taking it on."
The challenger Rivera's chances improved somewhat this week when a third candidate, Bronx lawyer Dan Padernacht, dropped out and threw his support to Rivera. The results of the race will have statewide consequences and yet, if past is prologue, fewer than 10 percent of the eligible Democrats will play a role in the outcome.