Celebrate Eid ul-Fitr with Food from Around the Muslim World
Tens of thousands of New York Muslims begin to celebrate Eid ul-Fitr on Friday, the festive celebration marking the end of Ramadan, which is the month of fasting and abstinence from worldly pleasures. The Eid, as it is affectionately called, starts when the new moon is sited or according to scientific calculations of when the moon will appear.
Around the world, Muslims gather on the first day of Shawwal--the month following Ramadan on the Islamic calendar--for the Eid prayer to worship and thank God (Allah) for completing their month-long fast, blessings bestowed upon them, and renewed faith. Afterwards, celebrations begin with family and friends at mosques, parks, community centers, family fun centers, restaurants, and homes. Special treats like festive lights, games, new clothing, toys, and fireworks are all part of the fun!
Aisha (Allah be pleased with her) said that the Prophet (peace be upon him) forbade to observe fasting on two days – the day of Fitr and the day of Adha. [Sahih Muslim, Book 6:2538. The traditions of the sayings and doings of the Prophet Muhammad as narrated by his companions and compiled under the title Al-Jami'-Us-Sahih by Imam Muslim]
As with any joyous occasion, food is a big part of the Eid, and Muslims go all out, especially with candies and pastries. Fasting on this day is not allowed. In fact, Muslims are enjoined to give Zakat ul-Fitr or charity in the form of food – dates, barley, wheat, rice, cheese, fruit, etc. during the last days of Ramadan and before the Eid Prayer on behalf of every Muslim male, female, adult or minor in one's household. This ensures everyone in the community can join in Eid feasts and festivities. Though not preferred, some give money.
"O you who believe! Eat of the good things wherewith We have provided you, and render thanks to Allah if it is (indeed) He whom you worship." [Quran 2:172]
People often ask what Muslims eat during Ramadan and on the Eid days. Since Muslims are a diverse lot, and food is very cultural, the answer to that question depends on whom you talk to. The one thing Muslims agree on is that the food must be halal (halaal).
In general, halal is an Arabic word meaning lawful or permitted. As it relates to the meat from animals, certain conditions must be met for it to be considered halal. The animal itself must: be halal (i.e. no swine/pork), be herbivorous (not having consumed blood or meat of other animals), be slaughtered humanely and according to Islamic custom, and have the name of Allah pronounced over it at the time of slaughter (zabiha).
According to the Islamic Food and Nutrition Council of America, North America's leading halal-food certification organization, all foods are considered halal except pork and its byproducts, animals improperly slaughtered or dead before slaughtering, alcoholic drinks and intoxicants, carnivorous animals, birds of prey and certain other animals, and foods contaminated with any of the aforementioned products.
"There is no such thing as Muslim food, except that it is halal," says Nimmi Ali, a Muslim woman planning for the Eid feast. "The Christian Indian and the Muslim Indian's food is the same, except that the Muslim's food is halal. The only exception might be dates because the Prophet (peace be upon him) broke the fast with them." Although Ali was born in Bangladesh, her children "eat hot dogs, pizza and chicken nuggets just like other American children, except that their food is halal."
At home, Ali's family enjoys kheer, a sweet rice dish, before attending the Eid prayer. Later the children open presents before heading out to spend the next few days visiting Muslim relatives and friends, "eating small amounts of food at each home". Bangladeshi's enjoy biryani--a spicy rice dish made with chicken, beef, lamb or goat--and kabobs, which Ali calls "a must" for Eid. Sweets are a huge part of the celebration and Ali likes to make doi, a dish she describes as "a very, very, very sweet yogurt." Jalebi, an orange pretzel-shaped pastry filled with sweet syrup, is another Eid favorite.
Anas bin Malik reported that "Allah's Messenger never proceeded (for the prayer) on the Day of Eid ul-Fitr unless he had eaten some dates." [Sahih Bukhari, Book 15:73. The traditions of the sayings and doings of the Prophet Muhammad as narrated by his companions and compiled under the title Al-Jami'-Us-Sahih by Imam Bukhari]
The practice or sunnah of the Prophet eating before the Eid prayer is still followed by Muslims today and signifies the intention that they are no longer fasting. Layla Ahmad has adopted this tradition. She eats dates or fruit along with milk or yogurt for protein, after praying the early morning (fajr) prayer.
Ahmad usually prepares ma'amoul--date cakes traditionally served with cardamom-flavored Arabic coffee in parts of the Middle East, where she lived for some time. After the Eid prayer, Layla shares the pastries at the Eid breakfast held at the local mosque.
Jamiylah Amatullah says her family's Eid food tradition consists of going to the International House of Pancakes (IHOP) after the prayer. She carries along halal beef or turkey bacon and sausage in a closed container to supplement their breakfast menu orders, and to share with other Muslim families they meet. She says that IHOP has been open to accommodating Muslim dietary needs like cooking pancakes and eggs on separate grills from pork and other meats.
"Our Eid dinners tend to have a traditional African-American holiday dinner theme, similar to Thanksgiving," says Amatullah, "with turkey, macaroni and cheese, collard greens, candied yams, stuffing, cakes, and pies."
Meera Norris, loves konafa, "a sweet dish made up of thin strips of spaghetti-like dough, syrup and cream" from her Egyptian heritage that is popular on Eid. Growing up between the US and Egypt, Norris had a wide range of Eid experiences, including breakfast at the mosque after the prayer followed by trips to Chuckie Cheese for entertainment and food, and the notion that on Eid, "people are free to eat as much as they want, no restrictions."
"One of my favorites is Savaiya, a dish made with wheat vermicelli," says New Jersey resident Ayesha Tasveer. "We always had this special dessert called Zarda, a white rice colored yellow, with added sugar, raisins, thinly sliced almonds, and cardamom seeds," adds her brother, Saleem. "It was always a special treat, made on special occasions like Eid. It's a very common dessert dish in Pakistan and with many Pakistanis here [in the US]."
It is becoming quite popular for Muslims to reserve a nearby 6 Flags Great Adventure amusement park for the Eid Day. Families who flock there have their choice of halal foods provided by Muslim vendors from many different cultures. And it's not uncommon to find Muslims from different backgrounds wishing one another 'Eid Mubarak' (blessed Eid), celebrating Eid together, and sharing Malaysian redang, Middle Eastern roz bil halib, Pakistani zarda, Somali cambaabur, and American bean pies.
Although many of the Eid foods mentioned may be high in calories, sugar, and/or processed ingredients (especially the desserts), one should remember that most of them are eaten rarely, or on special occasions like the Eid. So, if you choose to partake of them, just consider it your occasional guilty pleasure. Wishing you Joy, Health, and Peace. Eid Mubarak!
Recipes

Jalebi
Ingredients:
2 cups self raising flour
1/2 tsp baking powder
1 cup yogurt
Vegetable/canola/sunflower cooking oil for deep frying
1 cup sugar
Few strands saffron
1/4 tsp cardamom powder
2 drops orange food colour
2 tbsp rose water
Batter Preparation: Mix the flour, baking powder and yogurt into a batter and keep aside for 24 hours to ferment. Pour batter into a squeeze bottle.
Syrup Preparation: Melt the sugar with the rose water and boil to get a one thread consistency. To check for one thread consistency, carefully dip the tip of your index finger into the syrup, touch your finger and thumb together and gently tease apart. If one thread is formed between your finger and thumb the syrup is done.
Turn off fire, add the saffron strands and cardamom and stir well.
Heat the oil in a deep wok-like dish. To test for the right temperature, drop a small amount of batter into the oil. If it sizzles and rises to the top of the oil, the oil is hot enough. Keep the flame on medium at all times to ensure all round cooking of the jalebis.
Now hold the squeeze bottle over the hot oil and squeeze the batter into the oil into a wiggly, randomly coiled circle. Squeeze out several at a time. Fry till light golden and then remove and put directly into the sugar syrup. Allow soaking for 2-3 minutes before removing. Serve warm.

Savaiya

Ingredients:
1 package Savaiya
1 tbsp cooking oil
cardamom seeds
water
Begin boiling water, about 2-4 cups. Crush one package Savaiya (into small pieces while inside the package). Add 1 tbsp cooking oil into a tall cooking pot. Turn burner to Medium heat. Add cardamom seeds. Add crushed Savaiya. Occasionally stir the Savaiya to avoid burning, but enough to "toast" it in the oil. Add sweetener to taste. Stir again. Add about 2 cups of water. Stir. If needed, add more water. This is the delicate part…too much water and your Savaiya will be soggy. Make sure it is all cooked and the water dried. Serve in your favorite dessert bowl or plate. Enjoy with hot tea or warm milk.

Southern Greens Mix
Ingredients:
Several small bunches of mixed greens (kale, collard, mustard, turnip)
½ half onions, sliced thin
2 garlic cloves, crushed or sliced thin
1 yellow pepper, sliced into strips
2 cups mushrooms, sliced or chopped (opt.)
Olive oil
Heat oil in a large skillet with lid off. When oil is hot, add onion, and sauté until transparent. Add garlic and yellow pepper. Cook a few minutes. Add mushrooms and cook until a little soft. Add greens and sprinkle with a little of your favorite seasoning. Steam for 5 minutes with lid on. Add ½ cup of water and continue cooking for 15 minutes on low-medium until greens are soft and color is darkened. Turn if necessary to redistribute greens and ensure even cooking. Drizzle with your favorite stir-fry sauce, if desired. Serve hot, as a side dish or over jasmine rice.
Do you have any Eid recipes you'd like to share? Please post them in a comment below!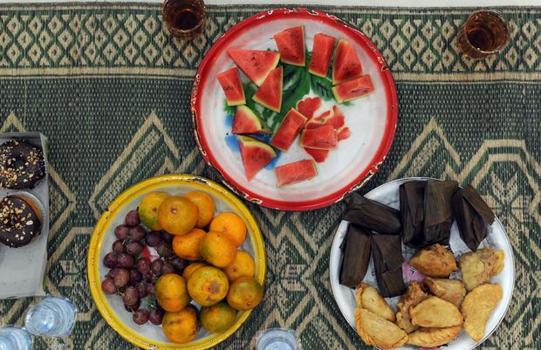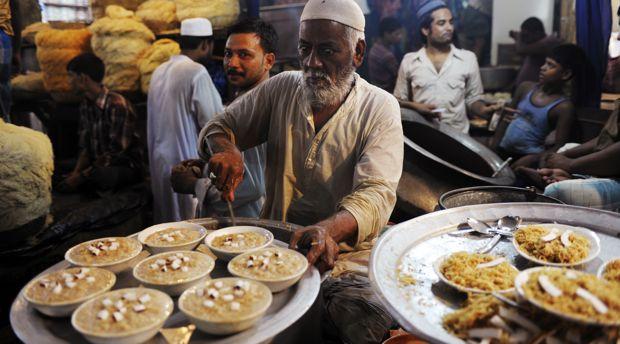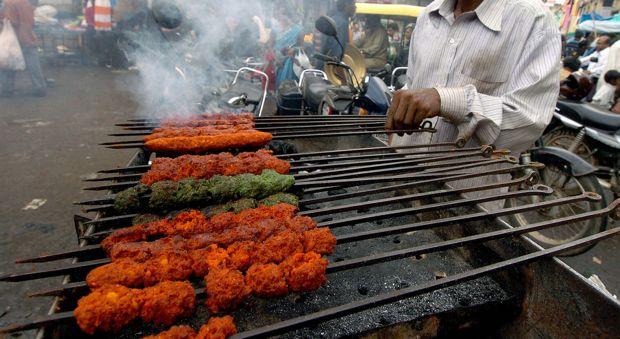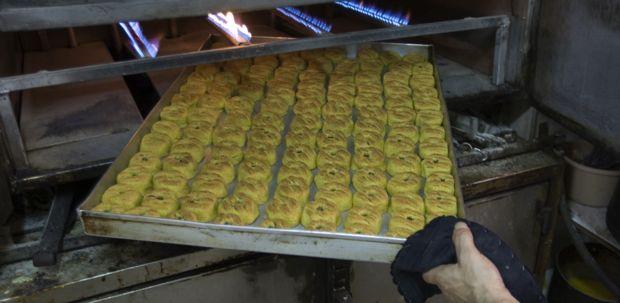 of