The Competition Before the Match: Getting a Tennis Court in New York City
To play tennis in New York City, it helps if you know the rules. Not the rules of the game -- the rules of finding a place to play.
First, for public courts, you'll need a Parks Department permit. That will set you back $100. Or you can buy a single play pass for seven bucks. This is the first hurdle.
Now, you need to find a place to play. There are 596 city-run courts; last year, 19,986 permits were issued. That means 34 players per court. They're in high demand, and each court has its own culture, and protocol, for getting on.
At the highly coveted courts in Central Park, near West 96th Street, players start forming a line an hour and a half before the tennis center's doors open at 6:30 in the morning.
"The 6:30 strategy is a pretty good one, though it's a bit of a high-risk strategy," says Holt Goddard, who drove down here from Bronxville, in Westchester County (where there are some nice courts, by the way). "If you're that last guy in line who doesn't get a court, you got up in the middle of the night for nothing!"
That was the case for Bill Campbell, from South Carolina, who's in town for the U.S. Open. There are about 10 people in front of him, and the parks employee just announced over the loudspeaker that there are no more courts for 7:00.
"I got up at five o'clock," Campbell says. 
And he still didn't secure a court?
"I stopped for some coffee first," Campbell explains. He laughs. "That might have been a mistake."
Not everyone waits all that time in line.
"Most people put a cup or something not very valuable at the front of the line, then come back," says Karen Antsis, who's not one of the players who does this. "And it's respected for the most part by the other tennis players, but probably not wanted by whomever's in the park."
Or by people who just think it's a cup, and get in line.
"Those people aren't around to tell the story," deadpans Antsis.
Here's the deal, at least at Central Park. You show up in person to get a court. If there isn't one for that hour, you're assigned one for the next available hour, or you can reserve a court later in the day. You can get on the no-show list, in case players with reservations don't show up. A limited number of courts can be reserved, but you have to buy a reservation ticket before calling to book a court.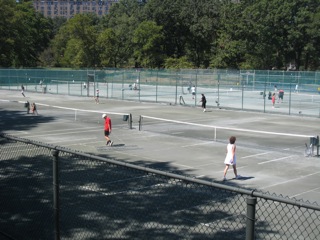 I asked Mike Ryan, park supervisor of the Central Park tennis courts, why he doesn't computerize the reservation system. 
"I would love that," he says. "It's a great idea. There's been talk of it."
But that's as far as it's gotten. And this drives Bill Campbell, the tourist from South Carolina, mad.
"It's an antiquated system. It's 1950s or before there were telephones and computers, or something," he mutters. "It's past weird. Particularly during U.S. Open week. They should do something to help the tourists."
Over in Brooklyn, another busy tennis center, in Prospect Park, has been computerized for several years. It also offers online reservations. All they need there is your permit number and credit card information.
"It was just something I felt strongly about, a few years back, and so we made the investment to computerize," says tennis center director Paul Campbell.
Campbell and Central Park's Mike Ryan don't know why these two city parks have two very different systems. They think Prospect Park was able to enter the modern age because all its operations are run by the non-profit group Prospect Park Alliance. In Central Park, management of the tennis center is split between the Parks Department and a vendor.
As for the other city courts....you take your chances. When a parks employee is there, you get a court on a first-come, first-served basis. When they're not -- and that includes most weekday mornings -- players squabble over multiple, do-it-yourself sign-up sheets. Rules are ignored. Tennis decorum breaks down.
The whole thing can make you hang up your racquet…or consider moving to Bill Campbell's hometown of Charleston, recognized as being one of the top three tennis towns at the U.S. Open on Labor Day.
"Yeah, it's really a great place for tennis, a great place for tennis," says Campbell. "And golf, and living. But don't you New Yorkers come down!"
By the way, Campbell got a court. Three hours after he got up to get one.