Music Therapy Helps Vets Control Symptoms of PTSD
The khaki colored Veterans Affairs (VA) clinic in southern New Jersey doesn't look extraordinary from the outside. The parking lot's too small and the building isn't impressive either—just a simple one-story structure with a utilitarian blue awning to keep veterans out of the elements as they enter and exit the James J. Howard Outpatient Clinic. But inside, there's some groundbreaking healing going on, specifically in the psychiatry ward. This morning, 15 Vietnam War veterans are in the group therapy room. They all have their eyes on a woman in a deep red skirt suit and pumps known around the clinic as "The Violin Doc."
The lady in red is Dr. Mary Rorro and to be accurate, the 41-year-old's getting ready to play her viola, not a violin. The viola is deeper in tone than the violin but higher in pitch than the cello. Charles Browne is one of the group's participants awaiting his doctor's performance. She's a staff psychiatrist, but today she's playing music to him and his fellow vets so they can relax and talk openly for the next hour about how they're doing with their Post Traumatic Stress Disorder, or PTSD.
"People talk about their Vietnam experiences and a lot of times people talk about, you know, reacting to loud noises and stuff," says Browne, a 62-year-old retired Army infantry platoon leader and company commander. Browne served in Vietnam from 1969 to '70. "I never had those issues. But for 20 years or so I slept like one hour a night. And I would say, you know, that's the only residue I have from Vietnam…that I just don't sleep."
Getting veterans like Browne back on their feet once they've returned from the war zone is becoming an increasingly urgent goal for the VA and for President Barack Obama. In his remarks to the nation this week on the final American combat troops returning from Iraq, the president promised more money would be allocated to the VA for medication and psychotherapy to treat the country's vets with PTSD and traumatic brain injury.
PTSD has been around for centuries, and in the past was called Soldier's Heart, Battle Fatigue, Shell Shock, and Vietnam Syndrome. It was not until the '80s that the medical community officially recognized the disease and began to hammer out a treatment plan. There's still no known cure, but treatment has progressed. Medication, conversation, and therapy can help veterans manage the disorder. But in recent years, the VA has acknowledged that the number of vets with the disorder has become a serious problem. In its last fiscal year, the VA diagnosed around 400,000 vets with PTSD, almost twice as many as it counted five years ago. Another surprising trend is the large number of Vietnam veterans just coming forward now with previously undiagnosed and untreated PTSD.
"They have been averse to treatment because of shame or stigma," Dr. Rorro says. "They're not able to access services until they're at a turning point in their lives."
One key way the VA is helping these veterans to control their PTSD—and other conditions, including substance abuse, Parkinson's Disease and head trauma injuries—is through music therapy. In the last five years, the VA has more than doubled the number of music therapists at its clinics. And with more PTSD cases on the way from Operations Enduring Freedom and Iraqi Freedom, Dr. Mary Rorro and others have their work cut out for them. The Violin Doc knows the symptoms of PTSD all too well.
Video by WNYC's Richard Yeh
"They suffer from recurrent intrusive memories," Dr. Rorro says. "Nightmares that can be very vivid, and very real, and startle them and awaken them at night producing some night sweats. Some of them even now feel like they could be back in Vietnam even though they know that they're back in safe country."
There's no consensus yet in the medical community about whether or not music therapy works. Opponents of the treatment argue that music's healing power has no scientific backing, and that there's no clear link between music and the brain's chemistry and activity. But recent findings from McGill University's Neuropsychology department suggest that specific parts of the brain are activated when patients listen to music which they like. And when the nucleus accumbens and the caudate nucleus, which are part of the reward, motivation and emotion systems, get jazzed up, a person starts feeling better. These same circuits release powerful chemicals when someone falls in love, eats good food, does drugs or has sex.
"So if you can think about a song that you absolutely love," says Dr. Connie Tomaino, who has run a music therapy clinic in the Bronx for over 30 years, "you'll be able to think about times when you've heard that piece of music. And, at the opening notes of that piece, you immediately, immediately without even thinking about it, have that association, those deep feelings, the connection to that person, you might have visual images of that person. That's how well connected that music is to who we are and those past experiences."
Scientists say certain pieces of music can arouse forgotten memories the same way smelling warm chocolate chip cookies can take you back to your grandmother's kitchen. Similarly, or maybe conversely, music therapists try to use pleasurable sounds to make it easier for PTSD patients to talk about unpleasant and painful memories. When patients hear music they like, there's also research that shows that it can inhibit activity in the brain's amyglada, which regulates the negative emotion system. That could mean that music clears a path to talk about trauma because it produces a sense of contentment or happiness and brings down fear and anxiety.
"At times, music can serve as a springboard during discussion," Dr. Rorro says. "You can feel the weight of some of the emotional state of the group."
Dr. Rorro is not a certified music therapist. Veterans who need more focused treatment are admitted to VA hospitals where they can work with therapists in depth, playing music themselves or listening to their therapists play. Good therapists can link music to a veteran's psycho-emotional state by using a song with which the patient connects. The patient can then begin to cope with traumatic triggers and other PTSD symptoms.
Not everyone responds to the same kind of music. Although Dr. Rorro gets a request for "anything by The Dead" in today's session, music with spoken words or lyrics often causes agitation when it's played to PTSD patients. Sounds played on lower-pitched instruments, like Dr. Rorro's viola, tend to be more soothing than higher-pitched flutes and drums. Live music with a slower, steady beat is also preferable to recorded music. Individual choice of song is important for one-on-one treatment, and therapists do song preference tests to find out what music best connects with individual veterans in treatment.
For this group, Dr. Rorro has chosen to begin with "Amazing Grace," "Memory" from the Broadway hit "Cats," and the Irish folk song "O' Danny Boy." First, she whips her viola to her chin and plays a few bars of the Navy fight song "Anchors Aweigh," a request from a former midshipman. A few minutes later, the previously rowdy group of vets falls quiet when they hear her play "Amazing Grace," which was written by a British Royal Navy man in 1779. One veteran gets choked up by the velvety sounds of the viola. Others are lost in thought.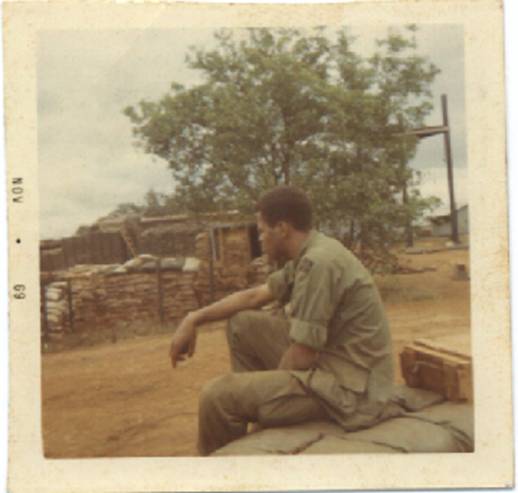 Charles Browne says Dr. Rorro's music takes him back to his youth. "Music has always been a respite for me," he says. "I grew up in a household of jazz lovers. So there was always jazz in the house."
That was before he was drafted into the Army at age 20. Browne was an infantryman in Vietnam assigned to search and destroy missions and to keep his men alive. "You're either in a fire or in an ambush or reacting to an ambush."
He got a purple heart for his efforts. But when he came back, Browne says his anxiety problems began. "Road rage. I was very quiet and into myself. I don't really socialize. I tried to go back to college and I couldn't deal with the things important to college students. So you kind of go deeper into a shell."
A friend referred him to the VA four years ago and Browne says that was when he started to feel things were getting better. Now he sleeps five hours, rather than one, a night. Browne says Dr. Rorro advised him to play music to help him sleep. "And to me there's nothing better than music. It's very important to me. It brings back good memories to me."
The VA may be relying more on music therapy these days, but the idea behind the treatment is far from new. Since the early 19th century, music therapy has been practiced in the U.S., according to the American Music Therapy Association. It was during World War II that doctors paid serious attention to the beneficial effects that music had on wounded soldiers' morale. They noticed speedier recoveries after local musicians performed at VA hospitals. The first music therapy program was then developed at the Topeka, Kan., veterans' hospital. Music therapy became a university discipline in 1944 at Western Michigan University.
It's unclear why the VA waited so long to bring music therapy back as a treatment. But Joseph Hammond, whose PTSD was diagnosed in 2001, is just glad it did.
"I'm into classical music," the retired Army mechanic says. Hammond served in Vietnam for 20 months, beginning in 1967. "To get through the night, I would listen to classical music—sometimes rock and roll, but it was too loud and bouncy. Classical music actually did help me to calm down and get through the night without too much problem."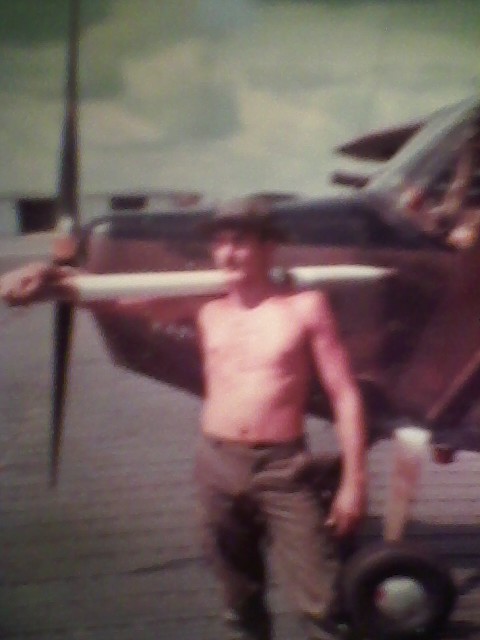 Hammond says he first killed a person during the Tet offensive, a military campaign that began in Vietnam in 1968. After he got back, Hammond says he had suicidal thoughts, uncontrollable rage, and couldn't keep a job. Civilian hospitals didn't know what to do for him so they prescribed drugs that led to weight gain but didn't help his anxiety.
"One time I was down in the kitchen and I was just so frustrated I took it out on a toaster," Hammond says. "With my fist…right in the middle of the toaster. It just caved right in." Another time, he remembers talking to his wife in the bathroom when another spell hit. "I grabbed ahold of the vanity and I wanted to tear it off the wall." Hammond's wife thought he was mad at her. "I said, 'No, it happens a lot, you just happened to be there…'"
Hammond has flashbacks regularly while talking about Vietnam, though it was more than 30 years ago. "I mean a lot of people, they don't see a wound on the outside. So [they say] how can there be something wrong with you?" the burly 62-year-old says. "But they don't understand the mental part of it. There's memories. There's things that you've seen over there that you don't want to discuss with anybody."
Hammond looks forward to the group therapy sessions. He says they're comic relief and that's just the kind of progress Dr. Rorro is hoping for. "The music has been just wonderful for them," she says. "It's very evocative of different things. So I play...and they get a lot of benefit out of it."
Dr. Rorro's penultimate song for today is the "Marines' Hymn," the oldest military song in the book, and it's usually sung at attention. The music from the song is taken from the comic operetta Genevieve de Brabant by Romantic cellist and composer Jacques Offenbach. "Now we gotta stand," one of the veterans says when she starts playing.
She ends with the last movement of Ludwig van Beethoven's Ninth Symphony. It's usually set to "Ode to Joy," Francis Schiller's 1785 poem. It's a good one to end on. Dr. Rorro double-stops while playing the song, which is when two strings are played simultaneously. Her finale is Randall Remington's favorite. "Kinda takes you away from the bad things," says Remington, another vet in the room. "It puts you in a different frame of mind [from] getting shelled, rocket attacks, things like that."
When the concerto is over, the veterans give Dr. Rorro a rousing send-off. The mood in the room is light and the vets act as though they've forgotten why they're here and the PTSD they acquired while serving their country more than 30 years ago. Before Dr. Rorro leaves, the group even gives her a little good-natured ribbing. "Are you related to Charlie Daniels?" one vet asks, referring to the white bearded, country music fiddler from North Carolina. "Amazing how you get some of the sounds of that," says another. "Saving up for the Stradivarius?"
"Yeh, this is a copy," The Violin Doc says as she makes her exit. And that's the end of today's viola therapy, a program she's begun to call "A Few Good Notes." She encourages any hospital worker to take five minutes of their day to pick up an instrument and play for veterans or simply sing them a song. "I do it to show appreciation for their services, and in addition, for the therapeutic effects," Dr. Rorro says. "The music can be comforting and fill some with melancholy. But that's good because you want to have them process that as well." 
Dr. Rorro credits the combination of listening to music, coupled with one-on-one psychotherapy and carefully administered medication, with enabling many of her patients to get a handle on their PTSD. But therapists say soldiers coming home from Iraq and Afghanistan these days have a different kind of PTSD than that of the Vietnam vets. Severe memory loss from brain "blast" injuries—from being run over by tanks or deadly bomb explosions in close proximity—are common in this recent wave of soldiers. Because music therapy relies heavily on memory for healing, it's not clear if techniques developed while treating Vietnam vets will help thousands of damaged war veterans coming home.

Dr. Mary Rorro's Playlist
Marchenbilder Langsam movement
Nessun Dorma
The melodic pieces highlight the viola's velvety tone, and are exceptionally beautiful, placing the listeners in a contemplative mood.
Memory
from the Broadway musical Cats
It seems to evoke recollections of buddies lost in battle. Lyrics are hopeful that through the melancholic remembrance of times long past, 'a new day will begin.
O' Danny Boy
It is often requested by veterans around St. Patrick's Day to pay homage to those who made sacrifices in service to their country.
O Mio Babbino Caro
A languid piece that lulls the veterans into a dreamy realm of peace and serenity.
Ave Maria
It induces a state of meditation and reflection for veterans.
Symphony No. 9
A triumphant theme of heroic proportion that is uplifting and inspiring.