Match of the Week: Stakhovsky Edges Harrison
Ukrainian Sergiy Stakhovsky temporarily put the future of American tennis on hold with his win this afternoon against 18-year-old Ryan Harrison.
Stakhovsky—last week's Pilot Penn champ—served and volleyed the American qualifier off the court in the second round of the U.S. Open. The cliffhanger that had the fans out of their seats on the Grandstand boiled down to a fifth-set tie-breaker. The final score was 6-3, 5-7, 3-6, 6-3, 7-6 (6).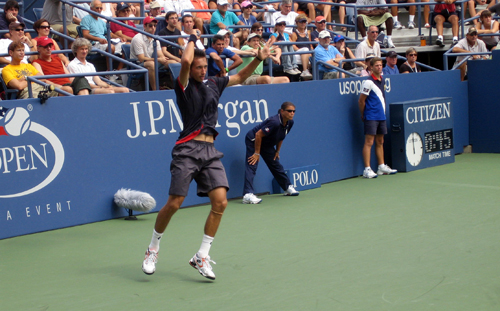 Afterward, Stakhovsky responded to the notion that he may have broken some hearts in the USTA office with his win. "I doubt that," he said. "I mean, he's quite young and he still have future in front. I was a bit more lucky to pull it out."
Perhaps the most refreshing part of the match, which included rain delays and medical time-outs, was its retro style. Stakhovsky won 54 of 91 points at net, Harrison won 46 of 83. In a game that has largely been dominated by power baseliners for the last decade, these two competitors did a good deal of damage with drop-shots and lobs, chips and smashes.
"It's not easy to play," said Stakhovsky about his style of shot-making. "It's very physical. When I'm feeling the ball good, it's not easy for them to play against me. But then, you know, if you have a bad day or just played a half meter short or just a meter shorter than usually, then they just dominate you. They move you around the court, and after one set you're burned out."
Harrison, who upset No. 15 seed Ivan Lubicic in the first round, got off to an auspicious start, breaking Stakhovsky in the first game of the match. But then he vanished. It wasn't until he held at 1-all in the second set—after chasing down a lob and then smacking a jaw-dropping forehand winner past the Ukrainian who quickly followed his lob into the net—that the momentum shifted in the American's favor.
Harrison went on a roll of masterful shot-making and net rushing, torturing Stakhovsky with vicious drop-shots and puncturing him with piercing smashes. It was a very effective game plan, specifically designed for his opponent.
"I served and volleyed an incredible amount today just because the guy had a one‑handed backhand, and he was chipping a lot of 'em," Harrison said about his strategy. "Whenever a guy is chipping a return, it will kind of float and then land deep in the court, and then you're starting from neutral if you let the ball bounce; whereas, if I have a feeling that he's gonna chip it high and it's gonna be floating, then I want to try to get in and take it off."
Harrison took two straight sets, and the lead, playing that way until an afflicted Stakhovsky called the trainer after holding serve to go up 2-1 in the fourth. He would go on to call an additional medical time out for his back a few games later, but the adrenalin carried Stakhovsky through.
Strangely, after breaking Harrison to go up 5-3 in the fourth set, serving at 15-love for the set, the Ukrainian called for a rain delay, due to a light sprinkle. Most players would have probably preferred to finish off the set at that point, but not Stakhovsky. He was caught off guard by the crowd's reaction.
"They were screaming," Stakhovsky said "And then when the court was slippery they started booing. I understand everything, but I don't understand booing when the court is slippery and you can twist your ankle. People just don't understand it."
Nevertheless, he won the next three points and the fourth set without missing a beat, and went on to break Harrison in the first game of the fifth. However, another rain delay interrupted play with Stakhovsky up 2-1 in the final set.
After 3 hours and 15 minutes on court, U.S. Open tournament referee Brain Early suspended all matches on the stadium courts.
When play resumed at 3:04pm, a composed Stakhovsky held his service games and surged to a 3-1 lead, but the American didn't buckle.
When he found himself down 0-40, Harrison fought off three break points to get to deuce. Seconds later, he found himself, once again, staring down a break point. His response after missing his first serve: to fearlessly serve and volley behind his second and attack the Ukrainian.
He held serve and broke Stakhovsky in the next game to level the match at 3-all in the fifth. The battle continued, each point better than the last. Harrison simply would not let up. Neither would Stakhovsky. They both unflinchingly attacked the net...
"Let's Go Ryan!" screamed and clapped the deeply invested crowd. "Let's Go Ryan!"
"That was incredible," said Harrison about the chorus chant. "You know, they were great. There were some balls that I ran down and was able to scoop up and get back in the point, win some points, just because of the energy and the electricity that I'm feeling because of everything."
And it almost worked. In the tiebreaker, Stakhovsky double-faulted at 3-all to give Harrison a mini-break. But a few points later, the American returned the favor. Harrison had a chance to serve out the match at 6-5 in the breaker, but the Ukrainian proved to be too tough. At 7-6, Stakhovsky exquisitely served and volleyed to win the match by a two-point margin.
In that moment, the Ukrainian crashed Harrison's 2010 coming out party. Nonetheless, the American found a few positive notes to take away with him.
"It was a great experience," said Harrison, who grew up in Shreveport, La. "I mean, the whole last week and a half, almost two weeks now, has been incredible for me. I've always believed in myself and I've always believed that I could come in here and compete at this level."
As for the ultimate potential of the American upstart, the Ukrainian was not about to gush.
"To do good to him," Stakhovsky said, "I'm not gonna say any good of him. Because usually, you know, when the young guy's coming up, they have all this publicity and everybody saying they're gonna be, they're gonna be, they're gonna be, and in the end they're just losing it. So I would say he got a huge amount of work to do. Huge amount."
He laughed, then added, "Like hours and hours of practice. But he got a reputation."
Other notable winners today included Kim Clijsters, Samantha Stosur, Elena Dementieva, Ana Ivanovic and Francesca Schiavone. On the men's side, Andy Murray, John Isner and Fernando Verdasco all advanced.