New York native James Blake ignited Louie Armstrong Stadium last night with his win over Canadian Peter Polansky. The American punished Polansky in the second round of the U.S. Open, 6-7, 6-3, 6-2, 6-4. He out hit his opponent from Ontario, 52 winners to 30.
Blake, who reached a career singles high of No. 4 in the world in 2006, has since fallen out of the top 100. He needed a wildcard to get into the tournament. And many experts have predicted, this could be the American's last Open. So what can fans expect from the long shot at this point?
"I'm gonna show some emotion out there," Blake said. "I'm gonna try and get the fans involved. I'm gonna do my best. So that's what they can expect from me. What my expectations are, pretty similar, I'm just gonna go out there and do my best."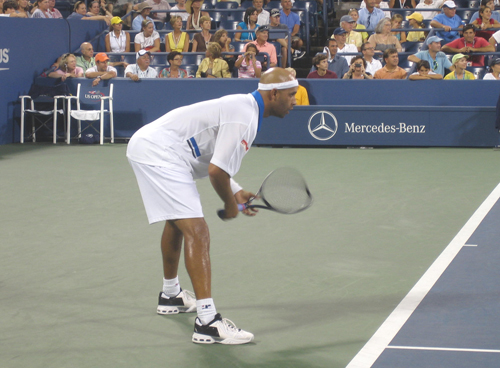 Why give up now? Blake's performance on court was truly extraordinary. He hit shots against the talented Canadian that harken back to his memorable showdown down with Andre Agassi in the quarterfinals of the 2005 U.S. Open. Blake admitted, however, that after everything that's happened to his body over the years, some days it's hit or miss.
"It takes a lot more work and there are days when it's just not there 'cause I haven't put in the same amount of time because I haven't been able to because of some injuries and things," said Blake. "That doesn't mean I can't go out and play some pretty good tennis at times. Tonight I showed that. I played a pretty passive, you know, not so spectacular first set, especially in the tiebreaker today. But turned it around and played great."
Just how far the adrenalin and fanfare will take him is a matter of conjecture. Blake has pulled off unthinkable feats in the past. But does anyone actually believe he can win the tournament? That's a very sensitive question that most players are conflicted about. On one hand, they have to think big in order to improve and achieve goals. On the other, they're constantly trying to come to terms with self-doubt. Blake's coping mechanism seems to be not to think about the end result.
"I think about each match," says Blake. "Because three out of five sets, there can be so many ups and downs in one match that you got to try to worry about those. If I start worrying—even when I was at 4 in the world, 5 in the world, 6 in the world—If I started thinking ahead to the second or third round, I'd be in big trouble in that first match."
Nevertheless, New Yorkers will be rooting for him.
Gasquet Downs Davydenko; Federer Advances with Ease
Other big news of the day included Richard Gasquet's continued French march after toppling Nikolay Davydenko: 6-3, 6-4, 6-2. Also, qualifier Kei Nishikori of Japan upset No. 11 Marin Cilic of Croatia. Many experts thought the Croat would give world No. 2 Roger Federer a run for his money in the bottom half of the draw. So much for predictions.
While Cilic said goodbye, Federer sharpened his teeth. The five-time U.S. Open champion blasted German lefty Andreas Beck from Arthur Ashe Stadium in straight sets: 6-3, 6-4, 6-3. It was the first time since the Canadian Masters (10 matches ago) that the former world No. 1 faced a southpaw, the dominant hand of his chief rival, Rafael Nadal. Perhaps the effortless tune-up will allow the 16-time grand slam champion to relax as he goes deeper into the draw. If it counts for anything, Federer was pleased with the result.
"It's the perfect start," Federer said afterward. "I played Monday, had two days off. I had another easy one physically today, and here I am in the third round feeling like I'm completely in the tournament. I got a sense for how the court speed is again. I got the sense of, you know, the crowd and the wind now as well. I played one night, one day. I have all the answers after two matches.
"Obviously they weren't the most difficult matches, you know. I didn't have to save multiple breakpoints or whatever. Even though I got broken today, I feel really good. Tougher matches will only be coming up now, I guess. I underestimate nobody."
On the women's side, Maria Sharapova, Caroline Wozniacki, Vera Zvonareva, Svetlana Kuznetsova and Jelena Jankovic all progressed without much trouble.