Campaign Postcard: AG Candidate Richard Brodsky Makes His Bid to Be the 'People's Protector'
Corruption and dysfunction have dominated the news out of Albany. So it should come as no surprise that the Democrats running for attorney general are all hitting themes of change. Veteran Assemblyman Richard Brodsky is counting on voters to remember his decades-long Albany record battling special interests and unaccountable public authorities.
One recent Sunday, he came to Brooklyn's Little Odesssa to a jammed street fair that went for blocks along Brighton Beach Blvd. To see the 64-year-old Richard Brodsky in action is to watch a master showman.
The air is heavy with the smell of cooking street meat and Russian Top 40 music as he wades into the crowd. Brodsky works the microphone with the skill of Groucho Marks. "Good afternoon Brighton. I am Richard Brodsky," he bellows. "I am glad to be back with a cast of wonderful people. Hello. What's your name?" Brodsky asks a young man.
"Peter," the young passerby replies before volunteering that he had just heard Brodsky on Russian Radio.
That's enough for Brodsky to engage him like a distant cousin. "Where you from Peter?," the silver-haired Brodsky asks.
"Riverdale, Bronx," replies passerby Peter.
Brodsky's avuncular third degree continues. "And where were you from before that?"
"Oh, from Russia," says passerby Peter.
Now with a twinkle in his eye, Brodsky asks, "Where?"
"Soratev on the Volga River," responds Peter.
"On the Volga River. Good. My grandparents come from Odessa," says Brodsky.
With as few as one in five Democrats expected to vote in the primary, candidates need a subset of voters to improvise a base of support. Out in front of Brodsky with a portable PA and microphone is Russian-language media mogul Gregory Davidzon -- now hustling like an old-school advance man.
"Richard Brodsky for attorney general. Election September 14th," declares Davidzon.
In his Russian pitch he includes a reference to Brodsky's reservations about the proposed Islamic cultural center and mosque near Ground Zero. Davidzon's Russian TV and radio outlets are the way thousands of Russian New Yorkers get their news. He says Brodsky's reservations over the construction of the center was what Russian New Yorkers, he describes as conservative Democrats, needed to hear.
"Richard is the only one who has concerns about Ground Zero. All other candidates strongly support it," says Davidzon.
Brodsky, who graduated from Harvard Law School, says as attorney general he would defend the Muslim group's rights but thinks there is more to the controversy than that. "The knee jerk reactions on both sides have been wrong," he says. "There are legal issues and there are also social and community issues that we are trying to resolve. I mean, if you listen to Fox News, everybody who supports the mosque is a terrorist and if you listen to MSNBC everyone who raises concerns is a bigot. Neither one is true. People of good will think the mosque should be built. People of good will think that site is too close to a site of a mass murder."
Brodsky has made a public career as an aggressive advocate for his point of view -- whether it is pushing for greater transparency from the MTA or for accountability from city officials who cut a deal with the Yankees for their new stadium. That populist track record works for Russian New Yorkers who media mogul Davidzon says are skeptical about big business and big government. "Richard Brodsky has positioned himself as a people protector," says Davidzon. "I think it is the best words to describe what he is going to do. It is very important for the Russian community to protect every single person against everybody -- against crime, against corruption, against government, against everybody."
By mid-day, Brodsky has squeezed in a Holocaust remembrance and a Union softball game in Yonkers. Late afternoon finds him in northern Westchester at a garden party fundraiser that features local musicians like anti-Indian Point activist Margo Schepart.
"If you hold your hand beneath your cable box, you could toast a bagel or dry your soggy socks," sings Schepart to the crowd's amusement. "We got so much energy that we can''t see the light. Little green dots and little red numbers blink at us all night. They call me a fanatic. They say my screws are loose. But if it is buzzing, warm or lit,  it is using up the juice."
The local favorite gets lots of applause. Brodsky's daughter Emily, an accomplished musician herself, organized the music for the event that included national folk legend Pete Seeger. The crowd of about 100 sing along with Seeger. "Hoping we all will pull through, me and you," sings Seeger. "Some of you are singing good but some, of course, some are still reserving their academic objectivity," he quips.
Seeger sings on: "Yes, when drill, baby, drill turns to spill, baby, spill, God's counting on me, God's counting on you..."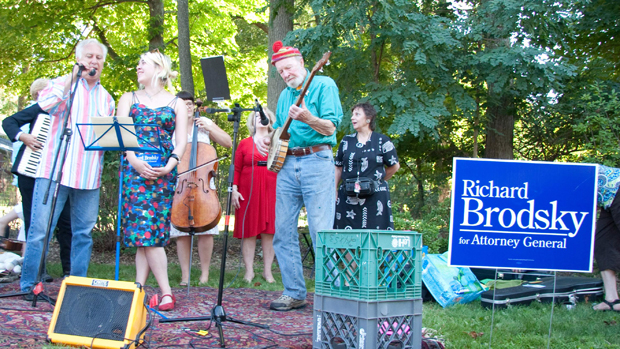 For this crowd of long-time backers, Brodsky hits familiar themes. "We got to stop this nonsense at Indian Point. Just got to talk about it in campaigns -- legitimize it as an issue," says Brodsky. "We got to stop big corporations from running our lives, like Entergy. Got to have people in public office willing to do that."
Politics is about relationships. The beautiful home that is this event's backdrop belongs to an anti-Indian Point activist that Brodsky kept out of jail. The marquee artist, Seeger, is a former Brodsky environmental law client. "I am still in court on Indian Point stuff right now, health and safety stuff," says Brodsky. "I actually got close to Pete as a sort of friend when I represented him in the suit I brought to make the state stop Indian Point from polluting the Hudson because the state was simply not enforcing the law."
Brodsky also hopes that voters will remember his advocacy on pocketbook issues like transit fares and electricity rates. He says a stalled economy has to mean the state's next attorney general thinks out of the box to limit the economic fallout for New Yorkers victimized by a white-collar crime wave that helped thrust the country into recession. "Take the mortgage scandal. It is a good and appropriate thing for the attorney general to use the powers of the laws of the state to prosecute the people that did these terrible things," says Brodsky. "But the people who are losing their homes also need legal protection. And the attorney general has to find mechanisms to be in the battles on those fights, not just in the high-profile but the bad-guy-in-jail stuff."
The 91 year-old Seeger sticks around to drive home the get out the vote message for Brodsky. "Don't get cynical about voting. We've made lots of mistakes, but now what we got to do is get all our friends out voting come September 14th and vote Richard Brodsky."
Whatever happens on September 14th, Brodsky will be leaving the Assembly come next year. For the first time since 1982, his district will be represented by somebody else.