Biting into a peach can be like jumping off a culinary cliff: The result can be a juicy burst of summer or a sad, mealy mess. Even when in season, locally grown peaches can be a game of fruit roulette.
That's why Last Chance Foods sought expert advice for picking out the best, ripest, sweetest peaches—all before the summer peach season is over. And it turns out, even the experts disagree on what defines a truly ripe peach.
Chef Erica Wides, the creator and host of the radio show Why We Cook, says it's all about color, feel, and smell. Look for a peach with an even yellow color, without any green, and one that yields slightly.
"[Then] you have to get your face right in there and breathe deeply through your nose, like smelling wine," Wides says, noting that the fruit should be fragrant and, well, peachy.
Ken Barber, Sr., a farmer who runs Stone Arch Farm near the Finger Lakes, agreed but added that peaches should specifically be tree-ripened. That means they're so soft that they bruise just from their own weight.
"If you see peaches piled like apples, don't buy them. They're too green," Barber explains. "Now the problem with a green peach is, is a peach, along with a grape, does not ripen off the tree. It'll soften, it'll get mushy, but it'll never taste like a real peach."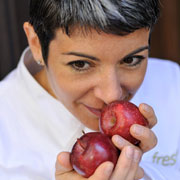 Wides (right) disagrees on this point, referring to the California Fruit Tree Agreement, which says that peaches do, in fact, ripen off the tree.
"They said that what happens on the tree is actually maturation...but then when you pick them, the ripening occurs," Wides says. "So, they call ripening what happens after they're picked, and they define ripening as softening and the diminishing of acidity."
The definition of "ripe" also affects the way peaches are stored. Barber, who sells tree-ripened fruit at the Union Square Farmers Market, says to store peaches as close to 32 degrees as possible—that'd be in the crisper, the coldest part of a refrigerator. Wides, however, says that more often than not, the peaches available are not ready to be thrown in the refrigerator. She says to keep the slightly firm-but-yielding peaches out, sitting on their shoulders so they don't bruise and air can circulate underneath them.
For those looking for ways to cook with peaches, check out two of Wides' favorite peach recipes below. Let us know your favorite recipe or thoughts on picking out the perfect peach by posting a comment below.

Peachy Quinoa
serves 1

1/2 cup cooked quinoa
1 very ripe peach, diced
2 tablespoons Greek nonfat yogurt
1/4 teaspoon turmeric
1/4 teaspoon toasted ground cumin
1 scallion, thinly sliced
1 large sprig cilantro, leaves only
flaky sea salt
1 teaspoon buckwheat honey

1. Cook quinoa according to package instructions and allow it to cool to room temperature.
2. Spoon cooked quinoa into a bowl, and top with diced peaches.
3. In a small bowl, whisk together the yogurt, turmeric, cumin and scallions, and drizzle over the peaches and quinoa.
4. Scatter the cilantro leaves over the peaches, and sprinkle with flaky sea salt. Drizzle with honey and serve.


Grilled Peach and Green Tomato Salad
serves 4
2 medium sized ripe peaches, preferably freestone
2 medium green zebra or other green tomato
canola or grape-seed oil for grilling
1/2 small red onion, very thinly sliced
6 leaves Thai basil
6 leaves mint
1 tablespoon white balsamic vinegar
2 tablespoons good olive oil
flaky sea salt
ground black pepper

1. Preheat a grill pan or charcoal grill over high heat.
2. Cut the peaches and tomatoes into 6 wedges each, and lightly brush with canola or grape-seed oil. Sprinkle them lightly with sea salt. Grill the peaches and tomatoes very briefly, only on the cut surfaces, then remove to a bowl.
3. Toss the peaches and tomatoes gently with the remaining ingredients, then taste to adjust for salt and acidity. This balance will vary depending on the ripeness and acidity of the raw fruit.