Labor Day, West Indian Style
Vacation-bound New Yorkers might be headed out of the city this Labor Day weekend, but there's plenty to do at the West Indian-American Day Carnival for those who choose to stay local.
The West Indian Day parade, which starts at 11 A.M. on Monday, is the carnival's main event. But the biggest stars in West Indian reggae, dancehall, soca, zouk, and compas start performing on Thursday at big, expensive concerts—tickets run $30-40 each—in the parking lot of the Brooklyn Museum on Eastern Parkway. So grab a veggie patty and make your way to the carnival festivities now!
The Haiti benefit concert kicks things off on Thursday evening. The original headliner, rapper-cum-Haitian presidential candidate Wyclef Jean, pulled out of the benefit last-minute citing "current activities with respect to Haiti." Ky-Mani Marley, one of the many reggae-slinging sons of Bob Marley, performs in Clef's place, alongside modern dancehall-pop stars Serani and Kevin Lyttle.
If you miss Thursday's benefit, there are other notable performances leading up to the parade. On Friday, Lady Saw, veteran of dancehall's mid-90s glory days of crossover success, performs at Brass Fest. On Saturday, the Panorama steel drum competition goes down at the Brooklyn Museum, and on Sunday, old-school calypso king Black Stalin—watch a video of his below—performs at the Dimanche Gras party where the festival's king and queen will be named.
The carnival is organized by the West Indian American Day Carnival Association. A spokesperson for the group says it is trying to include a wide range of mega-concerts and cultural events this weekend that have their roots in carnival traditions from across the Caribbean.
"We here in New York celebrate it much like Trinidad because it was brought by Trinidadians to New York," says Jane Alexander. "But all the islands participate in it."
After the weekend's events finish up, revelers can get warmed up for Monday's parade by participating in J'Ouvert, a celebration found throughout the Caribbean in which steel drummers and paint-flinging revelers inaugurate Carnival Day. J'Ouvert starts before the sun comes up—the word means "dawn" in French-Creole—at Flatbush Avenue, and ends at Grand Army Plaza.
Then comes the main West Indian-American Day parade on Monday. With an average attendance of 3 million attendees, the West Indian Day parade is New York City's most popular parade, even bigger than the Macy's Thanksgiving Day, Gay Pride, and Puerto Rican Day parades. As such, people clad in feathers, bright colored outfits and carrying steel drums will make their way down Brooklyn's Eastern Parkway from Schenectady Avenue in Crown Heights to Grand Army Plaza by the Brooklyn Public Library from 11 A.M. on. The groups marching will bear names like the Sesame Flyers and the Hawks International.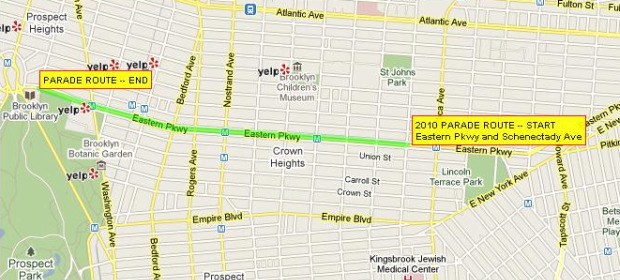 The parade is supposed to end by 4 P.M., which is shorter than in years past. The parade's organizers say that's because the New York Police Department implemented new rules in February for city parades that require organizers to reduce parade routes by 25 percent and limit marching to five hours. If the parade does finish by 4, the NYPD will save some money on staffing and overtime wages for officers.
But time limits on the West Indian Day parade are not likely to dampen spirits.
"It's less time and it's a shorter route," says Alexander. "But we're going to do the most we can with less."