Micropolis
Park51: Muslim Leaders Make Their Stand
Just yesterday I cited an article in The American Muslim magazine asking where Muslim leadership has been over the Park51 issue. Well, today those leaders finally appeared: on the steps of City Hall. The group, known as the Majlis Ash-Shura of Metropolitan New York, aka the Islamic Leadership Council, braved the furious heat (remember, observant Muslims aren't even drinking water these days) and the questions of a sizable press contingent as they tried to reframe the story.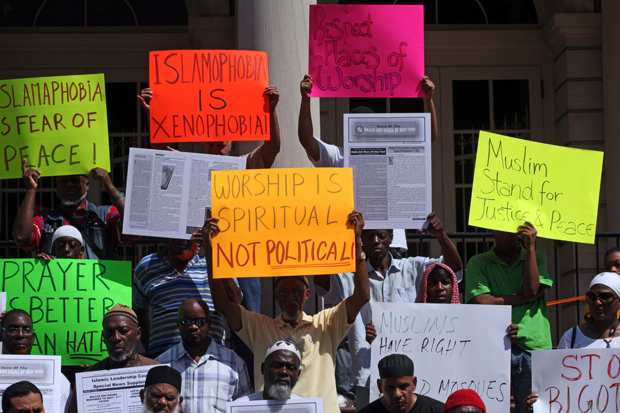 The real issue, they said, wasn't Park51 per se -- it's the use of this controversy to drum up opposition against mosques across America, and against Muslims, to the extent that Muslims have been violently attacked and mosques desecrated.
"We call upon the political and the religious leaders of this nation to stop fanning the flames of hatred," said Imam Al-amin Abdul Latif, the president of the Majlis, who wore his beard a brilliant henna orange.
Like Latif, the vast majority of the imams who attended the event were of African descent. With a couple of exceptions, Arab, South Asian and Indonesian leaders were absent. Aside from religious leaders, Robert Jackson also spoke -- he's the only Muslim member of the City Council -- as well as Congressman Charlie Rangel.
Does the Majlis have clout? I put the question to a Muslim activist the other day. He laughed (by email) and suggested, not as much as it likes to think. But this was the first event organized by Muslims that has tried to push back against opponents of Park51. And judging by the media turnout, there is a real interest in hearing from Muslims on this issue, especially in the absence of Imam Feisal Abdul Rauf of Park 51 (who only returned today from abroad).
Imam Talib Abdur Rashid pointed out that Ground Zero has meaning for Muslims as well, given that hundreds of Muslims died on 9/11.
"There were Muslim firemen," he said, "Muslim police officers, Muslim EMTs, Muslims chaplains, both male and female, who ministered to the families."