Road trip pictures at the Whitney, propaganda at MoMA, and a monochrome wall of commissioned graffiti in downtown Manhattan. This week's Datebook is a guide to Labor Day weekend artsiness.
Lee Friedlander: America By Car, at the Whitney Museum. If you are looking for a little air conditioning and a perfect end-of-summer coda, pop into the Whitney for this show of Friedlander's black-and-white chronicle of his road trips through all 50 states, in which he uses his rental vehicle to frame the vistas he is shooting. Rear-view mirrors reflect mountains, historic buildings rise over Friedlander's dashboard and trapezoidal side windows reveal the sublime and absurd: memorial markers, giant ice cream cones, fake Saguaro trees and road signs advertising cold beer and hot women. The accompanying catalogue, published by D.A.P., is all kinds of wonderful – the ultimate tribute to the principal way in which car-bound Americans experience their seemingly boundless landscape. Opens Saturday, in Manhattan.
The March of Time, Seventy-Fifth Anniversary, a film series, at the Museum of Modern Art. Roughly eight decades before the Taiwanese cooked up the idea of CGI news or Glenn Beck thought to cry on television, Henry Luce and the folks at Time magazine were producing an array of propaganda newsreels – complete with reenactments – that were shown in movie theaters across the country. Now, on the occasion of the program's 75th anniversary, they will get an airing at MoMA – a fine opportunity to see the opinion-soaked segments that Orson Welles once parodied on Citizen Kane. Through Fri., Sept. 10, in Manhattan.
Paradise Lost, with C215 and Eelus, at the Brooklynite Gallery. These two well-known European stencil artists will be opening a show of their works at this small, happening art spot in the heart of Bedford-Stuyvesant. A live DJ and an ample backyard space make this a good spot to enjoy some art and some grooves on a warm summer night. Opens Saturday at 7pm, in Bed-Stuy.
Barry McGee, on Houston Street and the Bowery. The public art wall once run by Deitch Projects (and now operated by a real estate developer) has sported works by everyone from Shepard Fairey to Keith Haring to the Brazilian muralist twins Os Gemeos. This week, renowned graffiti artist and installationist Barry McGee transformed the wall with a simple concept: dozens of tags – many of which pay tribute to other artists – all done in red, transforming the wall into a stunning urban tapestry, one that can be enjoyed 24-7. Animal New York has photos of the process (the wall went up overnight earlier this week), while Vandalog offers a nice round-up of day-time images. If you're downtown, be sure to check it out. Indefinitely, in Manhattan.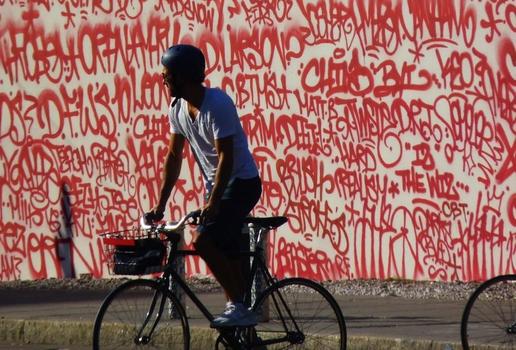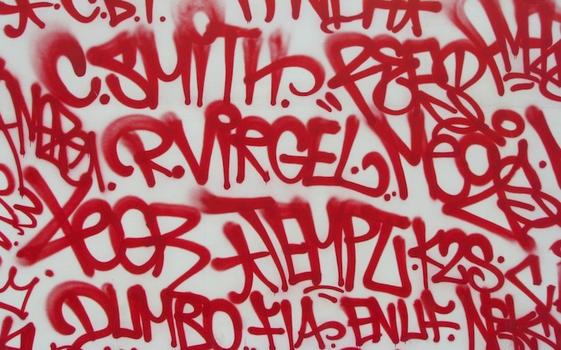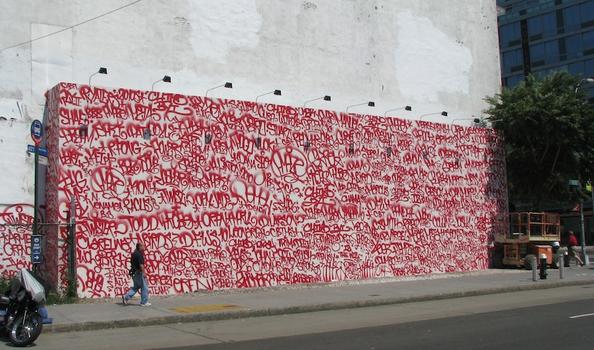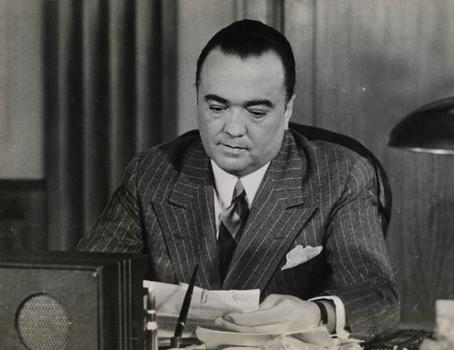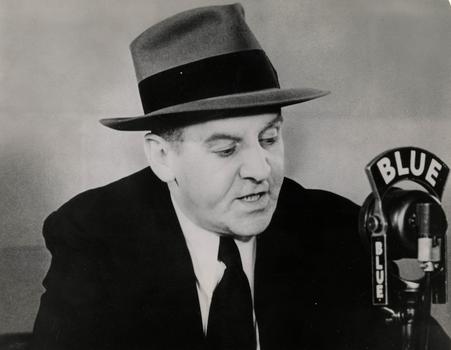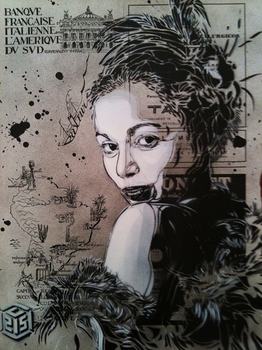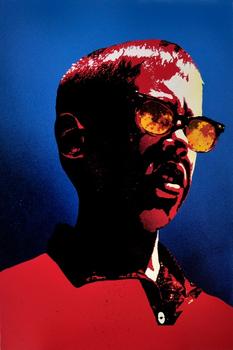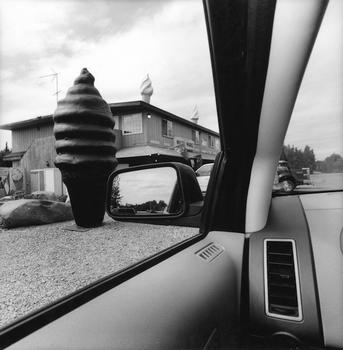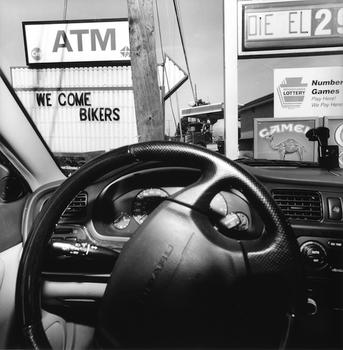 of