Ask the Insider: Behind the Scenes at the U.S. Open
During the 2010 U.S. Open, WNYC will be talking with players taking part in the tournament and we want to ask them your questions.
American tennis twins Bob and Mike Bryan became the world's winningest men's doubles team earlier this year in Los Angeles, beating the long-standing record of 61 career titles held by Aussies Todd Woodbridge and Mark Woodforde, aka "The Woodies." Since that time, the Bryans have racked up three more titles and are seeking number 65 here at the Open.
They answered your questions: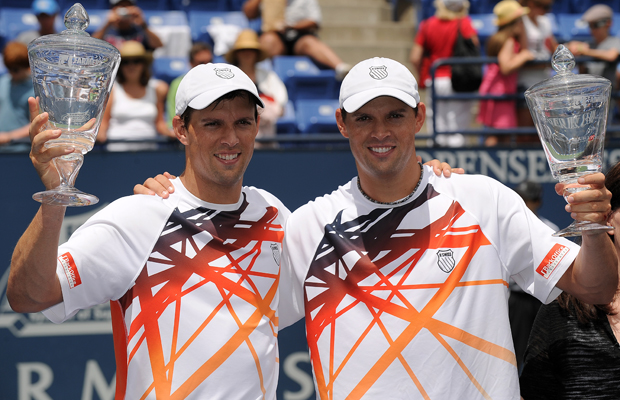 Bob (R) and Mike Bryan pose after winning the doubles final at the ATP L.A. Tennis Open tournament August 1. (Robyn Beck/AFP/Getty Images)
Steve from Montville, NJ: What's your favorite tournament to play in and why?
Well, this one is high up on the list; crowds are electric, it's the last Grand Slam of the year and we have all our U.S. fans here pulling us through. This is the one you want to do well, if I could pick one, it would be here.
Rob Polishook: What's the most nervous you have been in competition and how did you handle it?
I'd probably say our most nervous match was our first Grand Slam final, at the '03 French Open. I don't think we slept a wink, I couldn't eat. We really wanted to win our first Grand Slam, we actually went to the same Chinese restaurant 21 straight nights because we were so superstitious, we were on our winning streak, and the Chinese food was terrible. That was a tough one, we got through it, and it's made life a lot easier.
Clinton Alford from New York City: Since you broke the record for most doubles titles as a team, your clothing sponsor, K-Swiss, has given you both a 10-day vacation anywhere in the world. Have you chosen a destination yet and why did you choose that location?
Mike: I've chosen a destination, I'm going to Africa in December. I thought if they're going to pay for a vacation I'm really going to milk K-Swiss and make it pretty expensive, so I'm going to Botswana for 10 days and I just ran the numbers and it's coming up to over $25,000, so I have to speak to K-Swiss and see what their budget is. But I've never been to Africa and I want to go on a safari.
Bob: I'm probably going to go to Bora Bora. But, I might keep the vacation in my back pocket. You know, it's always fun to talk about the vacation and dream about it. I don't want to use it so fast. I want to keep dreaming.
Jody O'Neal from Brooklyn: For each of you, if you weren't playing professional tennis, what would be your occupation?
That's pretty easy. We love music. In music, you can't really lose. There's not the pressure of getting your butt kicked. So, we always have fun jamming in our room. I play keyboard. Mike plays drums and guitar. And I think just playing on stages in front of people playing music would be a great gig.
Nancy: When was your first visit to New York City and have you played in any of the public parks in New York City?
Our first visit was in 1995 we won Kalamazoo Junior's 18s, and we got a wildcard in the tournament. I think we were 17 years old, we looked so small, they thought we were ball kids and the players wouldn't give us any respect. We played in Central Park a few times. That year, when we were 17 we played. They put some courts on the ice rink and we played there.  Last year we did a Prince clinic at the Central Park courts, I don't know if they're public, but New York has some nice courts.
Ian from River Vale, NJ: How can the major TV networks be persuaded to show more doubles matches?
It's tough. The Tennis Channel does a great job of showing doubles, but it comes down to ESPN and CBS and we might just need a little luck, Roger Federer might have to get injured. We don't want that! But we're going to need some luck, it hasn't been that successful in the past, but we're going to need a big TV executive to be a doubles fan, and take a chance with doubles. I think a lot of fans love it and they love to see it on TV.
Marna Herrity from Brooklyn: What's the toughest match you've ever played? And now that they've won the most titles of any (men's) doubles team in history what is your next goal?
A lot of tough ones. The record breaking match in LA, that wasn't an easy match. We were playing in front of our home fans and I think we had 50 family members come to watch us break the record. So we were feeling a lot of pressure, we wanted to do it there – that was the fairy tale setting to break the record. We'd gotten down a set and a break against the team that we'd beaten many times in a row and somehow we scraped through it. That one is fresh in my mind. Now the goals are to finish the year number one. That's where we have our sites and that means winning Grand Slams, that means winning here. We just love the feeling of winning, hate the feeling of losing, we just want to do more winning.
John Matthes: Why  aren't players allowed to vent their frustrations or show their emotions. I think it takes away from the game to expect them to be so controlled all the time. What do you think?
I think we need players to show their personalities on the court, if that means just showing some frustration or hitting their racket, I don't think it should be frowned upon for a player to let some emotion out. McEnroe and O' Conners may have been over the top in the past, but it made tennis really popular in the '80s and that' probabably when it was at its biggest. So, I would like to see the players get a little upset sometimes.
Have any of you guys ever broken a racket or gotten a warning from the umpire about your conduct?
I think we've both been fined once, that was early in our career. Haven't taken a fine by the ATP in about 10 years. I (Bob) broke a record at the Indianapolis tournament when I was 20 years old and I think I paid $750 for that, very expensive racket. And Mike might have said something under his breath that an umpire caught, and tattled on him. He paid a nice little $1,500 for that one.
WNYC's Amy Eddings: Have you ever gotten mad at the other for blowing a big point and how did you handle it? And what are your suggestions to club doubles players in those situations?
We get mad all the time at each other. We're brothers and we'll let each other hear what we're thinking. And that's not always the best thing to do. You got to be positive, you got to make your partner feel like they're carrying you on your back, doubles is a two-way street. And you're only 50 percent of the team, so you got to make your partner feel like they're number one in the world and they're doing a great job.
You got to be a good actor. Mike could be playing horrible, I can't show him that, I got to keep pumping him up.
You're only as good as your partner.
Bart: Who do you look more like, you or your brother?
Tough question. Bob went to get some passport photos and I was lazy and stayed in bed and we needed our visas for Beijing in a few weeks and I told him to get one for me, so he put his hair the other way and took the picture and we submitted it, and we got our visas. So, we're still looking pretty much alike, even though Bob has me by 15 pounds.