On Your Record Release Radar: Buke & Gass
The Brooklyn band Buke & Gass (pronounced 'Byook and Gase') releases its album, Riposte, on September 14 from Brassland Records. But the Brooklyn band's first self-produced, full-length record is not just any debut. Buke & Gass creates an unbelievable crash of controlled calamity with a self-fashioned arsenal of instruments, which only Dick Van Dyke's chimney sweep, side job persona in Mary Poppins could attempt to recreate.
Songstress and frontwoman Arone Dyer plays buke, a self-modified six-string baritone ukulele, in the band. She wasn't always a bukist. In 2000, Dyer moved to New York City from Minneapolis, and toured with the post-punk noise group Hominid before taking a three-year hiatus to race, tune up and trick out bicycles in the Lower East Side.
In 2007, Buke & Gass took shape when Dyer formed the band with her former beau and Hominid bandmate Aron Sanchez. Sanchez came aboard with his gass, a guitar-bass hybrid of his own creation. His Red Hook studio, Polyphonic Workshop, where Sanchez had previously designed and built instruments for the Blue Man Group, became the band's production and recording studio. In 2009, Brassland co-founders Aaron & Bryce Dessner, of The National, ran into--and were captivated by--the group's wall of sound at the local Ditmas Park watering-hole Sycamore.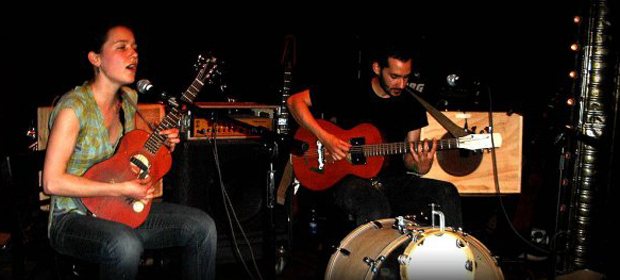 The players with their instruments: Dyer with her buke, and Sanchez with his gass.
In addition to the unique sounds of the buke and gass, Dyer's impressive vocal chords pack a punch. In "Your Face Left Before You" (which you can download here), Dyer's voice jumps through a vocal range like a carnival ride. At times, her voice is hesitating. Then, it's an all-out crescendo.
"Imagine a recently retired school-house janitor riding the back of a big horse that's galloping over different scenes," Dyer said of the band's sound in a recent interview on WNYC's Radiolab. "Like, one scene could be a really calm, rose petal surfaced pond. [The horse] jumps over that. Then, it gets to another scene where there's a big party with topless beachgoers that are totally pruned out and hanging out on the beach...and they're very surprised. And it jumps into another scene where there's an angry mob with pitchforks and flames. And they're running after rabbits that have just stolen all of the carrots and cabbage. And they're not going to be able to eat their feast because of it. So, they're very angry."
Dyer's rose petals, horses, pitchforks and flames give us even more ideas about Buke & Gass's music as a possible canvas for Dick Van Dyke's other chimney-sweep persona to take on--of the panorama chalk-drawing variety, of course. Just replace "chimney-sweep" with "janitor" and you'd surely be bound for rooftop to rooftop dancetopia. 
Catch Buke & Gass in New York City for the band's CD release party at Santos Party House on October 1. And download their "Your Face Left Before You" right here.