Yoshitomo Nara Invites Fans to Armory Open Studio
You don't need to visit a gallery to see the work of Japanese artist Yoshitomo Nara. His stylized, cartoonish characters can be found at your neighborhood novelty store, printed on everything, from beach towels to postcards.
Maybe it's his wordwide ubiquity, but Nara's art inspires the kind of die hard fandom known mostly to the celebrity stratosphere. This week, as Nara and his Japanese collaborators build an installation that will open September 9th at the Asia Society, fans are flocking to the Park Avenue Armory to see the artist at work. Nara's appearance at the installation on Monday elicited sobs from one of his young Japanese fans; they just managed to drown out the sound of drills and hammers.  The studio is open afternoons through this Friday from 4 to 7 p.m.
Nara and his team of collaborators, YNG, are building a wooden structure that looks like a modest, white-shingled house with no roof. It will be transported to the Asia Society next month. Donning yellow hard hats, visitors can peer over piles of wood and power tools into the rooms of the house, which are painted the color of mint chocolate chip ice cream. Adjacent to the installation, a plexiglass window allows visitors to looks into Nara's studio where drawings of his scowling characters are pinned up to white boards.
Though he's a fan of Nara's work, artist Ben Peterson was slightly underwhelmed with the open studio. "I was expecting maybe a little bit more visible art construction, as opposed to house making, but I'm excited to come back and see how it progresses," he said.
In the mood for what he called "newer" art, 12-year-old Clark Vaccaro was more than happy to see the installation. "I definitely think that Nara's art is some of the most brilliant, in my opinion," Vaccaro said.
Check out a slideshow of images from Nara's open studio, and of works from his upcoming exhibition, "Nobody's Fool," below. The exhibit opens at the Asia Society on September 9th.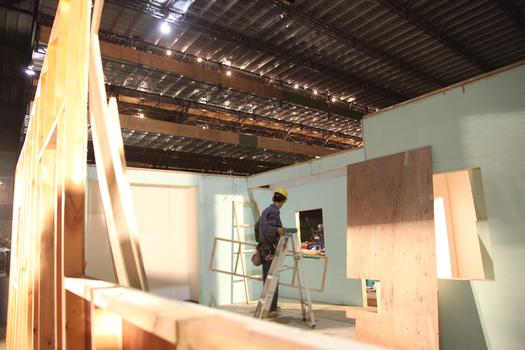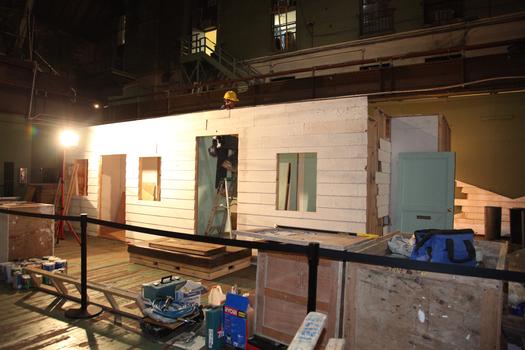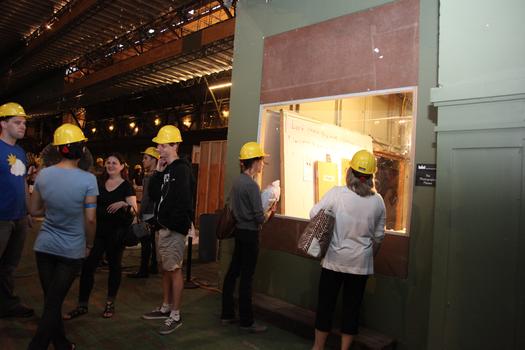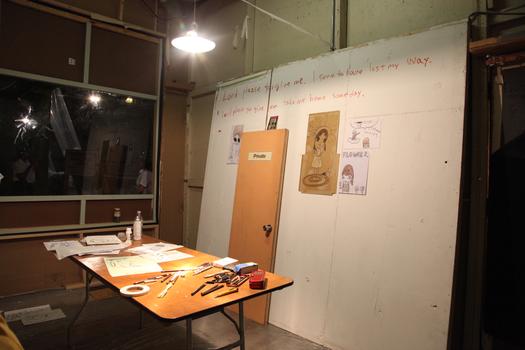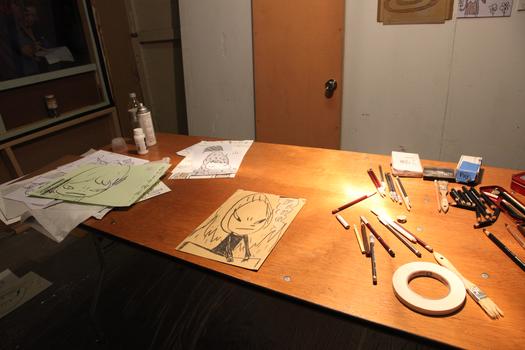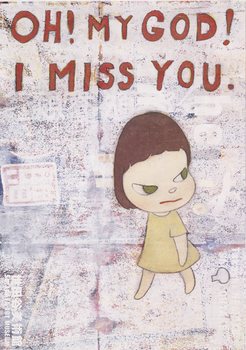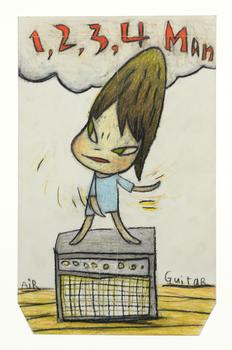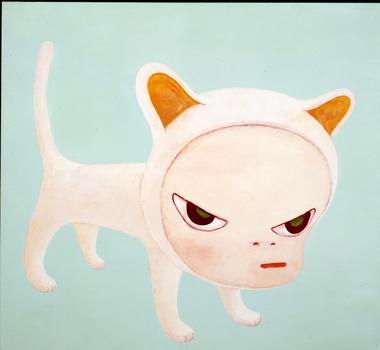 of