Dueling Points of View on Manhattan's New Skyline
A picture is worth a thousand words—and millions of dollars.
Those are the stakes for which two midtown real estate giants are playing in the fight over 15 Penn Plaza, a proposed 1,216-foot skyscraper that would be constructed within a quarter mile of the Empire State Building and challenge that icon's status on the skyline.
Each side showed up at a City Council hearing Monday with rival renderings of what the tower would look like—and what damage it would do to the skyline, if any.
"Most of these rendering that we've seen from them are grossly inaccurate, do not actually reflect the articulation, the meticulous detail," David Greenbaum, president of the New York office of Vornado Realty Trust, told reporters outside the hearing. "We are talking about world class architecture by Pelli Clarke Pelli, who have designed some of the great buildings across the planet."
Vornado is the developer behind 15 Penn, which would be located where the Hotel Pennsylvania now stands at 33rd Street and 7th Avenue. It's asking the City Council for permission to build 56 percent more floor space than allowed under current zoning, a bonus that's worth millions of dollars over time.
Greenbaum was criticizing images distributed by the owners of the Empire State Building, less than four blocks away at 34th Street and Fifth Avenue, and just 34 feet higher at the top floor. Anthony Malkin, the most outspoken of those owners, admitted that his renderings might be off slightly—but charged that Vornado's drawings were equally misleading.
"That is a very artful and best possible representation," Malkin said of the developer's image. "Clearly, we did not choose the best representation. That would not serve our purpose, nor would it serve theirs."
Vornado distributed twilight images, taken from the north, which would emphasize how far away the two buildings were and also how its glass tower would glow in the fading sunlight. Malkin's images were taken from the east or the west, showing the two towers closer together.
The City Council is not being asked to approve the design, only several zoning changes to allow a larger building constructed closer to the street. Vornado hasn't found any tenant to rent in its tower and says it is still years away from construction—which means the design could still change too.
The full Council could vote as early as Wednesday.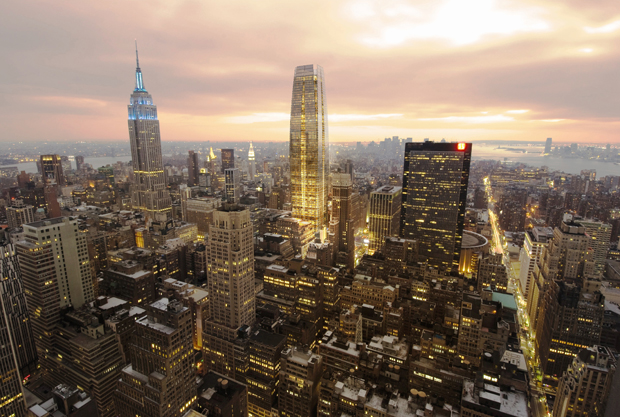 View of the Manhattan skyline with proposed skyscraper by Pelli Clarke Pelli. (Photo courtesy of Pelli Clarke Pelli)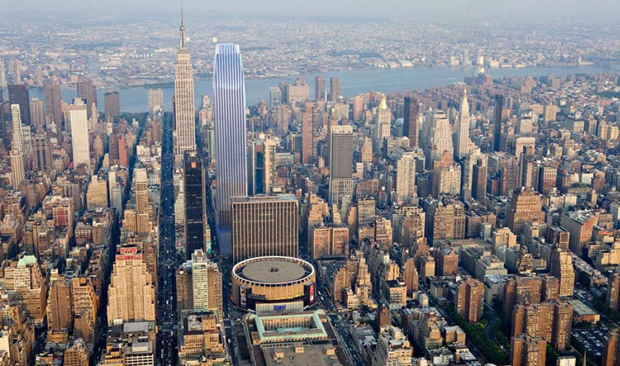 View of the Manhattan skyline with proposed skyscraper by Pelli Clarke Pelli, by the detractors of the project. (Photo courtesy of Friends of NYC Skyline)