A Mosaic Mystery Unfolds in Queens
When art blogger Andrew Russeth stepped on a mosaic of famed 1960's Parks Commissioner Robert Moses in Queens' Flushing Meadows Corona Park, he stepped right into a 45-year-old controversy involving pop artist and icon Andy Warhol. The story of Warhol's connection to Moses, the World's Fair and the 1998 mosaic that links them together is a plot studded with big names and big question marks—eat your heart out, Da Vinci Code.
In his blog post for ARTINFO, Russeth explains that architect Phillip Johnson commissioned Warhol and nine other artists to decorate the New York State Pavilion he built for the 1964-65 World's Fair, in what is now Flushing Meadows Corona Park. In a story steeped in a mystery of its own, Warhol got his hands on a copy of an internal document from the New York City Police Department with photos of the 13 most wanted men in New York City, which he then turned into a mural for Johnson's pavilion.
Though Warhol's mural did go up, it was only a few days before it was covered in silver paint, then shrouded in a tarp and eventually removed.
"There are all these conflicting stories," Russeth says, about why the mural was taken down. Some news articles from the era quote Warhol's gallerist as saying that Warhol himself wasn't happy with the mural. Later reports cite then-New York Governor Nelson A. Rockefeller objecting to the mural's depiction of 13 Italian-Americans as criminals, some of whom had even been pardoned by the time the mural was on display.
"What the art historians have decided is that they were not pleased—the fair authorities—to have this depiction of the most wanted criminals in New York City being shown to a fair that was supposed to be celebrating progress, the future and the glory of New York in the 1960's," Russeth says.
Robert Moses, who was 26 years in office as Parks Commissioner, has his name on parkways from NYC to Niagara Falls, and is credited by the Parks Department for increasing the number of city playgrounds by nearly 85 percent. Moses stepped down as Commissioner to serve as President of the 1964 World's Fair, a project he backed with fervor, which made him the target for the mural Warhol suggested as a replacement to the Thirteen Most Wanted Men.
In a mischievous attempt at a coup de mural, Warhol silk-screened 25 images of Moses to make a replacement mural, a move that architect Johnson referred to as "thumbing his nose" at the fair's celebrated hero. The pavilion still stands today sans Warhol's mural, at which point Russeth's discovery of the mosaics last week in Queens comes into play.
The two mosaics he discovered, pictured below, are evidence that someone—the Parks Department hasn't identified the murals' creator—was attuned to the story of Warhol's mural controversy. "The weird thing is that it's labeled 'Robert Moses by Artist Andy Warhol 1964', but this was something installed in 1998," Russeth says. "Is this an in-joke, or is it taking Warhol and turning it into something he would probably not be pleased with?"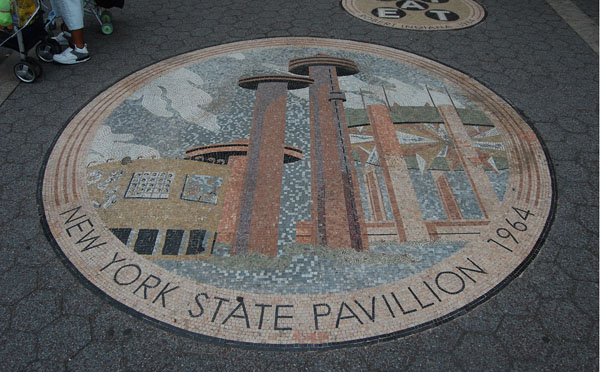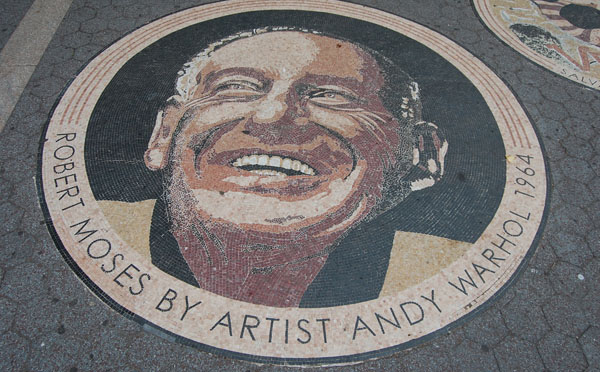 The depiction of Robert Moses in one of the mosaics (at right) is taken from Warhol's banned silk-screen project, while the other mosaic (at left) depicts the exact part of Johnson's pavilion where Warhol's mural lived for its brief existence.
The mystery mosaics in Queens have brought the Warhol controversy to the present, into this awkward-to-identify decade. As for the resolution of the mystery, the Parks Department is looking into it, Russeth is waiting to hear, and Dan Brown (author of The Da Vinci Code) likely has no idea.