Beekman Tower: Now Glistening to the Very Top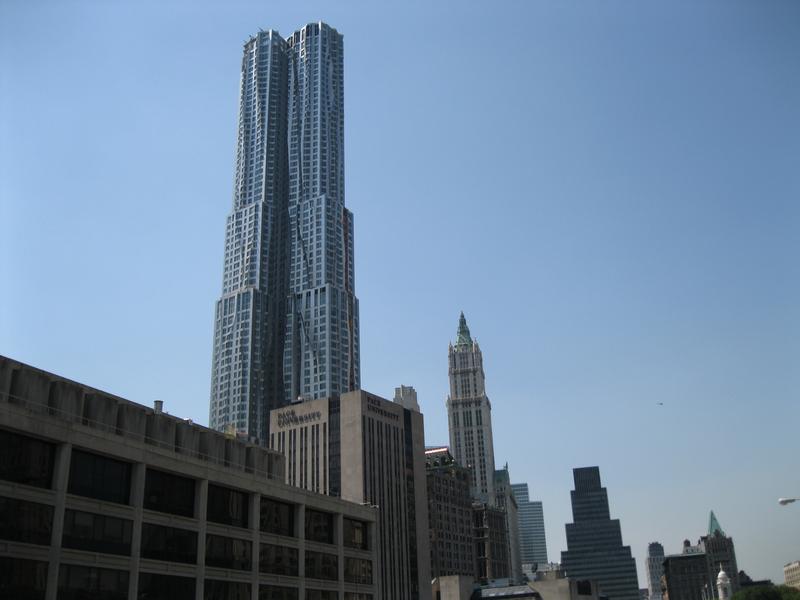 Frank Gehry's design for the Beekman Tower in Lower Manhattan elicited a wide range of responses when its designs were circulated two years ago. Among them: Just how will the shiny steel surface fit in among lower Manhattan's stone towers?
While the building is still several months away from completion, the stainless steel siding appeared to have reached the top of the 76 floors this week, giving passersby a chance to assess it.
The building, at 8 Spruce Street, was planned during the real estate boom...and, against all odds, went up during the bust. Construction did stall last year while the developer, Forest City Ratner, renegotiated costs lower -- but work resumed within a few months. The steel structure topped off last November, and shortly afterwards, workers began installing the undulating stainless steel curtain wall.
While the top floors appear to have been covered, there are pieces of some floors that are still bare. The developer says the exterior won't be completely finished for several months.
The 900 apartments in the building are expected to open next spring. The developer abandoned his plan years ago to offer a mix of rentals and condos. Now the building will consist of  100 percent market-rate rentals.  The developer won't divulge the asking rents, but Corcoran broker Eric Fleming, who represents similar signature buildings in the financial district, says the one-bedrooms there could fetch $5,000 a month.