Supermarket Sweep Reveals Rampant Violations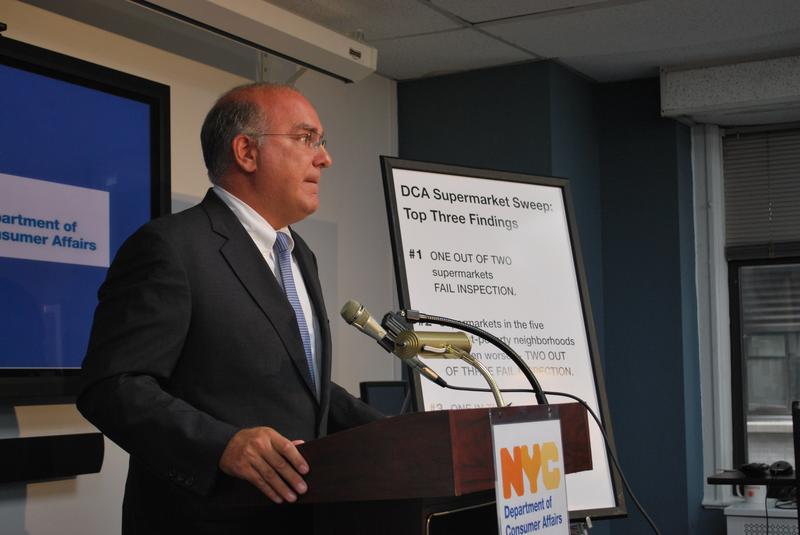 Cash registers at New York City supermarkets are filled with more of your money than you might expect. One out of two city supermarkets examined in a yearlong sweep by the Department of Consumer Affairs failed inspection for overcharging and misleading customers, the agency announced today.
"When New Yorkers go to the supermarket, they don't expect to get taken to the cleaners," says Consumer Affairs commissioner Jonathan Mintz. "That's just what's happening."
Consumer Affairs inspectors performed nearly 1,000 inspections on more than 700 stores around the city. A supermarket that had one or more violations was said to fail. The violations included missing price tags, inaccurate scanners, taxes charged on non-taxable items and no scales for weighing produce. Many well-known supermarket chains made DCA's "Worst Offenders by Borough" list, including Pathmark, Key Food, and Western Beef.
"This suggests an industry-wide problem," says Mintz.
But Richard Lipsky, a blogger and lobbyist who represents Gristedes and other supermarkets around the city, says the regulatory code is too tough on supermarket owners.
"The Consumer Affairs budget is predicated on its ability to collect fines," he says. "So what happens is, stores are like a piñata for the regulators."
Supermarkets that have been issued violations could face more than $380,000 in total fines. Individual fines range from $50 to $600. DCA did not determine how much customers have been overcharged, but Mintz says no amount should be overlooked.
"These nickels and dimes really add up," says Mintz. "When you see that compliance is significantly worse in the poorer neighborhoods, it raises some very significant questions."
Supermarkets in the city's five poorest neighborhoods—all in the Bronx—were 25 percent less likely to pass inspection than the citywide average.  
Consumer Affairs plans to send inspectors out to twice as many supermarkets in the upcoming year to send a message to the supermarket industry.
"When you're going and stretching a hard-earned dollar to pay for the food that your family needs, you shouldn't have to ask yourself whether or not the price that you were told an item was going to be is the price that you're actually charged," says Mintz.
One bright spot in the announcement today was that 82 percent of bodegas passed a recent round of Consumer Affairs inspections.