South Asian LGBT Community Marches in India Day Parade
Ten years after they were last allowed to march, members of the LGBT community re-joined New York City's India Day parade on Sunday. Led by openly gay City Councilman Danny Dromm and Council Speaker Christine Quinn, a small contingent of gay and lesbian marchers made their way down Madison Avenue, past tens of thousands of spectators.
As with the St. Patrick's Day parade, an annual showdown between parade organizers and the LGBT community has been a guaranteed feature of India Day, which commemorates the country's independence from Britain in 1947. The last time the South Asian Lesbian and Gay Association was allowed to march was in 2000.
This year, at the last minute, organizers decided to let SALGA, the South Asian Lesbian and Gay Association, march. But SALGA member Shawn Jain says there were conditions.
"They said that they don't want any lewd or indecent conduct by our members," Jain says. "And the idea that because we're queer, that we're going to engage in that, it just shows a level of homophobia and lack of comfort they feel with queer people. And that's sad."
The decision by the Federation of Indian Associations, the parade organizers, to include SALGA in the parade was made after lobbying from Quinn and Dromm.
"Every time one of New York City's ethnic parades says yes to the LGBT community it makes it harder for the shrinking number of parades, like St. Patrick's Day, that have said no, to continue to say no," Quinn says.
Additional pressure on the parade organizers came from Reshma Saujani, a young Indian-American congressional candidate who's waged a high-level campaign against Rep. Carolyn Maloney. According to Jain, SALGA hasn't had that sort of political support before.
He also said SALGA hopes to have a larger presence at future parades -- but that means convincing gay and lesbians Indians to out themselves in front of the entire community.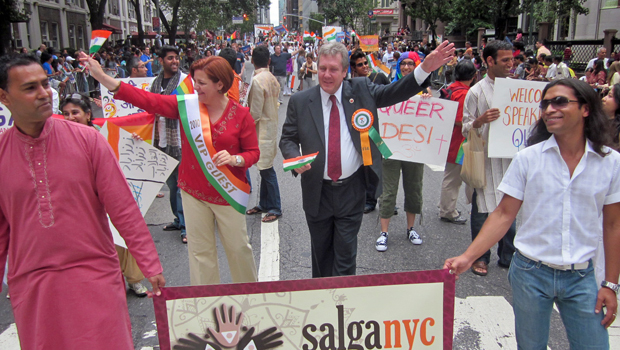 City Council Speaker Christine Quinn and councilman Danny Dromm (Photo by Arun Venugopal)