Michael Miscione: Investigating Manhattan's History
All this summer, we've been catching up with the five keepers of the city's past, the historians in charge of studying and preserving the stories of New York's neighborhoods, all for no pay. This week, in our final installment, WNYC's Kathleen Horan catches up with Manhattan Borough Historian Michael Miscione on the Upper East Side.
Michael Miscione is sitting on the marble steps of the Museum of the City of New York. He's just helped to organize an exhibit commemorating the 100th anniversary of the assassination attempt of Mayor Willam J. Gaynor.

"He was a pretty good mayor," the historian says. "We've had a whole bunch of clunkers, but he was a very honest guy, very reform-minded -- a very feisty fellow."

In the summer of 1910, Gaynor was shot in the throat on the deck of a steamship as he was about to leave on vacation, by a dock worker who resented being laid off. The mayor was taken to St. Mary's hospital in New Jersey and nursed back to health. Miscione recently found the bronze plaque that Gaynor presented to the hospital in gratitude for his good care, a memento that was lost when the building was torn down.

"Knowing that there wasn't any other sort of marker to commemorate the shooting, I went looking for it," Miscione says. "I like to do that. I like to go on these little history detective hunts. And after a little bit of digging and a lot of phone calls I eventually traced it to a residence of sisters who live in Brooklyn."

Miscione looks a bit like a sleuth like in his spectacles, baseball cap and trousers. At 51, he's the youngest of the city historians. Of living mayors, he's partial to Ed Koch, who was at the city's helm while he was still a student at Stuyvesant High.

"I admire him as he's become sort of an elder statesman of city politics. I admire his spunk, and I love the fact that it was during his administration the pooper law was instituted, which to me is a crowning milestone of civic betterment," Miscione notes.

Miscione combines an appreciation for low humor with a respect for epic monuments. In his post as borough historian, he's been fighting to make sure that important events and people in history receive their due.
He leads the way down a narrow footpath to one of his favorite markers, the Andrew H. Green bench in Central Park. Green was a city planner who was instrumental not only in planning Central Park, but was also a key player in the creation of the Metropolitan Museum, the New York Public Library and the consolidation of the five boroughs.
"Andrew Green in many ways, changed my life," Miscione says. "I was a TV producer working for the city of New York. We were coming upon the 100th anniversary of the boroughs." So Miscione pitched an hour-long documentary to explain how the five boroughs joined to become one city. And he ended up finding his patron saint of New York City history. "He didn't just have this one shining moment of glory," Miscione says of Andrew Green. "He was literally the Robert Moses of the 19th century."

The historian was shocked that this hidden bench was the only public monument to Green. So he has been making it his mission to see that this city planner gets more recognition. He's been told by the city that a park along the East River, in the shadow of the Queensboro Bridge, will be named for Green. 
After re-discovering the city planner, Miscione decided to step into his own little corner of history by applying to be the Manhattan historian. He says he wants to be more of a history "booster" than a collector of records and papers.

"We don't need to write with our quill pens in a leather-bound ledger who died today and who was born," Miscione says. "What they need me to do is to give a face and a voice to historical causes."

He says unlike some others in the historical community he aims to do more than simply be nostalgic about the past. "The good old days weren't always good. The city had tenements, dire poverty, deep racial problems and incredible political corruption."
Miscione says he'll keep on being a historical detective, as the city continues to be reinvented.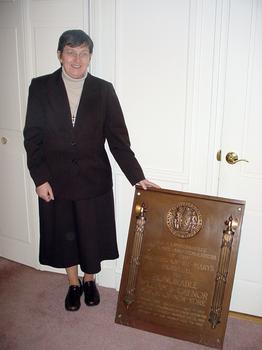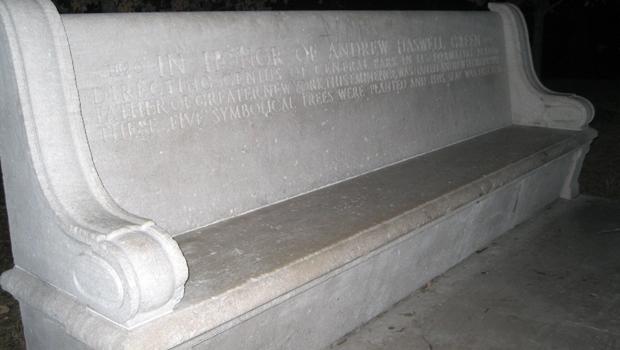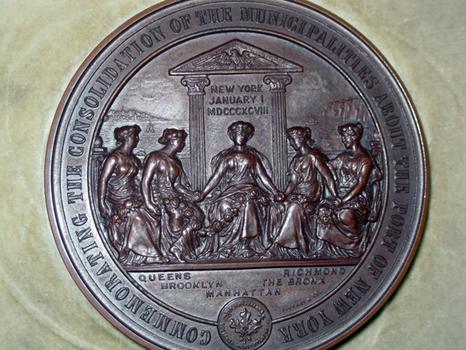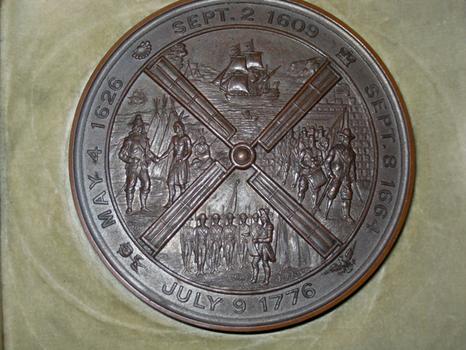 of