Community Gardeners Ask City for Permanent Protections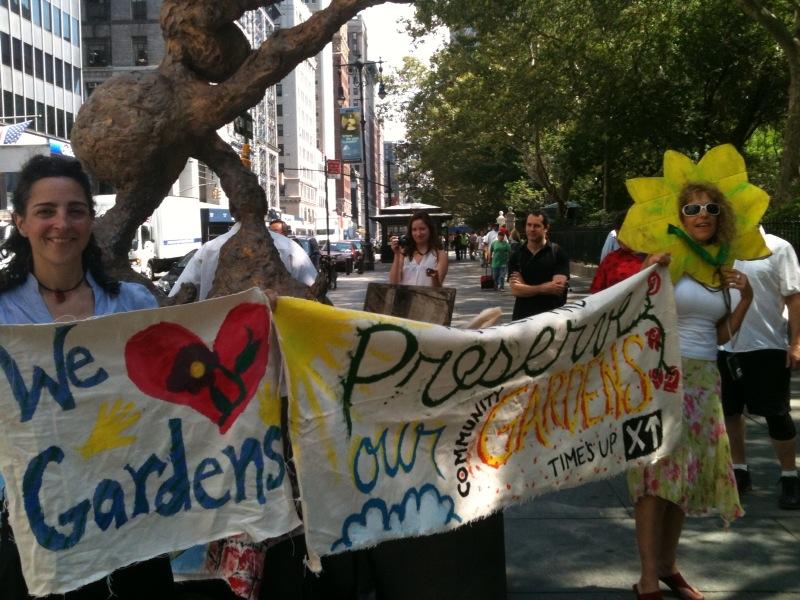 Visitors to the Hattie Carthan Community Garden in Bedford Stuyvesant, Brooklyn, can relax in an oasis of shade trees in a neighborhood that has one of the city's lowest ratios of green space per person. The garden's 62 members grow vegetables in side-by-side plots, and fresh eggs for the Saturday farmers' market are gathered daily from a chicken coop.
A 2002 agreement between the city and community gardeners has allowed some 600 gardens like Hattie Carthan to thrive around the city -- but the agreement expires next month. The Parks Department has proposed new rules to replace the agreement, but garden advocacy groups don't think they go far enough to protect the spaces from developers.
According to Green Guerillas community organizer Hannah Riseley-White, times have changed from the 1970s and '80s, when the city was happy to see community members take over and improve abandoned parcels of land.
"As the economy has come back and the city has continued to develop, the pressure on that land has increasingly started to grow," Risely-White says.
Pressure on community gardens reached a climax in the winter of 1999, when the Giuliani administration put 114 gardens on the auction block in a single day,  angering urban farmers and neighborhood activists. Attorney General Eliot Spitzer filed suit to block the destruction of the gardens, and in 2002, newly elected Mayor Michael Bloomberg settled the lawsuit.
Risely-White says that the new rules don't do enough to keep history from repeating.
But Parks Commissioner Adrian Benepe says that the new rules offer more protections for gardeners than the old agreement did. He points out that the city has even invited community gardeners to meet with Parks officials to help shape the language in the new regulations.
That's a must, says Karen Washington, president of the New York City Community Garden Coalition. "If there are rules or regulations pertaining to community gardeners, we must be at the table," says Washington. "At the table, negotiating, and no longer at the outside looking in."
Commissioner Benepe says that public testimony at this Tuesday's public hearing may influence the final draft of the community gardening rules.